Customer Experience is the Key to Success in eCommerce: In Conversation with Cristian Balaj
A lot has changed in the eCommerce industry after the pandemic. These changes forced traditional businesses to adopt new selling methods and make their consumers happy. But, what are these changes, and how can a business modify its offerings as per evolving consumer demands? In this expert Q&A session, we will try to find an answer to the same question.
We will be talking to Cristian Balaj, an expert Magento developer, to find what brands are doing to best serve their consumers. So, let's get started.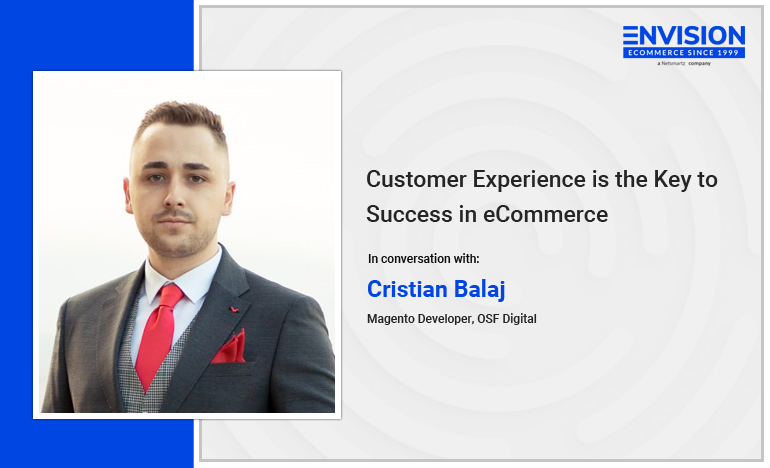 Who did we interview?
Cristian Balaj is a Magento Developer at OSF Digital. Having more than five years of experience in the Magento Development Industry, he has helped many eCommerce businesses build robust digital solutions.
Q1: What exciting projects are you working on right now?
Presently, I am working on five Magento projects with versions between 2.3.4 – 2.4.4. All of them are from different industries and have their own challenges.
Q2: What potential do you see for the eCommerce industry as a whole?
It's gonna get bigger and bigger after the big digitalization process that the pandemic forced on the world. An online presence is crucial for all businesses at present and retailers are understanding this after experiencing the changes in consumers' behavior.
For example, if you run a local clothing brand and only generate decent revenue from it, eCommerce can help you take it across borders and make massive revenue out of it. So, that's the potential of eCommerce. It lets every entrepreneur dream big and provides a medium to achieve it. You only need to have the right strategy.
Q3: What's the biggest change you've seen in post-pandemic eCommerce trends?
More mobile/user-friendly sites than ever before. After the pandemic, retailers are now putting more effort into making their platforms customer-friendly by integrating different technologies into them. If I talk about Magento, let's say, retailers are utilizing technologies like artificial intelligence, machine learning, BOPIS, PWAs, and others to attract as well as retain users. eCommerce brand owners were not that aggressive before the pandemic.
Q4: What industries do you think will take the biggest piece of pie due to this surge in eCommerce?
I would say businesses in all industries could benefit from this surge in eCommerce. The only condition is that their managers need to stay updated with evolving consumer demands to serve people with the best possible experience.
However, clothing is one such industry that would definitely benefit from this surge, I believe. The market for clothes is growing all around the world and not just in the West.
Q5: Any specific technology trend where store owners should consider investing?
AI-powered 3D models to try out make-up/clothes.
Wrapping Up
So, that was all about today's session. We thank Cristian Balaj for talking to us and sharing essential insights about the industry. We hope you find this session insightful! For more critical discussions and insights, subscribe to our content and stay updated with what's new in eCommerce and Magento.