A Conversation with Ben Virdee-Chapman on the Importance of Personalization in eCommerce
With Amazon driving 35% of its revenue through personalization, it is crucial for brands to know about the technology behind this amazing sales magnet. Indeed, it is Artificial Intelligence and Machine Learning. These technologies are allowing brands to provide chatbot services, personalization, and even analyze customer behavior to increase conversions.
To provide our audience with more insights on the topic, we interviewed Ben Virdee-Chapman, an eCommerce marketing expert having more than a decade of experience working in the eCommerce industry. Let's tune into the conversation for valuable insights.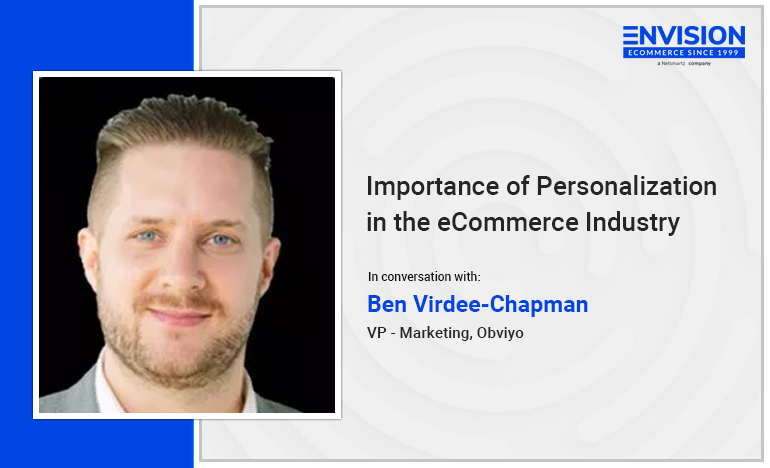 About Ben Virdee-Chapman
Ben Virdee-Chapman is the VP of marketing at HiConversion, an AI-powered eCommerce intelligence platform. He also served as a Chief Design Officer at Miami face recognition AI startup Kairos. Ben started his career as a UX designer and over the past 15 years, he has been helping many organizations design, launch, and scale digital products.
Q1: What exciting projects are you working on right now?
A: Amazon has pioneered personalization for over 20-years, constantly improving the performance of algorithms on Amazon.com and generating billions and billions of dollars in sales. At present, I am working on a project that aims to give every merchant – small or big – access to top-tier machine learning technology. And, thankfully, my team and I are approaching success with pace.
Q2: What potential do you see for the eCommerce industry as a whole?
A: With its accelerated growth, the potential now is to rapidly experiment with better buying experiences. Customers are more diverse than ever and do not sleep. eCommerce brands need to adopt the same mindset, and rather than standardize; cultivate complexity in order to serve more and more new kinds of shoppers and needs.
Q3: What's the biggest change you've seen in post-pandemic eCommerce trends?
A: Adaptation and resilience are now 'coded' into commerce cultures in ways they were not before. Brand teams have seen the world change under their feet in mere weeks and months, a change that would take years ordinarily. This forced teams to ruthlessly pursue excellence in order to survive and grow.
Q4: What industries do you think will take the biggest piece of the pie due to this surge in eCommerce?
A: Industries centered around our homelife obviously benefiting greatly.
Q5: Any specific technology trend where store owners should consider investing?
A: Hyper-personalization. Proven over many years at Amazon, it's now increasingly being adopted by brands to unlock more from their web traffic. Hyper-personalization adapts to visitor buying signals in real-time – influencing more diverse buying personas. And it's known to unlock new revenue potential from 90% of visitors who'd otherwise never buy.
In Conclusion
For this chapter, we interviewed Ben Virdee-Chapman, an eCommerce product leader and marketing expert. The discussion revolved around personalization in eCommerce and how brands can build great products using technologies like AI and Machine Learning. Hope you find this conversation insightful.