The digital marketing landscape and the eCommerce Industry: In Conversation with Ashley Scorpio
The eCommerce industry is booming. Also, eCommerce consumers are now savvier than they were two years ago. Thus, retailers must alter their approaches to meet increasing demands and get traction. But how?
An effective digital marketing strategy is the only way to stand out. Thus, in this expert segment, we will talk to Ashley Scorpio (A seasoned digital strategist) to understand the eCommerce marketing landscape and how eCommerce brands should strategize to set themselves apart from the crowd.
So, let's get started.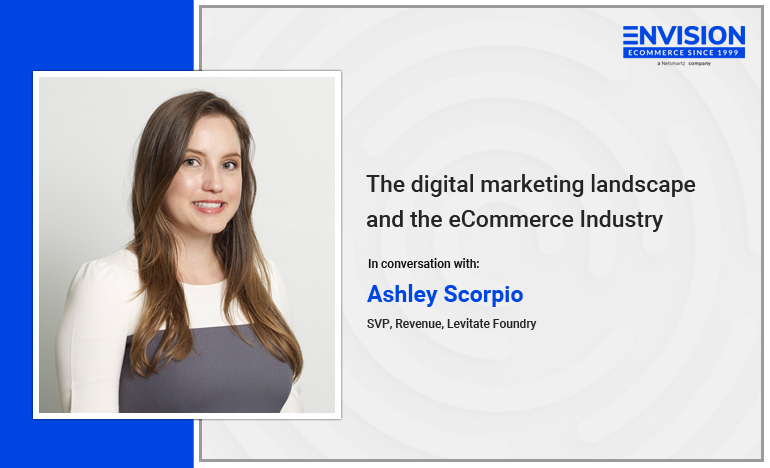 Who did we interview?
Having 10+ years of experience, Ashley Scorpio is a digital strategist and political aide with expertise in marketing, communications, advertising, public relations, and partnerships. She has worked with various brands, startups, organizations, and personalities to fulfill their digital growth goals across multiple channels.
Q1: What exciting projects are you working on at present?
As a full-service digital agency specializing in eCommerce marketing and digital storefront design and development, Levitate Foundry always works on new and innovative projects with consumer brands. We recently rolled out the web launch for an exciting holiday collaboration between MeUndies and the Backstreet Boys! We've also developed the go-to-market strategy for Emulait, a bottle replicating the look and feel of breasts for nursing babies.
Q2: What do you think are the most important trends in eCommerce for 2022 to increase conversions and boost sales?
Actually, there are many. Some of them include the following:
Mobile and Social Commerce – eCommerce brands are shifting to mobile, and social-first strategies as consumer purchase patterns become deeply integrated with mobile. From reaching more customers to encouraging repeat business with SMS, mobile and social commerce provide many opportunities to scale your business.
Sustainability – Customers are becoming aware of their carbon footprint and other environmental issues and are looking to shop with eco-friendly or sustainable brands. Brands must keep up with this trend and offer more than a good shopping experience. Implementing a tool like EcoCart is easy to ensure you are meeting your customers' expectations with carbon-neutral orders.
"Real" Content – Videos are taking center stage, and users know original content vs. highly produced. Have a blend of both in your brand portfolio and understand what kind of content resonates best with your base in the digital landscape, allowing customers to understand product functions and features better. Video testimonials increase confidence and trust in your brand and nudge the viewers into paying customers.
Community Building – We're seeing more DTC brands trying to establish exclusive communities and groups for their target audience.
Q3: Customer Experience is at the heart of eCommerce. What should a good eCommerce customer experience journey look like, according to you? Is it all about digital touchpoints, or do physical interactions matter as well?
Today's shopper is much savvier than they were two years ago – so our approach to reaching them needs to be smarter, too. We believe in merging both IRL touchpoints with digital ones for a full spectrum of consumer experience touchpoints.
We've seen that we can successfully bridge the gap between physical and digital by leveraging customer data platforms like Klaviyo. Various specialized Shopify apps, custom integrations, tools like QR codes, and loyalty incentives create an experience where an individual is an epicenter, and we are growing brand evangelists.
Q4: What technologies, platforms, or channels should marketers or brands use to excel in the digital commerce world and turn their businesses into brands?
As the digital marketing landscape continues to evolve, first-party data is essential. We are leaning toward the platforms that allow us to leverage customer data to its fullest extent.
We are proud to partner with some amazing platforms in the eCommerce space, such as Shopify Plus, Klaviyo, Gorgias, and Yotpo, just to name a few. We match the brand's needs with the best-in-class solutions in the eCommerce ecosystem. The platform we see as the cornerstone of our clients' databases is Klaviyo One, a central hub with many spokes of data and functionality encompassing Email, SMS, and CPD to help our clients create a rich customer journey.
Q5: What potential do you see for the eCommerce industry as a whole? And which industry verticals would take the biggest piece of the pie after the surge in eCommerce sales due to the pandemic?
eCommerce is booming, and growth will only be bolstered in the coming years. We see a significant shift in how consumers shop and interact with brands online.
We are also seeing a growing consumer demand across all industries. However, we particularly see a boom in the following industry verticals:
Health & Wellness
Fashion & Apparel
Beauty & Cosmetics
Any consumer packaged goods are also a great fit for an eCommerce subscription model, so we will continue to see growth in that category too.
Q6: Any specific tips that you would like to provide for brand owners, marketers, and others juggling to scale an eCommerce business?
Make sure your site loads quickly and is easy to navigate. When customers need help finding what they're looking for quickly, they will likely leave your site and shop elsewhere.
Make sure to have a system for order fulfillment, shipping, and customer service. It will help keep your business running smoothly and ensure your customers are happy.
Scale your marketing efforts accordingly. It includes lifecycle campaigns, social media promotions, and paid advertising. As your business grows, you'll need to continuously invest more in your marketing efforts to reach new customers.
Stay organized, set goals, and keep track of your progress. It will help you stay on track and ensure you're making the most of your marketing campaigns.
Wrapping Up
So, that was all about today's session. We thank Ashley Scorpio for talking to us and sharing essential insights about the industry. We hope you find this session insightful! For more critical discussions and insights, subscribe to our content and stay updated with what's new in eCommerce and Magento.