All That Matters is Quality Over Quantity in eCommerce: In Conversation with Arjus Dashi
eCommerce applications are now part and parcel of life. You think about purchasing an electronic item and head to the web for research. Even if you know that you need to buy it in a brick-and-mortar store, you can not stop yourself from searching online – that's how eCommerce has changed the way we shop in the past few years.
While where this industry is heading is still uncertain, as an eCommerce business owner or experience maker, it is essential for you to know what is likely to rule the market. In order to find out the same, let's talk to Arjus Dashi, an eCommerce expert, and find some invaluable insights.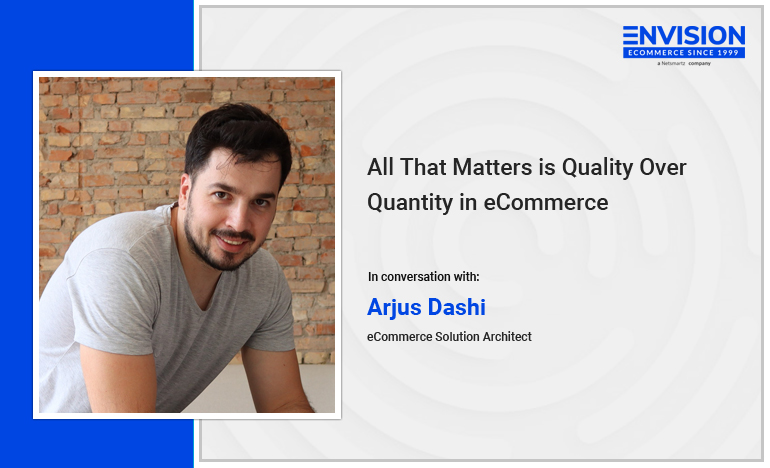 Who did we interview?
Arjus Dashi is an eCommerce solution architect, Magento certified developer, and Cloud and Blockchain enthusiast. With ten years of experience in the eCommerce industry, he helps budding eCommerce businesses and brands architect digital solutions to achieve their desired growth.
Q1: What exciting projects are you working on right now?
My approach is to keep the number low and the quality of service as high as possible. I'm actively following three projects between Magento Commerce and Shopify Plus. What I enjoy primarily by working with these projects is that, together with my clients, we decided to make this project performance-driven.
This makes me think daily about the lightest path to implement new features. It comes at a technical cost but with a massive reward on the business side. Since last year, I've been working on a pharmaceutical eCommerce store, and thanks to passing Google Web Vitals on all the product pages, they had a 400% increase in organic traffic in 6 months. That's what makes me enthusiastic about my work.
Q2: What potential do you see for the eCommerce industry as a whole?
Great potential future, I must say. In that regard, I still think that we just saw the tip of the iceberg, and much more has to come. Every online business right now is getting consolidated, seeking stability and growth like never before. Technical architects like myself should be aware that currently, merchants need the most stable and straightforward solutions, no fancy anymore.
In the future, I see offline and online selling being more integrated (omnichannel) and bringing customer experience to a new level.
Q3: What's the biggest change you've seen in post-pandemic eCommerce trends?
I think that this post-pandemic era brings awareness to many sectors but, most importantly, showcases how essential logistics are right now. We usually forget that all this wouldn't be possible without adequate logistic services.
On the eCommerce side, it is essential to keep developing services that effectively integrate the eCommerce orders to the distribution, optimizing delivery times and overall service quality. Let's not forget that the free shipping policy and returns impact how an eCommerce store performs.
Besides all the growth that eCommerce faced during the pandemic era, I think that the most valuable lesson was to keep investing in good logistic services and technology to feed all that growth.
Q4: What industries do you think will take the biggest piece of the pie due to this surge in eCommerce?
While B2C is seeing the most significant growth ever, I believe B2B is less explored. The focus right now is on automation, ease of doing things, ease of placing orders, instant liquidation through online payment gateways, etc. I will take automotive as an example. Just imagine being a car producer and having the stock of your car part providers just a website window away. There is no need to pick up the phone, no need for discomfort; just land at their eCommerce store and make the order.
Regarding industries, I believe that Healthcare, in general, will control the best part of the market. There is plenty of room still for the retail and food industry.
Q5: Any specific technology trend where store owners should consider investing?
Augmented Reality is something worth considering at the moment. Maybe one day, through AR, it will be possible to project the objects directly inside our rooms. I know some projects are already doing it, but this feature is not yet so popular among eCommerce websites. The pro of trends and new technologies is that they bring fresh air, new perspectives, and always a better way (maybe) of doing things.
On the other hand, approaching a new trend or new technology comes with a risk. On solid projects, I'd consider investing time only in proven technologies. If this is not the case, something like AR/VR is probably worth spending some time.
Wrapping Up
So, that was all about today's expert Q&A session. We thank Arjus Dashi for talking to us and sharing essential insights about the industry. We hope you find this session insightful! For more critical discussions and insights, subscribe to our content and stay updated with what's new in eCommerce and Magento.