The eCommerce Industry Is All Set to Grow with New Trends: In Conversation with Anna Khazhenska
The eCommerce industry grew by all leaps and bounds amid the pandemic.
However, now the question is, what will be the state of eCommerce post-pandemic? As there will now be no restrictions on physical stores, are we likely to see less traffic online?
Well, the answer is yes.
Even though the eCommerce growth will not be as sky-high as it was in 2020, the online shopping industry will still grow more than it did before the pandemic. Through this expert Q&A series, our aim is to collect information about the emerging trends and technologies in the eCommerce industry to provide our readers with invaluable insights.
This week we are talking to Anna Khazhenska, an eCommerce expert, head of sales, and co-founder in the eCommerce industry. So, let's get started.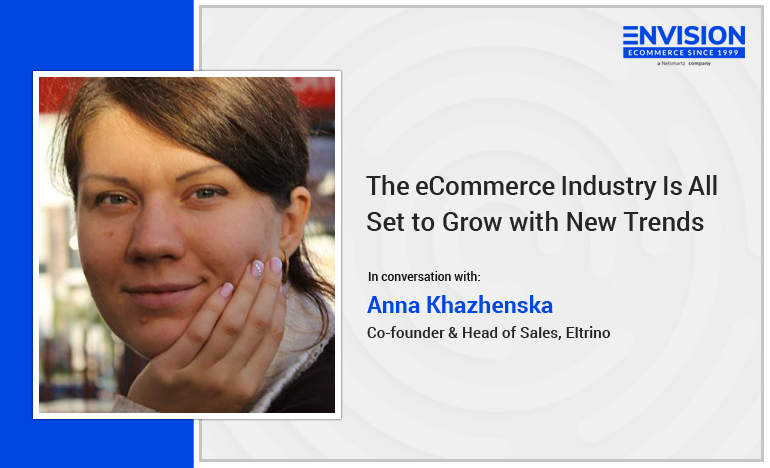 Who did we interview?
Anna Khazhenska is the co-founder and Head of Sales at Eltrino. With more than a decade of experience in the eCommerce industry, she helps eCommerce businesses with professional development, architecture, support, and maintenance services.
Let Us Quickly Get To Our Expert's Point Of View.
Question 1: What exciting projects are you working on right now?
Right now, we are dealing with several challenging and exciting projects. One of our clients is a huge retail player in Ukraine – eva.ua. Eva has more than 1000 offline stores in Ukraine and more than 13, 000 employers.
When Eltrino took the project, there were just 300 orders, now they have more than 10, 000 orders and during Black Friday 2021 there were 28 000 orders. A lot of hard architecture custom solutions are being implemented to provide a seamless customer experience and address other business challenges. We are also working on some of the headless commerce projects and I believe this is the new wave in the eCommerce industry.
Question 2: What potential do you see for the eCommerce industry as a whole?
I guess, due to the unlimited possibilities that allow companies to deliver any goods and food, more and more industries will expand in eCommerce, even unexpected concerts and shows can be watched online now. I am amazed to see how people are even buying their groceries online these days and I believe this is just the start. We are yet to see many new businesses and domains emerging in the field of eCommerce.
Question 3: What's the biggest change you've seen in post-pandemic eCommerce trends?
The speed at which the eCommerce industry has developed throughout the world during the pandemic has been hard to overlook. An increasing number of consumers shopped online out of necessity and businesses were forced to adapt to changing market dynamics.
I believe people are now not afraid of buying things online. Their capability to trust online businesses has increased. On the other hand, retailers are doing everything possible to meet online consumer demands. For example, there are eCommerce websites that provide a full comparison of goods to prove why their products are better than everyone else. So, I believe the need to stay competitive has also increased.
The second biggest change is for sure connected with the video marketing trend. Videos are everywhere and consumers are engaging with them like never before.
Question 4: What industries do you think will take the biggest piece of the pie due to this surge in eCommerce?

I think clothing, food, grocery, and cosmetics industries. Though every online retailer will benefit from the accelerated eCommerce adoption, these are the industries that are likely to grow more than others.
Question 5: Any specific technology trend where store owners should consider investing?
SEO and Video marketing. I believe due to increased competition, it is now becoming harder than ever to attract consumers. SEO is one technique using which businesses can attract highly-qualified leads and it surely has the power to help you secure an edge over the competitors. Similarly, video marketing is also an emerging trend. Consumers find videos engaging and some of the brands are even leveraging shoppable videos to improve sales.
Wrapping Up
For this chapter, we interviewed Anna Khazhenska, an expert with a proven track record in the eCommerce industry. During the conversation, she uncovered several trends and tactics that eCommerce retailers can use to stay competitive in the eCommerce world. Hope you find this conversation insightful!