Managing and Scaling a B2B eCommerce Business: In Conversation with Andy Hoar
Staying on top of eCommerce trends is crucial for every B2B business to survive and scale. However, it isn't that easy. The needs and preferences of B2B consumers keep evolving, and you need to adjust your offerings accordingly.
In addition, you can not forget about the need to provide a personalized experience to attract and retain B2B consumers. So, what is the right way to do all these things effectively and stand out in the B2B landscape? In this expert Q&A segment, we will talk to B2B eCommerce specialists to get some insights.
So, let's get started.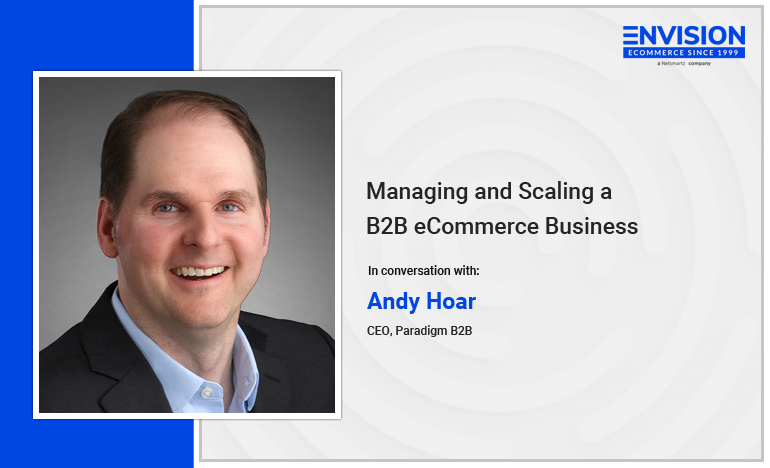 Who did we interview?
Andy Hoar is the Co-Founder at Master B2B eCommerce, a leading organization helping B2B businesses set up effective eCommerce operations by making smart decisions and using the right technology and processes. He is also an author of the first-ever Forrester's B2B Commerce Playbook.
Q1: What exciting projects are you working on at present?
B2B companies are doing a great deal of exploration around next-generation eCommerce capabilities. I'm working with both manufacturers and distributors on upgrading or re-platforming their existing infrastructure to position for a post-pandemic buying environment not just influenced by digital but driven by it.
Q2: What do you think are the most important trends in eCommerce for 2022 to increase conversions and boost sales?
1. Incorporating advanced personalization technology
2. Prioritizing front-office functions over back-office functionality
3. Utilizing sales-enablement capabilities (CPQ, etc.)
Q3: Customer Experience is at the heart of eCommerce. What should a good eCommerce customer experience journey look like, according to you? Is it all about digital touchpoints, or do physical interactions matter as well?
The B2B buying experience operates on a spectrum. Sellers must offer self-serve, full-serve, and hybrid experiences for all dimensions of the customer journey. This includes research, purchase, and post-sale servicing – anywhere a customer can defect or be disappointed.
Q4: What technologies, platforms, or channels should marketers or brands use to excel in the digital commerce world and turn their businesses into brands?
B I published a detailed evaluation of the ten leading platforms offered to the midmarket and enterprise buying segments. In that evaluation, I used a robust scoring methodology to evaluate all vendors on a scale of 1 to 5 across 38 detailed and weighted criteria.
Medals are awarded based on composite scores in 12 distinct categories. Special weighting is given to the "voice of the customer" via market feedback that I gather directly from dozens of vendor partners and clients.
Q5: What potential do you see for the eCommerce industry as a whole? And which industry verticals would take the biggest piece of the pie after the surge in eCommerce sales due to the pandemic?
We've just scratched the surface in B2B. Digital penetration is still in the mid-20% range, depending on the vertical. But many B2B verticals can and should be closer to a 40-50% digital penetration rate. And when you consider B2B commerce overall is ~ $10T in the US alone, B2B eCommerce could literally double from $2T to $4T in the next 5-7 years. That would mean $2T in new B2B eCommerce sales within this decade.
Q6: Any specific tips that you would like to provide for brand owners, marketers, and others juggling to scale an eCommerce business?
Sell everywhere. Customers are everywhere, so don't limit your sales to the channels you've always used simply because you've always used them. Brands should put themselves at the center of their selling proposition, not defer to channels exclusively. Distributors need to scale and or specialize to compete with Amazon and other mega distributors.
Wrapping Up
So, that was all about today's session. We thank Andy Hoar for talking to us and sharing essential insights about the industry. We hope you find this session insightful! For more critical discussions and insights, subscribe to our content and stay updated with what's new in eCommerce and Magento.