Get Your Priorities Straight to Scale an eCommerce Business: In Conversation with Amy Madonia
Scaling an eCommerce business comes with a lot of responsibilities. Also, there is a lot that you can do to grow and scale your online store. However, if you run in all directions, you may miss the destination. That's why it is essential to formulate the right strategy and not run all over the place when planning to scale an eCommerce business.
In addition, not all businesses are the same. Some may need to adopt different payment methods; others might require a robust mobile strategy to serve their consumers well. That's what we will talk about in today's expert Q&A segment.
So, let's get started.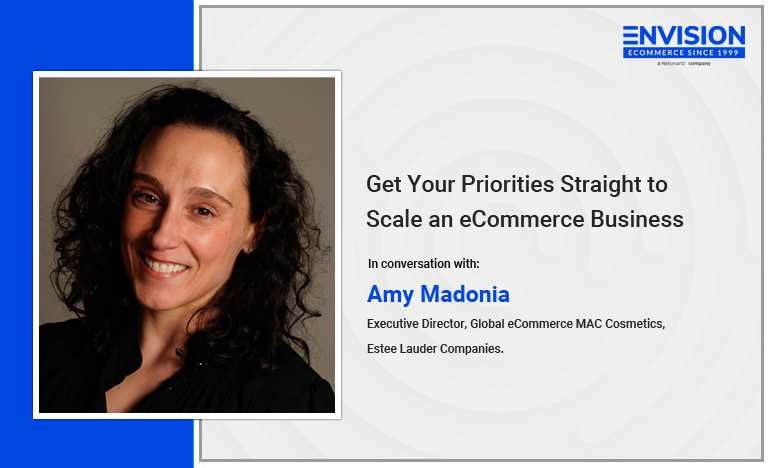 Who did we interview?
With 16+ years of experience in eCommerce, Amy Madonia is now a Senior Executive (Global eCommerce) at The Estée Lauder Companies Inc. She is a digital marketing and eCommerce enthusiast passionate about helping eCommerce businesses grow.
Q1: What exciting projects are you working on at present?
Sure, I can talk about past exciting projects; launching the first eCommerce site for Wrangler jeans in 2009 was super exciting. I did not feel it at that time, but it was a huge digital transformation that I was leading for the brand.
This was when there was considerable concern about upsetting retailers and the wholesale channel by going DTC with a branded, eCommerce-enabled site. There were many departments to socialize the strategy and the concept internally, so there were many compromises that had to be made that we'd never consider today to maintain stability as a multi-channel brand.
It was super challenging because I was the first and only eCommerce hire for the brand, reporting to the brand president. From scratch, we had to set up all eCommerce operations, customer services and site policy, site architecture, pick lines, and packaging.
Q2: What do you think are the most important trends in eCommerce for 2022 to increase conversions and boost sales?

I love this question. Apps will continue to evolve and consolidate, and that voice will be a BIG deal once it is further optimized. eCommerce will become part of many more online and offline interactions that aren't commerce-enabled.
These are further out than 2022, to be sure. So, for this year, companies will continue to experiment with the Metaverse. I wasn't a believer in Metaverse having a purpose until I met a friend of mine in Space, Mel Lim, the founder and CEO of Chateauz. She let me try her Metaverse with a Meta Quest Pro headset, which blew my mind!
It's hard to articulate, but I am terrified of heights, and there were many places where I could fall from a great height. It was the most thrilling and scary experience of my life that was, oddly enough, incredibly safe since we were, in reality, on a carpet in front of a lovely fireplace. I'm not embarrassed to say my heart was reaching, and I was sweating from experiencing those heights – it was a fully sensorial experience.
QR codes are very interestingly becoming part of consumer behavior here in the U.S. and hold the potential to create a more seamless offline-to-online interaction, as we've seen in restaurants and some exciting new ad formats.
Lastly, 2022 will be an exciting holiday season because both promotions and scarcity will be the themes across product categories. And both will be more extreme this year than ever.
Q3: Customer Experience is at the heart of eCommerce. What should a good eCommerce customer experience journey look like, according to you? Is it all about digital touchpoints, or do physical interactions matter as well?
There is always a natural tension between commerce and branding. As a brand person and a marketer, I'm always looking for the ideal balance between the two. It is true at all levels of eCommerce when you are a steward of the brand and digital is your medium.
There's a relatively new buzzword that I hate that things will be 'phygital', and, as much as I hate the word, the blending of offline and online consumer interactions and touchpoints is another theme that will impact things to come.
Q4: What technologies, platforms, or channels should marketers or brands use to excel in the digital commerce world and turn their businesses into brands?
All of them! I will never share all my secrets, much ha ha ha ha! Seriously, some social platforms have to play a role in everyone's media mix because that's where consumers of all demographics spend significant amounts of their time for a particular geography, the same way some platforms and channels are ubiquitous for a specific industry.
These will vary by product category or B2B vs. B2C, but the magic is in understanding the critical KPIs, OKRs, or financial metrics to pay attention to win for your brand and how to drive those with your consumer target.
Q5: What potential do you see for the eCommerce industry as a whole? And which industry verticals would take the biggest piece of the pie after the surge in eCommerce sales due to the pandemic?
Eventually, we will lose the distinction between eCommerce and bricks and mortar. The difference will blur between the two, and we will just be talking about 'Retail.' At its core, in eCommerce, what we do is sell things. Perhaps the following distinction in retail will be "Retail IRL" vs. "Retail in the Metaverse."
There is significant potential in AI and NLP, both for how we shop and do the actual work of eCommerce and running a digital store.
Regarding which industry verticals will succeed post-pandemic, I won't share my stock picks, but I'll let you know how I fare in a year or so.
Q6: Any specific tips that you would like to provide for brand owners, marketers, and others juggling to scale an eCommerce business?
Pick what is important. Do that. Do only that, and know that if you pick 15 – 27 things that are all equally 'important' and 'top priorities', (air quotes are intentional here), then you haven't done the work of prioritizing and focusing your teams. You are very likely to fail at the majority of them, and it is also very likely someone else will choose (or focus your many 'priorities') for you.
The tough thing about digital is that anything is possible. That doesn't mean that everything is achievable or should be a priority. You can't succeed that way, and your teams can't grow that way, either.
Take the smartest bets you can and think through your strategies given the marketplace, where you are strong, and how you can win.
Wrapping Up
So, that was all about today's session. We thank Amy Madonia for talking to us and sharing essential insights about the industry. We hope you find this session insightful! For more critical discussions and insights, subscribe to our content and stay updated with what's new in eCommerce and Magento.