Why Choose Magento Over Shopify for Your eCommerce Business?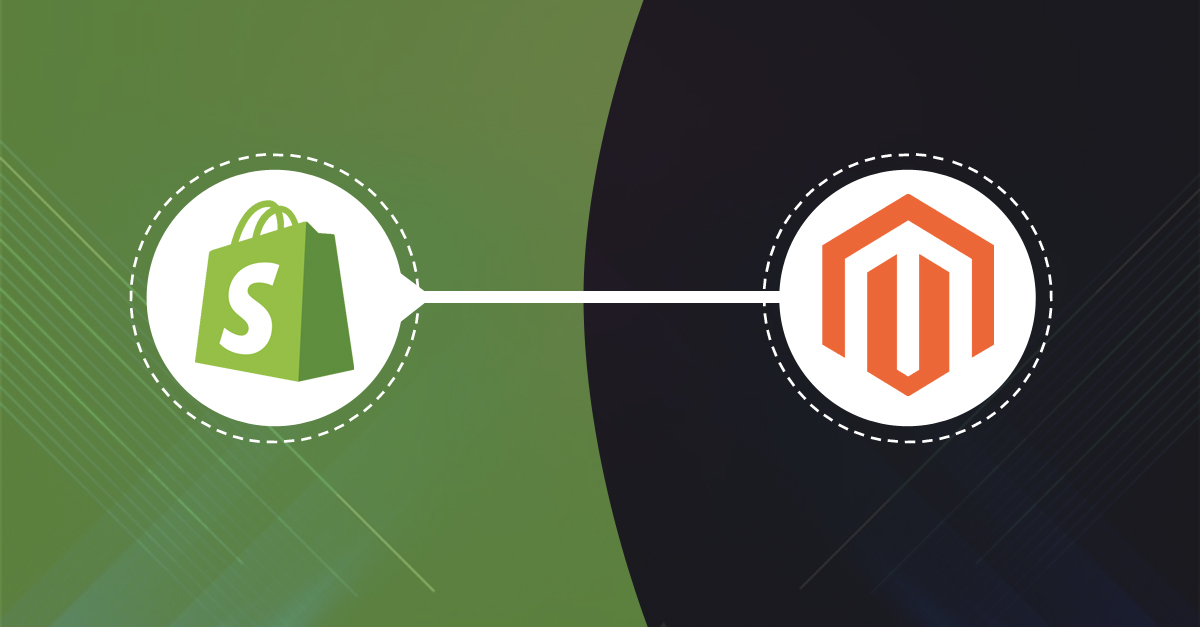 The battle of Magento vs Shopify is well-known in the eCommerce world. While both of these eCommerce development platforms are widely used in the eCommerce industry by big giants, they are entirely different from each other and serve specific business needs.    
Fueled by the pandemic, the eCommerce industry saw a dramatic increase in the share of retail sales, from 16% to 19% in 2020. With that, the competition in the eCommerce field has also risen incredibly and businesses now need to make the right choice on the platform they want to use, if they plan to thrive and stand out among competitors in the market. 
Since a development platform acts as a foundation that sets the stage for a profitable eCommerce business, its choice needs to be an informed decision. We consider Magento to be a perfect eCommerce solution for almost all businesses due to many reasons. 
In this blog, we will list all these reasons to justify our statement and prove why Magento is a good choice especially over Shopify. So, let's get started.
5 Reasons that Prove Magento is Better than Shopify
While comparing two eCommerce platforms, we need to pay heed to several attributes that impact the success of an eCommerce business. So, let's do the same and compare Magento and Shopify against different factors:
1. Big Brands Trust Magento for their eCommerce Operations
Since its launch in 2014, Magento has been one of the most popular eCommerce platforms available in the market. However, after the release of Shopify, a number of eCommerce retailers opted for it owing to its simplicity and easy-to-use interface. 
But, more popularity does not mean it is perfect for all kinds of business needs. Even though Shopify powers 21% of all eCommerce websites on the internet, Magento has made its name as more than a one-size-fits-all platform. Magento's customer base is more technically proficient and it powers a great number of top eCommerce websites in the market including Amazon, Land Rover, and Paul Smith.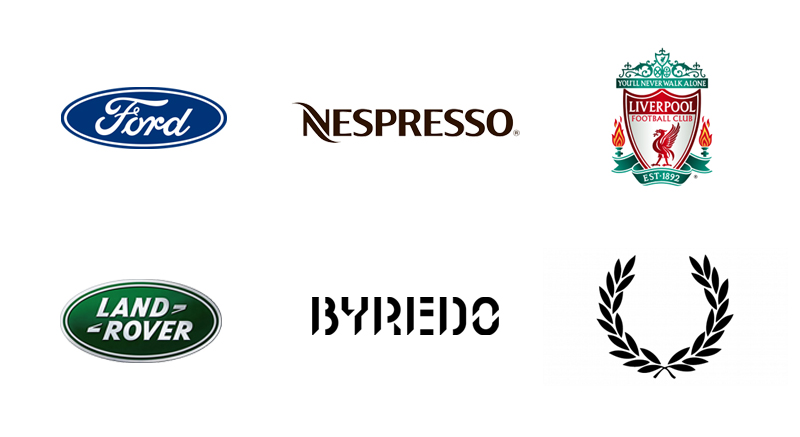 Magento might be a challenge for businesses that are not tech-savvy but it is a blessing for those who know how to deal with complexities and scale their brands. It supports OOP as well as MVC architecture and opens many new doors of opportunities for brands that require running complex operations and planning for international expansion.
2. Magento has Better Pricing Options
The expense that your business will incur is the most important factor to consider when choosing an eCommerce platform. Also, this cost will depend on several factors, including:
Platform Cost: Shopify is a SAAS software, which means you will have to pay a monthly fee for using it. It offers a 90-day free trial and after that users get charged based on the plan they choose. Shopify offers three plans: Basic Shopify ($29 per month), Shopify ($79 per month), and Advanced Shopify ($129 per month). Advanced features like reporting, cart recovery, and gift cards are available in the higher tier option.
On the other hand, Magento is an open-source platform, which means you can use it for free and its free version provides many features that are sufficient for an eCommerce business to thrive. You can also upgrade to its premium version when necessary. The cost of its enterprise edition depends on the needs of your business and the revenue it generates.
To find out how Magento's enterprise edition called Adobe Commerce compares with Magento, check out our comprehensive blog on Adobe Commerce vs Shopify.
Hosting: It is also an important aspect to consider because the performance of your website will depend a lot on the hosting plan you use. While Shopify is hosted by the company itself, you don't have to worry about hosting costs. On the other hand, Magento is a self-hosted platform so you will have to pay a hosting fee to a third-party provider. 
But, there are numerous benefits of paying this hosting fee. It will provide you with amazing website speed, plenty of storage, and you can host an unlimited number of products on your website depending on your business model. 
While with Shopify you get only one hosting option and it sometimes affects the performance of your store, Magento offers you the flexibility to choose your hosting provider. That is another reason why big brands prefer Magento over Shopify.
Domain: Apart from platform fee and hosting, you will have to buy a domain for your store which will cost you around $20 annually in both cases.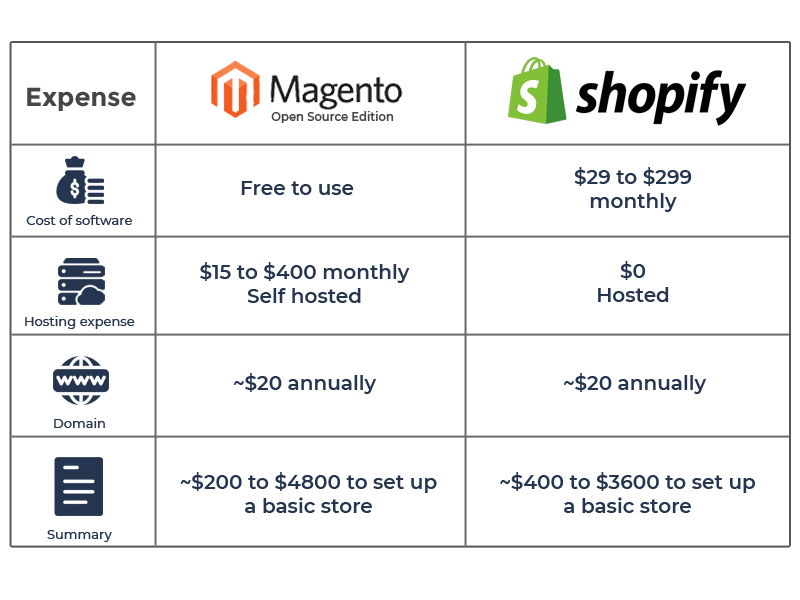 To summarize, here is the total expense that you will have to incur when choosing Shopify and Magento. It is clear from the below table that Magento is indeed a cost-effective option, initially.
3. Magento Provides Unlimited Features and Functionalities (Much More Than Shopify)
The capabilities each platform provides will influence your decision a lot and Magento is a clear winner in this aspect.  
It offers many advanced features like Magento business intelligence, live search, advanced reporting, B2B features, personalization, and others that are missing in Shopify. Also, it offers thousands of add-ons and extensions (free and paid) that help retailers customize and improve the functionality of their stores by many folds. Almost 2,367 extensions are compatible with Magento 2 and there are unlimited ways to upgrade a Magento store.
On the other hand, Shopify has limited and expensive options when it comes to customization. In fact, it is far behind Magento. One reason behind the same is that Magento is an open-source platform and developers are allowed to create and launch their own Magento extension.
All in all, you can control every aspect and customer experience of your store using Magento which is not possible in Shopify. Thus, Magento clearly has an advantage over Shopify here.
| | | |
| --- | --- | --- |
| Features | Magento 2 | Shopify |
| Themes and design templates | Many and fully customizable | Less and Partially customizable |
| Multi-store management | On a single interface | Need separate accounts |
| Multi-language functionality | Inbuilt | Not available |
| Quote system | ✅ | ⛔ |
| Quick ordering | ✅ | ⛔ |
| Supported payment gateways | 150+ | 50-100 |
4. Magento Provides Better Customer Experience
The customer experience your brand provides depends a lot on the look and feel of your eCommerce website. And it depends a lot on the website theme you choose to create a unique identity for your brand. 
While both of these platforms offer multiple options (free and premium) when it comes to theme selection, Magento has more and unique options to choose from thousands of developers around the world. 
Also, theme options offered by Shopify do not allow the level of customization that Magento provides. It lets you modify basic things like color, font, and images. However, beyond that, it is impossible to customize your store.  
On the other hand, the latest version of Magento called Magento 2 has features like drag and drop page builder to let you create beautiful pages easily and in no time. Another advantage of Magento over Shopify. 
5. Magento is Highly Scalable
If you plan to scale your business to new heights profitably, there is no better platform than Magento. Not even Shopify.
Magento can be as flexible and large as your business requires, which makes it the right option for future expansion. It also provides a better user experience. Moreover, if you plan to use Adobe Commerce or Adobe Commerce Cloud (Enterprise editions of Magento), you will get 24/7 critical support from the Magento team and scalability will never be a problem.
Wrapping Up
While Magento and Shopify both are amazing eCommerce development platforms, Shopify is more for beginners. It lacks essential B2B features and is less flexible and scalable than Magento. As a result, Magento wins the battle and is preferred by big brands that plan to scale and make their mark in the eCommerce world.