5 Essential Features to Tackle eCommerce Healthcare Challenges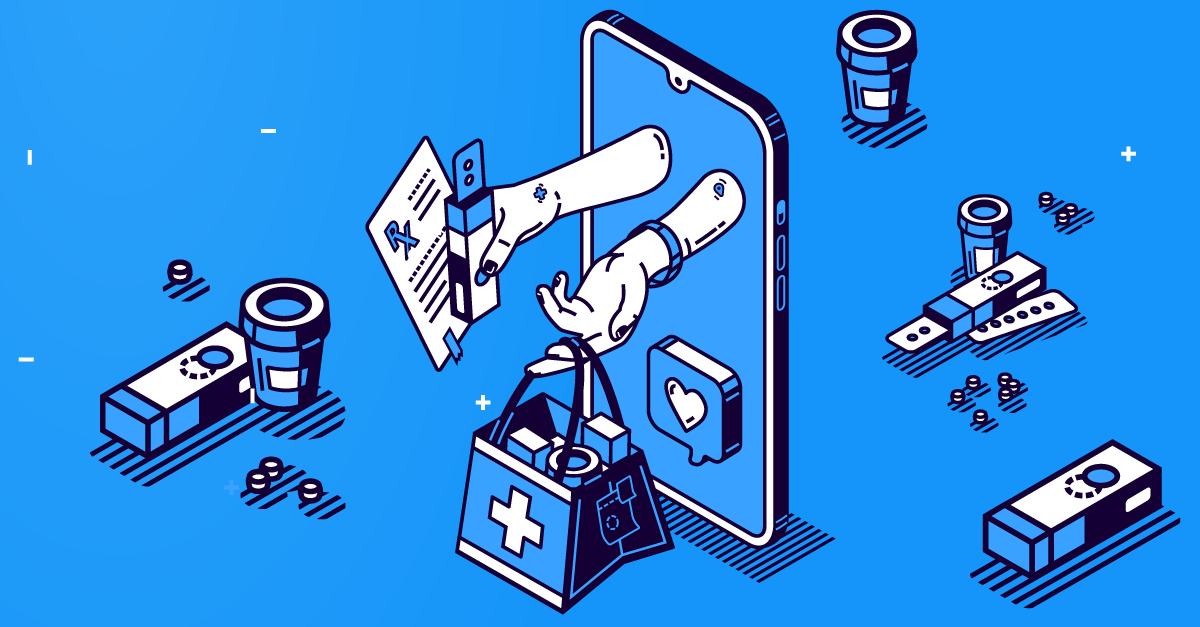 To stay competitive in the market and flourish, every business is adopting technology fast. In fact, embracing technology is no longer an option but a necessity for businesses in almost all industries now and e-commerce healthcare is no exception. According to a report by Deloitte, US health spending will increase from $4 trillion in 2020 to $8.3 trillion by 2040. The major driver of this increase in cost is the adoption of health-focused technology by healthcare companies in the USA.
Some of the benefits of embracing technology in the healthcare sector include on-demand access to telehealth, personalized and fast treatment, instant prescriptions and delivery of medicines, flawless clinical operations, and lower costs. Despite the bright future of the healthcare eCommerce market, building and managing a digital healthcare system is not as easy as it sounds.
It has its own challenges. Thus, entrepreneurs planning to take steps in the direction of revolutionizing healthcare using the benefits of digital technologies will have to take each step with precision and utmost care. Especially, if we talk about eCommerce specifically, they need to deploy solutions only after proper testing and ensuring compliance.
This article talks about some features of Healthcare eCommerce solutions that no entrepreneurs should ignore in order to avoid legal or other consequences in the future. But, first thing first. Let's see what challenges are encountered by healthcare businesses when embracing eCommerce and then we will talk about their solutions.
6 Challenges Healthcare Business Face When Embracing eCommerce
While there are several applications of eCommerce in the Healthcare domain, there are some challenges as well that businesses need to tackle in order to run their operations seamlessly. Let's see what these hurdles are.
Less Engagement
While everything today moves around technology, when it comes to health, people try to refrain from using digital solutions and prefer face-to-face conversation more. Especially, elderly people do not trust technology and this is one segment that requires healthcare solutions the most. Establishing this trust can become a challenge worth considering for eCommerce businesses.
The Doctor-Patient Relationship
The relationship between a doctor and a patient is much more complex than the relationship between a brand and a consumer. So, in the healthcare sector, businesses need to put extra effort to nurture that relationship in order to build a loyal consumer base.
Security
In healthcare eCommerce, it is crucial to protect every type of data with utmost precision to ensure safety and avoid legal complications. Thus, extra effort and time are needed to guarantee a secure experience.
Timely Delivery
To run a healthcare eCommerce business, you will need to put extra effort into streamlining deliveries and there is no scope of delay. For example, the customers of a retail business can wait for products for a day or two but in healthcare, it can become a life-death scenario.
Reporting and Visibility
Transparency is crucial in the healthcare eCommerce sector to ensure success. Customers that order time-sensitive products expect precise updates on the status of their orders. On the other hand, your team will also require to see the efficiency of your carriers which can be a challenge to monitor.
Safe Delivery
Shipping of healthcare products is much more complex than simply delivering a package of other products. You need to ensure favorable conditions for the delivery of every product to ensure it goes to the hands of consumers safely and securely. For example, certain healthcare products should not be exposed to sunlight or their effect will vanish. So, the delivery process should be set up keeping all these things in mind.
Now that we know the challenges associated with the healthcare eCommerce businesses, let's find out what are the ways to tackle these problems successfully.
What are the Ways to Tackle the Challenges of the Healthcare eCommerce Industry?
Don't panic! If you are passionate enough to start an eCommerce business, no challenge can stop you from doing it successfully. All these challenges can be tackled by integrating some essential features in your Healthcare eCommerce Solutions. Let's check out all of them:
1. Build a Trustable Healthcare eCommerce Experience
As mentioned above, healthcare eCommerce customers lack trust and may have anxiety issues when using an online solution. The solution to this problem is building an eCommerce platform in a way that establishes trust and provides clear information to customers. You can do this in the following ways:
Write a clear "About Us" page
Your customers should not see your business just as a brand. To establish trust, it is crucial to show real humans behind your services on whom customers can build their trust. Provide information about who you are and give your customers a chance to know you.
Make all the information accessible
It also helps to provide information about the end-to-end experience your platform provides. For example, write about why your platform is secure, what information your customers need to provide to make a purchase, and what are your delivery commitments. At each step, provide clear details and eliminate the anxiety.
Show empathy
It is important to show your customers that you care about them in order to build strong relationships. You can do this by conducting surveys on your platform. Or, give your customers an option to write reviews about your products or services to build the trust of new users.
You can also think about rewarding your existing customers by offering loyalty programs to build a loyal customer base. All these features will help you set up an experience that builds trust.
2. Ensure 24/7 Customer Support Services
In the healthcare sector, sellers are using eCommerce channels as proof of their commitment to customer service and satisfaction. They are doing things as simple as helping customers plan for their orders in advance, providing support services even after business hours, or allowing expedited deliveries to win customers' trust.
In all other industries, these services may be "nice-to-have" but in the medical supply market, these are "must-have" services that no healthcare eCommerce business should ignore. There are numerous ways to provide excellent customer support services, including:
Add a contact us page to your online store and add all the options on it using which your customer can get in touch with you.
Add a live chat feature to your online store so that customers can clear their queries instantly.
Give your customers an option to call you using your online store and have a customer service representative to address all their needs.
3. Keep Your Inventory Transparent
According to reports, 94% of medical equipment purchasers research the products online before making a purchase. B2B buyers especially prefer finding product specifications and other information online before they even get in touch with any representative.
These busy buyers desire an online RFQ process and they also like to see the number of products available before making a purchase. Though transparency in inventory is appreciated in every B2B eCommerce business, in the medical supply market it is an essential feature. An online store with live inventory status lets medical product and equipment buyers have an idea about what you have available and to what extent your business can fulfill their requirements.
4. Digitize Your Workflow
You can also consider integrating your website with ERP systems such as SAP, Microsoft Dynamics, and others to keep it updated with the latest offers, data, and information about products available. It will help you in many ways, including:
Ensuring seamless deliveries without any glitches or delays.
Making data-informed business decisions
Reducing or eliminating order errors
5. Ensure Data Security
To comply with HIPAA, healthcare eCommerce businesses must set some strict security standards. In order to protect confidential data, they must have data encryption systems, safe access to network resources, and should also schedule regular security audits to make sure everything is in accordance with the laws and regulations of the country they operate in.
Also, to build trust among buyers and ensure 100% safety, security measures like two-factor authentication and online identity proof verification are crucial for every healthcare eCommerce business.
The Crux
So that was all about the challenges that you may encounter while trying to set up a healthcare eCommerce business along with the solutions to tackle them. If you are confident about bringing your healthcare business online, get in touch with healthcare eCommerce developers at Envision eCommerce to ensure safety and a seamless customer experience that drives revenues.

Download Blog