Proven Ways to Ensure Stupendous Success in Your eCommerce Conversion Optimization Efforts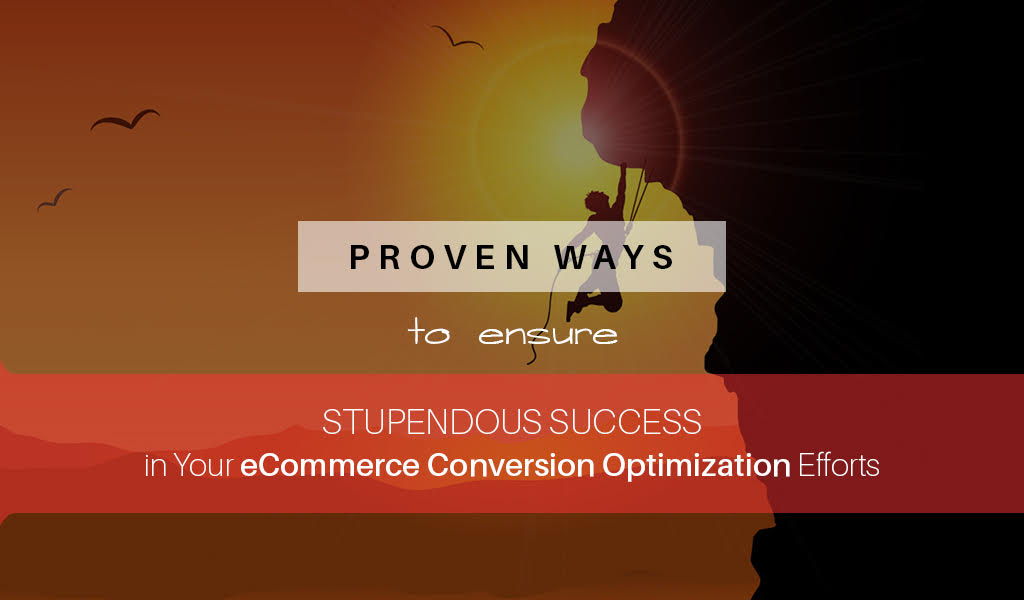 Finding your road to stupendous success in your eCommerce conversion optimization efforts? Or Lost for the best methods to test?  Really? No, actually, you need to think again. Maybe your imaginations have locked you up in opposition to profitable conversion chances for your eCommerce site.
Let's say your aim is to boost your product sales by 50%. How would you achieve it? More ads? Creating 50% more content? Adding up 50% more time, effort, and yes, of course, more money into digital marketing?
All of this could do better, but you can do it much faster and cheaper, only by increasing your eCommerce conversion rate. Always keep in mind, if your present 2% conversions are going to increase to 3% – you can actually receive a 50% uplift in your results. Yes, you actually can!!!
Have a good look at your eCommerce site once more. Does it have a live chat feature? A checkout page?  Supporting a Responsive Design?  Having security trust? Optimized Transactional Emails? A feature/product page? A strong CTA (call-to-action) button? And still you're saying there is nothing left for you to ensure  stupendous success in your eCommerce conversion optimization efforts. It is highly doubtful.
All right, instead of any further annoyance about how you've locked up your mind in such a small room that you do not have left any major thing to implement, let us outline some proven ways you can use for getting your visitors to take action & see how they work for your eCommerce store:
1. Trust – A Conversion Winning Factor
Let's suppose you're walking down the street and some random guys come to you and offer you a brand new iPad at just $50. Would you prefer to buy it?
Even you know the product is really a money worth deal. But you probably still don't prefer to buy it. Why? Because you don't trust them.
There are only 4 major factors why people won't buy from your eCommerce store:
They don't need your products,
They don't have enough money to buy,
They're not in a hurry,
They don't trust your e-store.
You can't do much about first 3 factors, but yes, of course, you can build trust by adding trust elements into your eCommerce store and observe how your conversions get increased.
Now, you might be thinking what items you need to display on your eCommerce site that makes people trust your business.
Here's the list of such factors, you just need to ensure your site has all of the items present:
Offer a Guarantee with a No-Questions-Asked Refund Policy
Add a guarantee by including a no-questions-asked or a flexible refund policy on every purchase of your customers. This policy will encourage more sales and reduce risk issues for customers, and increased sales will specifically more than paying off for returns.
Build Your Site's Credibility by Displaying Accurate Information
Show confidence in your material & products and build your eCommerce site's credibility by offering third-party support such as testimonials, articles in well-known publications, citations, earlier customers' reviews, source material. This information will work like an evidence & encourage visitors to turn into customers.
Show that You Have a Real Organization and Physical Address Behind Your eCommerce Site
There are certain ways with the help of which you can show you have a real organization behind your website like listing a physical address, uploading images of your office or listing your partnership within your area of eCommerce.
Show Confidence in the Expertise, Content & Services Available in Your Organization
Is your organization is equipped with talented minds & certified experts? Do your service providers have certain authorities? Ensure that you're highlighting their credentials. Do you have a partnership with some respected organizations? Be sure to  highlight that partnership on your eCommerce site and they also highlight this partnership on their website. Similarly, we recommend you not to link your eCommerce site to outside sites that are not believable as you may lose your business's credibility by such an association.
Convey Trustworthiness by Displaying Trustworthy People Stand Behind Your eCommerce Site
You can convey your site's trustworthiness by posting your employee photos, bios, and text that explains about their personality, family or hobbies.
Keep Your Contact Info Clear
It is one of the simplest ways to boost your eCommerce site's credibility by keeping your contact information clear to your site visitors like phone number, physical location, email address, pinpointed Google map location, etc.
Give Your Visitors a Tunnel & Professional Vision
Almost all visitors quickly evaluate a site via its visual design alone. So, it is essential for you to design your site by keeping in mind an appropriate typography, images, consistency and others. For instance, non-professional looking sites may kill visitors' trust. Thus, wisely invest in a superior designer.
Keep Your Content Updated Regularly
The visitors show more credibility to eCommerce sites having regular updates & reviews. If your eCommerce website has a blog section, keep it updated on a regular basis.
Avoid Hype, Pop-ups & Something like Blinking Banners
Hype, popups and blinking banners are just like trust-killing factors. So, if possible, try to use restraint with any kind of promotional content on your site. Also, make sure that your writing style is clear, direct and honest.
Avoid Broken Links or Any Other Kind of Error
Broken links, spelling mistakes, etc… are the factors that badly impact a site's credibility. So, it is necessary for you to avoid such errors on your site and keep it fast and up-to-date with a smooth running.
2. Improve Landing Page Quality
Improving page quality is one of the biggest factors that any e-commerce store owner needs to implement on their store. You can improve quality by adding customers review, product videos, detailed product description, social sharing buttons, high-quality image, page speed and much more. Our deep research helps us to gather static results that highly impact your conversions. Take a look at the following;
Video and Text Consumer Reviews
You can increase your e-store sales up to 58.29% by adding customer reviews under each product.
Detailed Production Description
If you add products description in detail, you can easily manage the essential information of the product such as quality, features, pricing, service quality, website security and so on. By doing this, you will increase your conversions by 108% and reduce visitor anxieties.
Clear Call to Action
If you really want your customer to take a particular action, then make your every web page more prominent and end should be linked to the next page that increases the conversion rate by 591%.
Authenticity
Studies show that most of the visitors prefer a product that has the aura of authenticity. So if you prove the credibility and authenticity of the product, you can increase the market sale by up to the percentage of 107.
Protected Purchase
If you provide secure purchase options to your visitors, you will definitely improve conversions by 10.4%. If you add a guarantee of your products, you will boost your e-commerce sales up to the percentage of 41%. An addition of security seals also helps in improving the conversion rate by 7.6%.
High-quality images: As per the Golfsmith.com, products with the special spin features get at least 10% or sometimes get 30 to 40% higher conversion rate than the products without it.
3. A Complete Product Information
Probably, your store is doing a poor job, if it's not clearly explaining the each required detail of a product in terms of compelling product images, product videos, product descriptions, etc…
Compelling Product Images
A customer prefers to choose one single thing from an eCommerce website only on the basis of its images. If your site has quality product images, but no product descriptions, it would not work for your better eCommerce conversions and vice versa.
Everyone has the strong desire to see what they're getting. As you all know – "The More the Better" – so display your products from different angles (like 360-degree view) with a zooming feature. For instance, Nike is persuading people with their compelling product images.
For example, http://www.nike.com/in/en_gb/c/cricket/cricket-boots#lnMVnG8CQd
Persuasive Product Descriptions
Product descriptions offer customers enough information about your products. You can consider both short or long description of your products, only need to consider – Who's the product for, why a description is good for your customers, what will your description do for your products and customers. Make sure you're explaining your products that the visitors will not have any single question left.
We have compiled a research for you by comparing product descriptions of Home Depot and Amazon. The product descriptions of Home Depot just creates  a sense of stupidity by cramming the text inside a stupid frame and there are only 3 sentences of information than the length of technical info.
However, Amazon displays proper product descriptions along with features, benefits, technical details and a comparison table.
Product Videos
Some researches show that your product video viewers are 174% more likely to purchase from your store rather than non-viewers.
Product videos have more scope than photos and their limitations. As an eCommerce business owner, if you don't have implemented product videos yet, start doing them today and feel its difference in your conversions. For example, you can check Zappos having videos for almost all of their products.
4. Engage Customers in Your e-store
This is the another important thing that you should consider, if you think that visitors are leaving your e-store without purchasing any product, then show exciting discount offers or relevant product at a low cost to engage a number of customers to your e-store. Provide your customers with coupon codes, demos, free trials, loyalty program and special offers is also the best way to engage towards your store. There are many other possible factors available, you can implement on your e-store to improve the level of customer engagements. Just take a look at the following;
Add Reassurance Copy
Always add a copy of reassurance around your CTAs, because it makes your visitors feel more comfortable about their purchase or their shopping.
Show Credibility
If you really want to engage your customers with your site, then always make use of specific statistics and numbers that help your e-store to increase its credibility.
Place Bullet Points instead of Text Blocks
 Most of us don't like to read vast blocks of text. So always try to keep essential things in bullet points that make it easy for your customers.
Feature Most Profitable Products Above Fold
 You can easily engage customers towards your store by placing best-selling as well as high-revenue products in front and 'above the fold' on your e-store.
Add Auto-Complete Suggestions in Product Search box
 Addition of auto-complete suggestions in your product search box means you are helping your visitors to get whatever they are looking for in mere minutes. Studies show that 9.6 % visitors more often selected results from the auto suggest.
5. Use Scarcity
Web sites do not only need the quantity to sell, but it also needs to create a scarcity for the necessity.  For instance, in a 1975's study, researchers more hunted to know how customers would value cookies in two equal glass jars. One jar had contained ten cookies and the other filled with just two. Though the jars and cookies were similar, but visitors valued the near-empty jar more highly instead of the fully-filled jar. However, this is the principle of scarcity that plays a key role. So always keep it in mind and consider the following features in your website for higher conversion rates. Read on to learn:
Responsive Website
In today's fast-paced world, more than 50% of people access any website through their smartphones or tablets. So make sure your website is highly responsive that give your users a full control to access your site from anywhere, anytime and through any device as well.
Raise Subscribers
 Online e-mail marketing facilities help you get higher conversions with up to 83% and higher revenue with up to 175%.
Reminder to Wishlist
 Sending a reminder about those products that have been added by customers to their wishlist means achieving the trust of customers. So add this feature to your e-store to boost the conversion rate.
A/B Testing
 A/B Testing is the perfect gateway to analyze which page is getting more user engagement. So, it is necessary to pick up this better performing variation tool to improve your e-store conversions.
Exit Overlays
 Content personalization and behavioral targeting are the next big things that give your users the right offer at the right time. So keep focusing your efforts on these things to convert leads into your customers.
Real Time Support System
 During online shopping, your visitors may found any query or look for an advice. So always provide your users a personal assistance as it helps to attain impeccable trust and get a unique shopping experience as well. If you are not using this system in your store then start it today, as it will increase your e-commerce conversion rate with the percentage of 211.
6. Easy-To-Use e-store Interface is a Conversion Booster
The user interface is the first thing that matters a lot in your website. If you are lacking in it, you may cause users to spend more time to accomplish their shopping or sometimes it makes difficult for them to understand the functionality of your eCommerce store. Thus, if your eCommerce store's interface is hard to use you may lose your potential customers and your eCommerce business will suffer.
For example, your eCommerce store's products should be organized into a user-oriented hierarchy & accessible directly from the homepage so that you can get more of visitors to convert. Make sure your home page is not cluttering with many other options as it will just overwhelm your visitors.
7. Show Total Purchases on Homepage
What can make your store a better buying store than Amazon, Walmart, or a challenger? If a visitor comes to your store, what's going to encourage them to make  a purchase?
The answer is – "Home Page". The homepage is your eCommerce website's great place where you can display total purchases and many other things like your competitive benefits and some unique things about your business. It can help you to leave a lasting impression and will equip your homepage with the great soul.
8. More Conversions When Shipping is Free
Shipping charges matter. Do you know how many online merchants supply free shipping? Not all consider this method, some offer free and some apply some conditions.
Amazon & JCPenney give customers an access to their products at free of shipping charges if they make a purchase for at least $25 or $50 respectively. However, Nordstrom provides free shipping on every purchase.
Declaring free shipping offer on your homepage is the most important factor in extending your hand for a warm handshake & you get a high-five back to you. It means this factor over all others forces visitors to place an order. Additional shipping costs lead to cart abandonment. But most of the merchants don't prefer this method as they can't afford such shipping costs under the e-store's bottom line. So, if "No-Shipping Charges" fits your e-store's present situation, it would be wise to consider it for increasing your conversion rates.
9. Testimonials
Testimonials work like a confirmation bias for customers during shopping. Everybody likes to have other people in his/her favor or agreeing with the same. Thus, testimonial confirms the beliefs and preconception of customers. The site "Whistle" is a great example which makes use of emotional testimonials to encourage the buying of their products.
10. GPS Tracking System
As we all know GPS is used by individuals for their everyday purposes. Ecommerce business owners can leverage the benefits of this system to optimize their transportation process and encourage customers to buy from their eCommerce site. A GPS tracking system not only helps customers to track their orders, but also boosts the excitement of customers who're eagerly waiting to get their orders.
Encouragingly, this is a new thing that a retailer can implement into their existing eCommerce site.
11. Add Daily Deals on the Store
Adding daily deals on your e-store can be a great way of driving traffic and eCommerce conversions. As per most of the researchers, it has been found that highlighting the "why" a person should purchase a product is less effective than making people informed about "what" they're going to miss out on a special offer within a limited time frame. You can implement countdown, daily deals which actively expire at a set time frame, posting new deals at regular intervals – all these things will make your customers habitual of checking your store often to notice what the new offerings are going on.
12. Highlight Best Selling Products & Product Sold Count
This adds to the fact that customers want to know what other customers prefer the most of, what products are hot & how many same products has been sold. It can help customers to unlock ideas for products to add to their shopping cart.
Today's shoppers are very smart & understand what credit you're trying to squeeze more out of their pockets. It means you need to serve them exactly what they want without compromising the quality.
So, it will be beneficial for you if you display best-selling products & product sold count on your eCommerce site. It will perform like a traffic acquisition tactic or conversion magnet for your website by offering lots of advantages to customers like personalized experience, relevant recommendations, and items that genuinely are worth spending with a little extra on.
13. Trendy Flash Sales
A flash sale can bring a huge boost in your existing eCommerce site's conversions. It mainly helps in fetching new & current visitors to a site, increasing awareness of your brand as a whole, encouraging an underused service or fetching visitors' attention to other non-sale products of your e-store.
For example, you can consider Amazon's inaugural prime day sale, where special deals & discounts were offered, it wasn't just revolving around the sales; the primary objective of this promotion was to achieve fresh lifetime prime members and they acquired the same with a great success.
Source: https://www.returnondigital.com/blog/a-digital-marketing-guide-to-ecommerce-flash-sales
14. Allow Customers to Ask Questions on Product Pages
Most of the customers leave product buying just because of some unanswered questions. Adding a list of FAQs (Frequently Asked Questions) & helpful answers on your site's product page can encourage them to buy whatever products they want to buy.
You can consider Skinnyfatties (http://skinnyfatties.com/products/tie-slimming-service) as a great inspiration to understand what a good-looking FAQ section on a product page appears like.
15. Seller Feedback is a Necessity
Seller feedback should be a necessity for the eCommerce site as it helps in gaining access to a wide spectrum of people who have strong desire to provide their honest feedback about the sellers' products. Also, it helps other users to find out good products on the basis of feedbacks offered by previous customers. The customers should have the ability to make supervisions contact sellers directly before making a purchase.
16. Display Product Location
Displaying the exact location of products can help customers to determine the exact city from where the products are getting shipped to them. It is an excellent option for eCommerce websites who don't want to clutter their visitors with incomplete product information. Overall, the display of product location on your product page will improve customer retention, customer interaction, and yes, ob-course eCommerce conversions.
17. Product Recommendations & Recently Viewed Products Section
"Product Recommendation" section is one of the most ruling trend in eCommerce industry as it helps in maximizing sales by increasing cart size as well as improving customer personalized experiences. For instance, you can consider Amazon's homepage which is 70% devoted to tailored product recommendations.
Amazon's home page conveys the generic product recommendations to a first-time buyer like "Featured Products", "Top-Rated Products", "Recently Viewed Products", What Others Looking For Now", "Best-Seller Products", etc…
If you visit Amazon 2nd time, it will suggest personalized suggestions on the basis of your interest and preferences on the basis of cache available in your browser and history retained by the site.
18. Wishlist Should Be There on Your eCommerce Store
The feature of "Wishlist" not only helps in reducing shopping cart abandonment, but also encourages sales from customers who added products in Wishlist, showed intent for buying, but didn't end up buying.
19. Products Remarketing
Product remarketing is an effective way to reach out product past visitors with search campaigns so as to achieve more eCommerce conversions and potentially better ROI results.
20.Let Your Customers Know When Product Quantity is Limited
Indicate your customers that you have limited product stock and it will create a mental deadline in customers' mind about products' quantity and generate a sense of competition to get the product before others make buying.
Download Blog