Optimize Product Pages of Your Store with E-Commerce SEO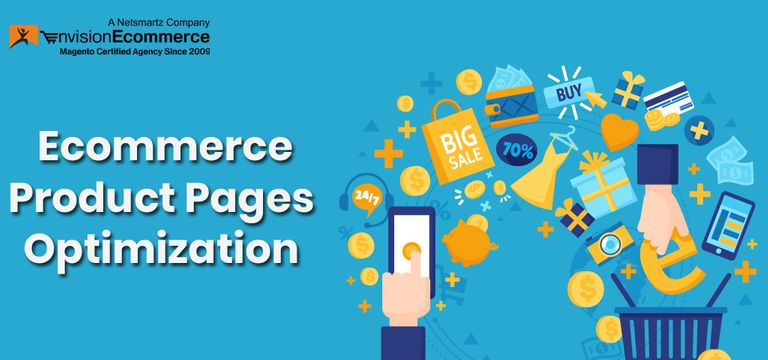 Is your eCommerce website's sales-graph looking down despite your best efforts?

Do you still feel that the users are wandering off to websites other than yours?

Are the product pages missing something, but you're unable to find the exact point?
In an era of fierce competition to reign and sustain in the ecommerce business front, you need to start analyzing your shortcomings and seek professional measures to get back on track.
Internet is vast. It is powerful enough to convert you from rags to riches in no time. The reverse is possible too; if you are unaware of the current trends, guidelines, and the best ecommerce business practices.
Google keeps upgrading itself every next hour. The first page on the search index might slip to the next page in the next moment. Losing your place in the Google search index can hamper your sales by manifolds. Do not hesitate and hope, head to the necessary solutions after analyzing what needs to be done. We have summed up a few important points related to product pages of online stores that can help increase web traffic and retain users.
Search Engine Optimized
Are the product pages of your e-commerce website optimized for search engines? If not, you are missing out on a deciding factor that affects your salability. Here is something you should start working on:
Research on the keywords related to the products.
Include the long-tail keywords in the product descriptions.
Link the important product pages internally with other relevant category pages
Product Description
Detailed information about the product is extremely important from a customer's perspective. All your product pages should provide details such as:
Product title with the brand name, key specs, and offer
Explain the features and components of the products
Price of the item, discount & offers, shipping charges, and star ratings
Size/dimensions, color, bundle option, brand value, and pictures/videos of the products
Care and maintenance instructions, returns & cancellation, customer support, and payment mode instructions
Include other relevant information that would influence customers to make a purchase
Mention the Brand
When it comes to buying products online, buyers often prefer the brand. For example, a buyer finds two trimmers with the same set of features. One of them belongs to Philips and costs $50, and there is another offering the same features at $30. The buyer is more likely to buy the one from Philips. This is due to brand awareness.
Make sure you mention the brand behind the product in the product description. You can also add the Guarantee certification, genuine product assurance, and after-sales service support offered by the brand for that product.
Ensure High-quality UX
Let the visitors coming to your ecommerce store have an exceptionally satisfying experience. Give prominence to User Experience (UX), and it will greatly influence your ecommerce digital marketing strategies. A high bounce rate on your website is probably due to the dull theme and messy site architecture that makes visitors disinterested in exploring your online store any further. You are more likely to convert more users if they are offered a great user experience. Keep it simple, delicate and pretty.
Good read: Principles of Product Page UX for eCommerce
Use Professional Photography
There is a huge difference between the photos taken by a professional photographer and by a novice. The former knows which angle grabs more eyes. The perfectly photographed product images can be a great help in optimizing product pages. Give the users a brief idea about the product's practical size through images and video clips.
Use Rich Snippets
Use Schema.org for rich snippets. A high-quality picture accompanied by a small description on the first page of the Google search will direct more buyers to your ecommerce website. Offer the readers something they haven't read before. Users tend to read things that are new. They might end up purchasing the product, just because "you don't copy things."
Page Loading Speed
The higher the quality of the images, the longer it takes to load the product pages. Lower loading speeds affect your page visits to a large extent. You will need to balance the quality of the images and graphics keeping in mind the page loading speed. You should limit your DPI for the same reason. Adobe Photoshop will help you with this task.
Mobile Friendly
This is probably the biggest factor that you should focus on when optimizing product pages. With smartphones extending their reach, it is necessary that your ecommerce website works better on devices with varied screen sizes. If possible, get a mobile application version of your store.
Action Buttons at Prime Positions
The action buttons like "Add to cart" and "Buy Now" should be placed at places that grab eyes quickly. At the same time, that doesn't mean it has to cling around, throughout the screen.
Final words
There is no perfect way of optimizing your product pages. It is supposed to vary website to website, from one kind of audience to others. As an ecommerce retailer, only you can identify the deciding factors apart from the ones discussed above. Try implementing these small, yet crucial changes with the help of a certified Magento 2 developer. We are sure you will see your sales-graph moving up.