Magento – The Best Way to Deliver Unified Commerce Experience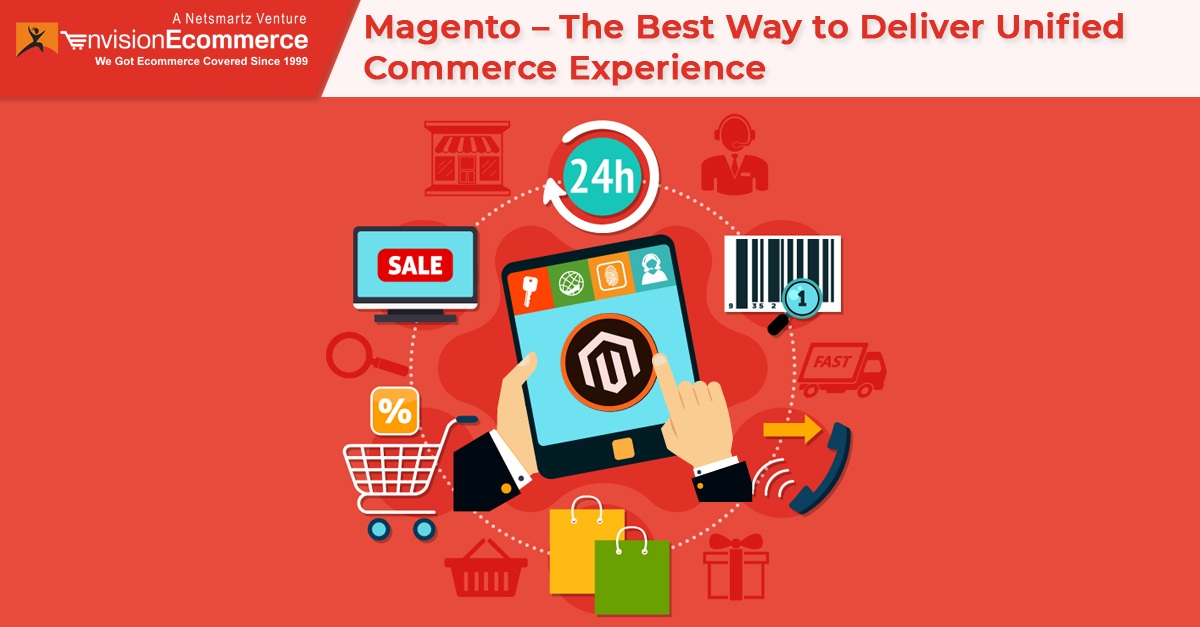 It's all about time. Time flies and eCommerce flies with it! With more technological advancements, eCommerce has faced different iterations over time, like multichannel, omnichannel and direct to consumer. These iterations further explored more innovative ways for businesses to connect with their consumers. And, unified commerce is one of such innovative ways.
"Unified Commerce" is the new phrase used in eCommerce. It is a practice that collectively works as a one unit of multichannel and omnichannel, and solely responsible for delivering customers with a unified experience.
Unified Commerce is on a Growing Track
Here are some stats from Boston Retail Partners (BRP) that clearly depict why unified commerce is gaining favor:
According to a survey report by Boston Retail Partners, 81% from 500 top North American retailers will set out or implement a unified commerce platform by the end of 2020.
However, 28% of such retailers have already invested in this platform up to this time.
This new imperative commerce has been a top priority for 85% of such retailers.
Moreover, 71% retailers are focused to have this platform within three years.
Why You Need a Unified Commerce Platform?
The unified experience from Unified Commerce is far better than the omnichannel experience, as it makes a single a connection between all unconnected IT systems (or channels) via centralized platform. This single commerce platform unites all technologies such as eCommerce, mobile commerce, CRM (Customer Relationship Management), order fulfillment, return management, integrated B2B functionality, inventory management and others. As a business owner, you can take advantage of this single commerce platform and make yourself free from such internal channels that are operating in silos.
Why Magento is the Best Way to Deliver Unified Commerce Experience ?
Gone are the days, when companies preferred to have different eCommerce sites for their Business-to-Customer (B2C) and Business-to-Business operations. Today, almost all site owners require a single unified dashboard so as to collectively present the both sides of their B2C and B2B.
However, already having a unified eCommerce site is one thing, and creating one with an ideal and beneficial eCommerce platform is a totally different ball game. It is where Magento eCommerce development platform outrank all other eCommerce platforms available in the market.
Must Read: Top 5 E-Commerce Trends That Will Add Value to Magento
Here we have compiled a list of some solid reasons that will force you to opt for Magento 2 to attain unified experience benefits:
Accessibility to Extensive 3rd Party Extensions

Magento 2 offers a huge range of 3rd party extensions. In conjunction with the society across the globe, it gives birth to a gigantic ecosystem along with technical & practical 'unified commerce' sustaining solutions. Moreover, you can also use those extensions featuring OOB Magento integration and offer your customers with a superior unified commerce experience

Wide-range of Integration Features

Integration of all channels into a single channel also allows you to collect information in one place. Magento 2 platform facilitates it and also holds the capability of extensive integration, which allows data to flow seamlessly all through the integrated channels.

A Robust Support to Mobile Commerce

In this digital era of mobile commerce, progressive web app (PWA) is gradually taking the place of native mobile apps. The most up-to-date version of Magento offers a great support to both native mobile apps as well as PWA. Magento's PWA Studio is packed with all required developer tools to keep your PWA project working in tune with Magento 2.3 version and above of it.
Firm Integration with Digital Retail Ecosystem
Magento is equipped with lots of products (such as Magento's Enterprise Order Management) that accompany the digital retail ecosystem.
Magento Commerce Suite – One Stop Solution to Strengthen Your Business with Unified Commerce
Being a Magento Solutions Partner, Envision Ecommerce offers a Magento Commerce Suite, specifically designed to empower businesses with Magento based unified commerce. It is a one-stop yet most affordable solution that covers everything from developing an eCommerce store to migrating (Magento 1 to Magento 2), upgrading, testing (vulnerability, penetration, load and performance testing), integrating (ERP, POS, PIM and CRM), hosting (AWS and Azure eCommerce Cloud computing) and offering other Artificial Intelligence solutions as per your business needs.
Conclusion
As you noticed, Magento's features are just outstanding. If you want to take benefits of Unified Commerce, you must consider our Magento Commerce Suite. So what are you waiting for? Contact Envision Ecommerce and get ready to access our Magento Commerce Suite, and make your web store unified to meet the demand of your customers.
Sources:
https://magento.github.io/pwa-studio/
https://brpconsulting.com/download/2019-unified-commerce-survey/
https://www.cleo.com/blog/knowledge-base-unified-commerce
https://blog.aspiresys.com/retail/magento-miniseries-deliver-unified-commerce-magento-2-platform/