What is Magento PWA: Features and Benefits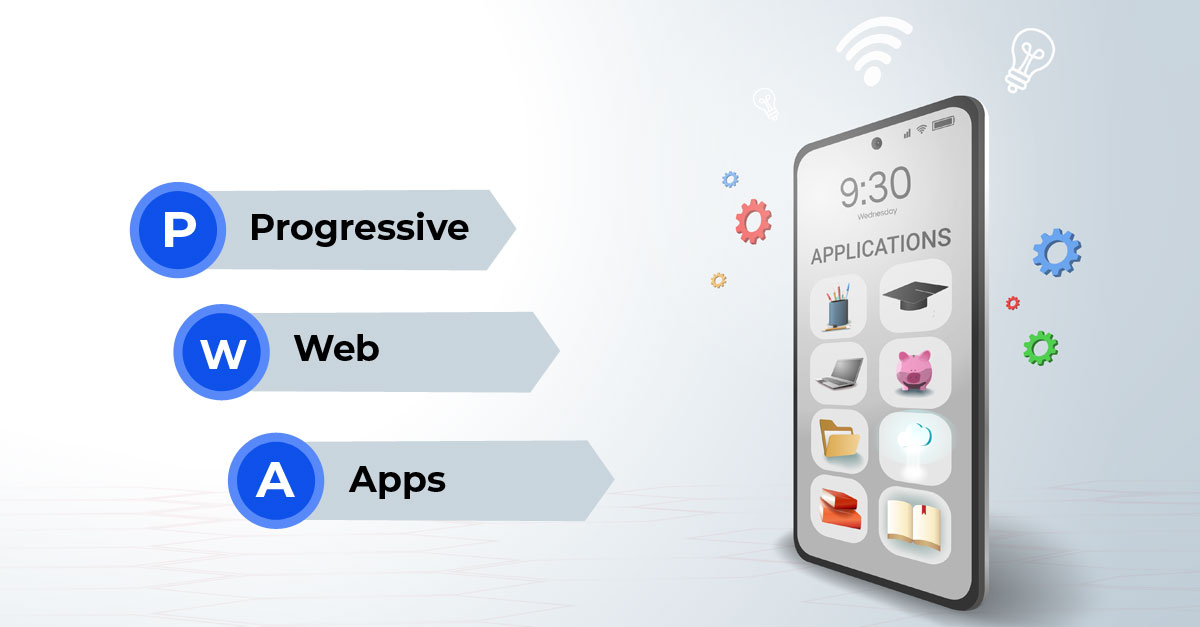 With nearly one-third of US internet users shopping on mobile once a week, the need to target mobile audiences is inevitable for eCommerce businesses. Now, the question is no longer whether eCommerce businesses should have a presence on mobile or not. The question is, how can they grab the attention of people on mobile and provide them a seamless CX?
A business that wants to target mobile consumers has three options:
Build a responsive website
Develop a native mobile app
Launch a PWA
While mobile websites are easy to develop, they tend to be less pleasing to the consumers of an eCommerce business. Native mobile applications offer the finest CX but are developed using native technologies like Java, Kotlin, and Objective C, so they are costly.
Also, native mobile apps require users to download them before using them. Thus, users need to put effort into the process, leading to lost benefits of impulse behavior. The best of both worlds is PWA – Progressive Web Apps.
PWAs combine the best elements of native apps and mobile sites while mitigating the cons of each option. In this article, we are going to talk specifically about Magento PWA to help you understand its features and benefits. So, let's get started.
What is Magento PWA?
A PWA is a web application that utilizes modern web technologies to provide a fast, reliable, and engaging customer experience. Progressive web apps are secure, cross-browser compatible, and responsive. They can work offline and provide the look and feel of a native app.
Magento PWA Studio is a set of tools that lets developers develop, deploy, and maintain a PWA storefront on top of Magento 2.3 and above. It utilizes modern libraries and tools to build a framework and system that adheres to the Magento extensibility principle. Let's check out some of the best features of Magento PWA:
Fast loading: PWAs are lightweight and load much faster than websites and native apps. The fast loading speed will positively impact your overall user experience as modern consumers are time savvy.
Works offline: Mobile users often shop on the go. And it is not necessary that they will always be in a zone where the internet connection is good. That's why PWAs are designed to work even in offline mode.
Easy checkout: The PWA storefront lets you set up an auto-complete and one-page checkout process to make purchasing blazing fast.
Push notifications: eCommerce businesses must keep users hooked, and there is no better tool than push notifications to do so. PWAs have a push notifications feature to keep consumers informed about the latest deals and discounts.
Add to home screen option: Your consumers will be able to add the icon of your PWA to their home screen. It will help you create brand awareness and stay right in front of the eyes of your consumers.
Takes no storage: PWAs do not occupy much space, unlike native apps. For example, Twitter's PWA weighs just 168 KB, while its native app is 95.68 MB.
Smooth scroll: PWAs have user-friendly navigation, eliminating scrolling fatigue for mobile shoppers.
How can Magento PWA Help eCommerce Businesses?
It is clear from the features mentioned above that Magento PWAs can help online businesses in many ways. But, the best benefit of Magento PWA is that it is easy to develop. You can directly convert your Magento or Adobe Commerce online store into a PWA to target mobile audiences.
Here are some of the best benefits that it will provide you:
Improved User Experience, Speed, and Performance
Magento PWA extends the functionality of your eCommerce store and helps you target mobile consumers in the best possible manner. Progressive web apps built on Magento are blazing fast and provide a smooth user experience. According to a study by Google, even a 0.1% second improvement of mobile site speed increases the conversion rates by 8.4% for retail sites and 10.1% for travel sites. Now imagine what a well-optimized PWA can do for your business.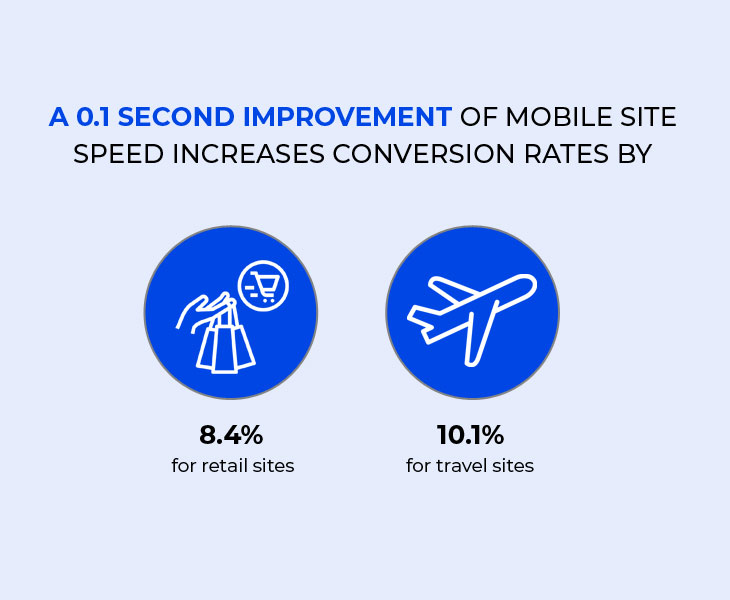 With features like push notifications, offline support, and a plethora of payment options, Magento PWA takes your user experience to a whole new level.
An example of the right PWA implementation is Starbucks. The brand launched a PWA to improve the mobile experience it provides. The PWA they launched was 99% smaller than their native iOS app. Starbucks experienced an increase of 94% in app downloads after its launch and double DAU.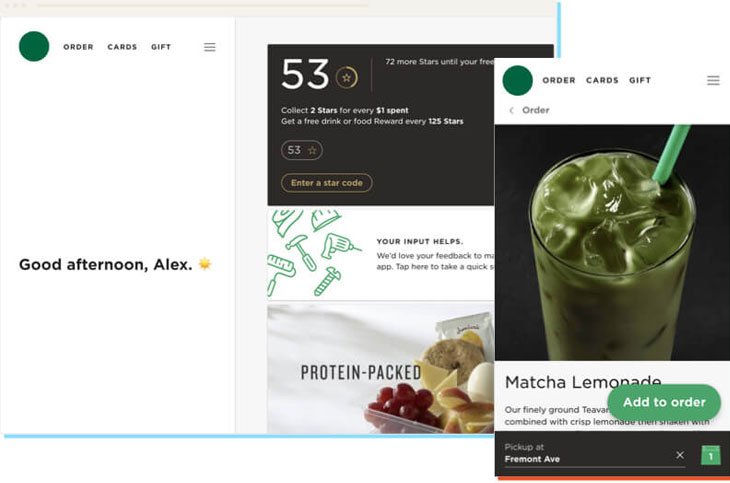 Additionally, Magento PWA studio focuses on making the developers' experience of developing a PWA easy and stress-free. It lets developers develop, deploy, and maintain a Progressive Web App on the Magento 2 platform. Magento store owners benefit from PWA Studio by following an easier development process while building robust online storefronts for Magento 2.
Also Read: Mobile Apps vs PWAs: Which is Right for Your eCommerce Store?
SEO Friendly
A Magento PWA will be more than just a traditional website. There are technical SEO aspects within a Magento PWA that you must optimize for better discoverability. Luckily, all major search engines, including Google, can crawl the JS of a Magento Progressive Web App just like they do for websites. It helps you get the benefits of a website while providing an app-like experience to users – the reason why Magento PWAs are called the best of both worlds.
The key to a good SEO for a Magento PWA is maintaining a crawlable sitemap, using canonical URLs, and ensuring your website is secure using HTTPS. The Magento PWA Development Agency to users will make sure your PWA is indexable and SEO-optimized.
Low Cost
Developing a PWA to target mobile audiences is one of the most cost-effective yet efficient options. You will spend a lot less while building a PWA than you would otherwise spend developing a native mobile application.
It is expensive to develop a native mobile application. But, with Magento PWA Studio, you will get access to tools that will help you easily convert your website into a PWA. And it will be compatible with all devices and platforms.
Hire Magento 2 PWA Developers at Envision eCommerce
Magento PWA is one of the biggest trends in the eCommerce industry. While a number of businesses still do not know about it, PWAs are likely to be the new norm in eCommerce.
Why? The percentage of consumers that buy products and services from mobile devices is growing rapidly. People are less willing to download and install mobile apps on their phones, even if they are regular customers of a brand. That's where a PWA can help businesses keep them hooked. Contact PWA Development Experts at Envision eCommerce to help you get started on this journey to targeting mobile audiences effectively!