How To Migrate From Magento 1 to Magento 2 With Zero Downtime
Yes, that is possible! You can perform Magento migration (From Magento 1 to Magento 2) without losing even a single lead and a minute of uptime.
Now, you must be curious to know how.
Modern consumers are time-savvy and want their desired web pages to load in under three seconds. If a website takes more time to load, 53% of them say that they are likely to abandon that website, according to a study by Google.
Now, if a single second's delay in page load can cost you a customer, imagine what effect downtime will cause to your bottom line. Website downtime is a period of time when your web store becomes inaccessible due to several issues – it might be a technical glitch, a slow server, or you working on migrating your store to a new platform.
But how to avoid it?
This article talks about what you can do to minimize or avoid downtime when migrating your store from Magento 1 to Magento 2. So, let's get started.
What Can Be the Effects of Downtime On Your eCommerce Business?
Well, the consequences of store downtime can be many depending on the size of your business; for example:
1. Loss of Sales
If your website is unavailable for consumers to access, you will definitely lose traffic. Lost traffic means lost leads and sales. And, the longer it takes to migrate your store, the more revenue you will lose. According to a study by Gartner, the average revenue that eCommerce businesses lose because of downtime is $5,600 per minute.
2. Loss of Brand Reputation
While you may recover lost revenue over time, getting your lost reputation back is impossible. Whenever a customer cannot access your website or complete the desired action, it results in a loss of credibility and brand reputation.
In addition, if your website remains inaccessible for a long time, customers will throw their frustration out on social channels or Google reviews. Once the news spreads, your competitors will take advantage, and they may start attracting your consumers.
That means the longer the downtime is, the more losses you will experience.
3. Reduced Visibility
While downtime may not affect the visibility of your online store immediately, it gives terrible signs to Google. Downtime occurs in every eCommerce store, but if your store is down for a long time, it will result in less traffic, lower search engine rankings, and lost sales.
Now, because Magento migration will take time (and it might take longer than expected), it is crucial to ensure you have plans in place to avoid adverse effects.
Thankfully, it is possible to control and minimize downtime during re-platforming your online store. Let's find out some best practices to do it.

How to Ensure Zero Downtime During Magento Migration?
If you do not want to affect the customer experience or uptime while migrating your Magento store or making other deployments, here are some of the ways you can use to do that:
Process transmission of data locally from Magento 1 to Magento 2.
Utilize a delta migration tool for data transfer that consumers added like reviews, order details, their personal information, etc.
Move source files, database, and media to a new host.
Set Domain Name System (DNS) that points to a new host with M2. During this time, users may place new orders on an old version. So, use a delta migration tool again.
Shut down your old store that is on Magento 1.
How Is It Possible to Achieve Zero-Downtime Deployment with Magento?
Let's now talk about zero-deployment techniques that we can use in Magento to minimize downtime and keep our stores up and running always.
1. Magento 2 blue and green deployment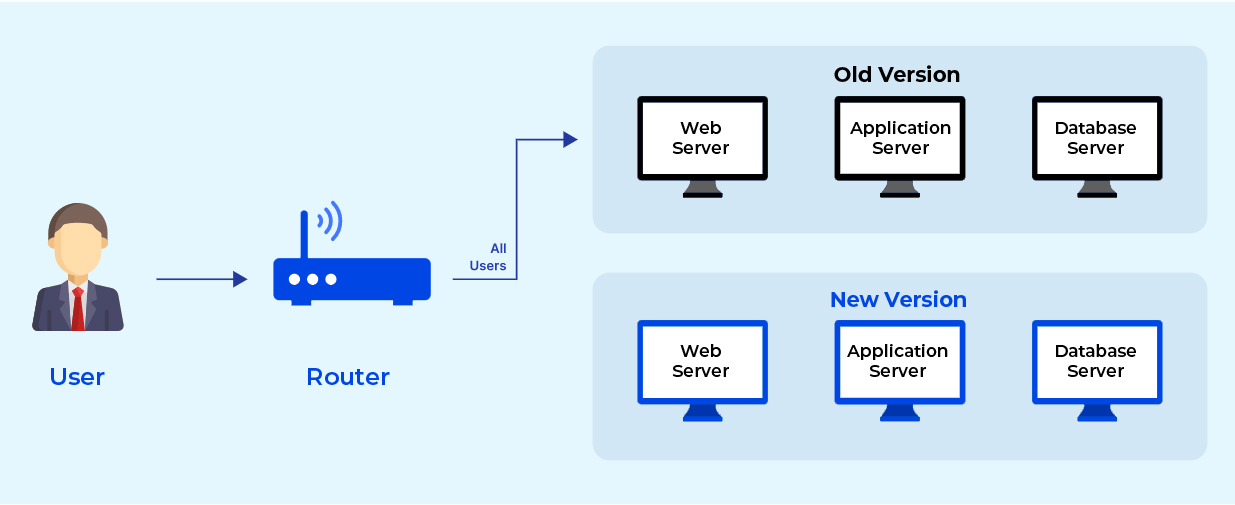 This is probably one of the most effective ways to achieve Magento deployment with zero downtime. It refers to a deployment solution that makes two same hardware environments that are configured exactly the same way. While one is referenced as green, the other one is called blue. When one environment remains active, the other one becomes ideal.
Basically, this technique works on an idea where you operate two versions of your website – one with the latest build and the other with the old one. When updates are ready to be deployed, you push them to the pre-production environment. The other version remains active to serve the needs of your consumers during deployment.
2. Magento 2 Pipeline Deployment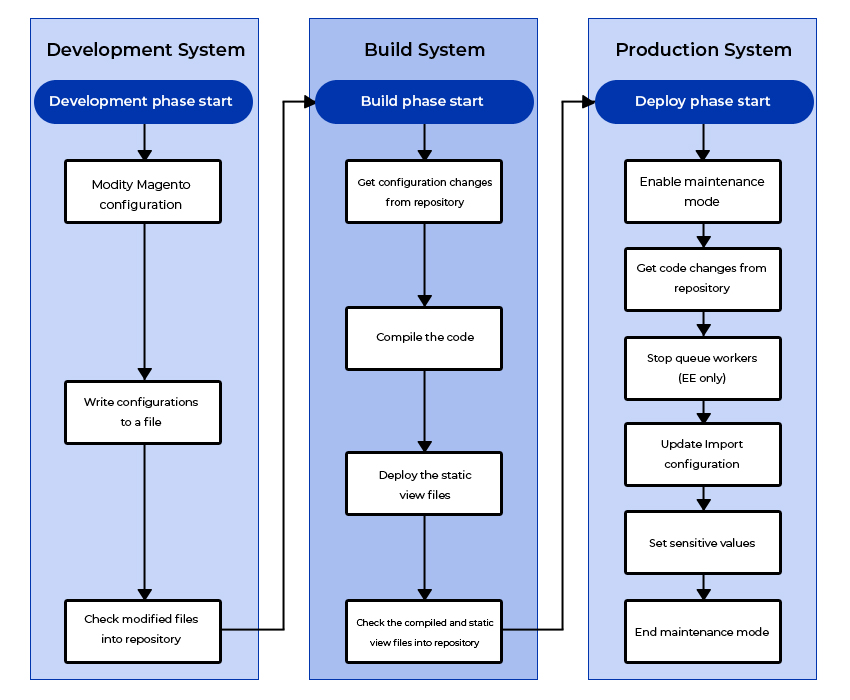 In the latest versions of Magento, you will find a new technique to deploy changes with minimum downtime. It is called pipeline deployment, as the process occurs on different systems.
Basically, it is the process of taking the code from version control and making it accessible to your customers in an automated mode. It includes compiling code and deploying static assets on a machine separate from the production system. Here is how it works:
The software delivery process is broken into several stages during deployment, and different tasks are executed in all these stages. Every step aims to test new features' quality and avoid bugs. Tasks are executed in parallel during the same stage. When all tasks of a stage are passed, the tasks of the following stages begin.
The sole goal of this process is to avoid mistakes. For example, if one or more tasks fail at a stage, it fails all the deployment automatically. As a result, the website's downtime is always less than 30 seconds, and no downtime if updates are not needed.
Hire Magento Migration Experts at Envision eCommerce & Achieve Zero Downtime
It's now crystal clear that downtime during Magento 2 Migration can negatively affect your eCommerce business.
Though you can absolutely take advantage of the above mentioned steps to minimize the downtime as much as possible, it is still going to influence your business except if you have a proper migration plan and an expert team of Magento migration specialists by your side.
Indeed, zero downtime during Magento 2 Migration is achievable if the entire process is managed with the help of skillful Magento developers. We at Envision eCommerce have migration specialists who successfully migrated thousands of eCommerce stores to Magento with zero downtime.
Our team can work with you to eliminate all the negative consequences of migration, like loss of business and reputation. You will only experience positive effects like improved website speed, better performance, more sales, and a streamlined business process. Please feel free to reach out to our team if you need help!