Magento Meetup Chandigarh – The most impactful Magento event of the year has arrived!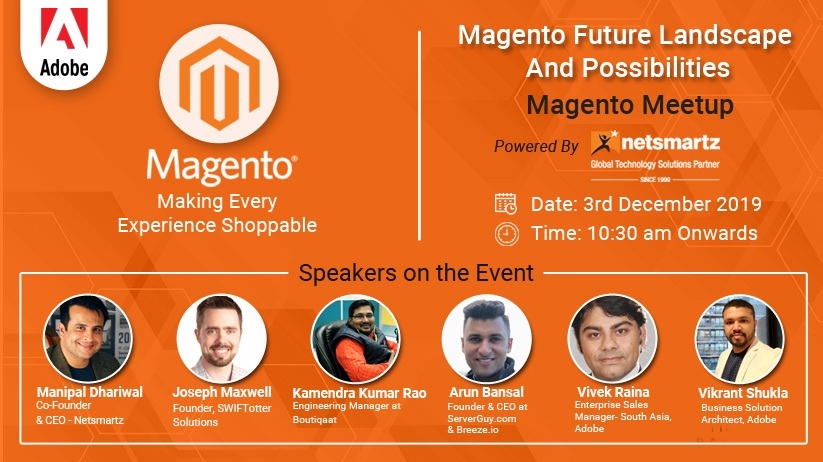 The biggest event which every Magento devotee eagerly awaits is finally here! Magento Meetup Chandigarh is the third biggest Meetup Group in out of 15 Groups from India and has 872 members in the group.
Scheduled on December 3, 2019, Magento Meetup Chandigarh, this time, would be aiming at the futuristic revelations in Magento Environment considering significant aspects of eCommerce with Magento.
Powered by Netsmartz, this Magento Meetup Chandigarh would be the biggest this time, since the meet up will witness the presence from giants like Adobe, Magento Master 2019, and several experts from the Magento Community as well as successful entrepreneurs.
"This Magento Meetup in Chandigarh is going to be best ever since we are progressing towards 2020. Magento has already given a lot to the eCommerce industry. We are curious to attend this event since we are catering to the top industry professionals. This will not only increase the potential of Magento technology but will also help to strengthen the propitious connections that will take eCommerce to greater heights." Says Manipal Dhariwal, Co-Founder & CEO, Netsmartz.
Dedicated to eCommerce, the leading Magento conference will accommodate the finest developers, booming merchants, marketing experts, and Magento enthusiasts to share their vision on prospective Magento Landscape.
This event is an enormous opportunity for backend and frontend developers who are already working on Magento or are likely to adopt Magento.
The Meetup will also be of immense advantage to :
Merchants who need to take more business benefits with Magento.
Business executives who are dealing with Magento solutions.
Chief experience officers with Magento agencies.
Backend and Frontend Developers working on Magento.
Backend and Frontend Developers willing to work on Magento.
Let us take you to some quick highlights of the event:
The Speakers: since every Magento meetup is turning grander, this meetup will have some of the most influential speakers:
Vivek Raina, Enterprise Sales Manager- South Asia, Adobe.
Arun Bansal, Founder & CEO at ServerGuy.com & Breeze.io.
The goals of the meetup will be only aiming at major trends related to the future of eCommerce.
Here is a list of topics that will add value to the knowledge and skill of Magento fanatics:
Why is it important to get Magento Certified? By Joseph Maxwell
Magento B2B Landscape from India Perspective By Vivek Raina
Scaling Magento by Arun Bansal
The Art of Requirement Gathering by Vikrant Shukla
Achieving high performance and scalability using Magento – Boutiqaat Case Study by Kamendra Kumar Rao
We are excited about this event and if the idea of meeting Magento wizards already gives you goosebumps, show your interest by participating through the link
Limited Seats only!!! RSVP Now as just 10 seats left now –
https://docs.google.com/forms/d/1kUTZgXKc2vlzeUqk1avVAUZKecStv5OOEwYkUR8pbjw
Download Blog