Magento is back with another "Distributed Contribution Day" 2019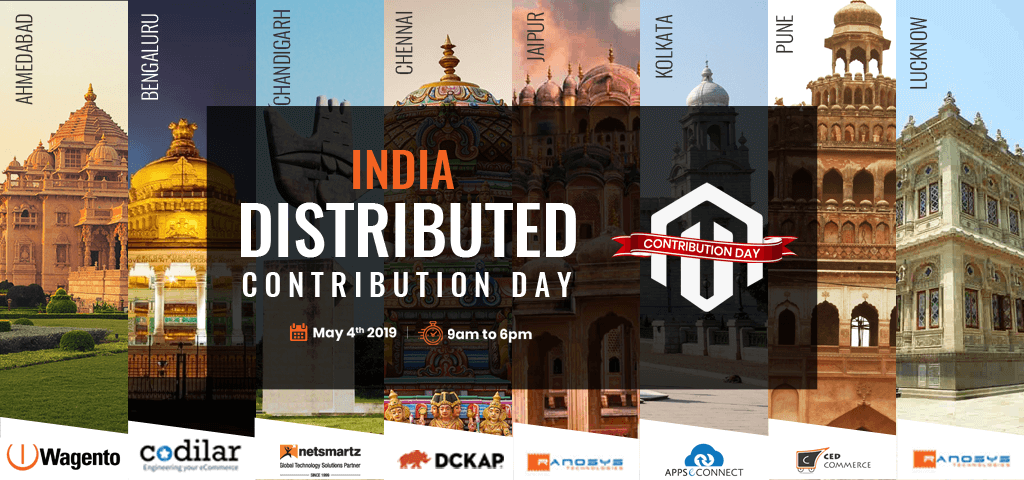 We all are aware of how fun-filled and interesting the last Distributed Contribution Day was. Well, it's time to mark our calendars for the next.
On May 4th, 2019, Magento's Distributed Contribution Day is going to happen in 8 different cities on the same day and at the same time. The cities witnessing this amazing event are Ahmedabad, Bengaluru, Chandigarh, Chennai, Jaipur, Kolkata, Lucknow, and Pune.
Magento has come up with a great initiative this year; they have decided to donate the entire registration fee to the "Bharat Ke Veer" foundation as a token of generosity for the noble cause.
The objective of the day:
The Magento Contribution Day focuses on providing intensive workshops with Magento Community Engineering teams and giving you insight into Magento 2 development.
Organizing Companies are:
RanoSys, CedCommerce, AppseConnect, DCKAP, Netsmartz, Codilar, and Wagento.
Who can and should attend this event?
Developers, agencies, eCommerce retailers
Magento 2 enthusiasts
Why you should participate?
Magento core team members will be there to solve your coding related issues
You can contribute to Magento 2 directly
Learn about Magento's best practices
Interact with Magento developers for open Magento 2 issues
Meet services providers, partners, and outsourcing services
Connect with prospects to find business opportunities
Present your products and/or services
What's in it for you?
Develop feature/improvement
Do cross code reviews
Run tests and check results
Create and merge PRs
What you need to attend the meet?
Working (Up and running) Magento 2 version with develop branch, forked and pulled from GitHub
Debugger and IDE are up to you, the team uses xdebug and PHPStorm
Active GitHub account
Desire to make a contribution and have fun
Registration Link: http://meetmagento.in/
Date: May 4th 2019
Timing: 9AM-6PM
Locations: Ahmedabad, Bengaluru, Chandigarh, Chennai, Jaipur, Kolkata, Lucknow, and Pune.
Please Note: Limited seats available in each location so entries will be selected based on Magento Experience.
Download Blog