Magento Community vs. Adobe Commerce – Which One is Better?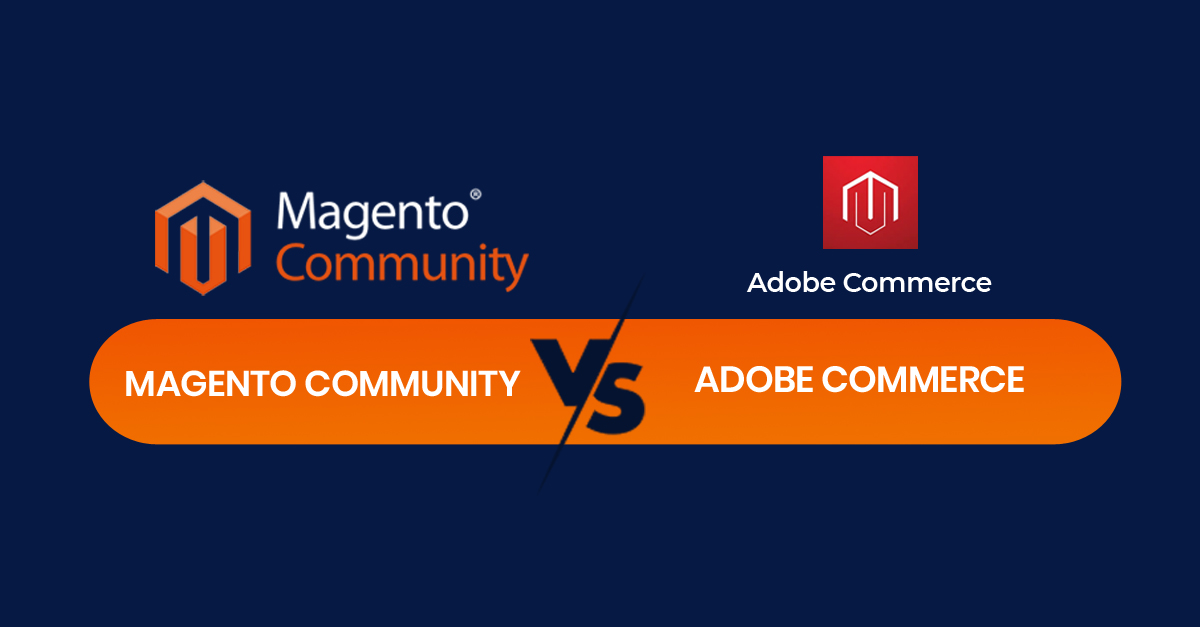 Magento is a popular name in the eCommerce ecosystem. Selecting the right Magento version to build your e-store and using it to its full capabilities can propel your business to new heights and beyond the competition.
Presently, Magento offers two versions; they are known as Magento Community (CE) and Adobe Commerce (Adobe Commerce). While both these versions have the same core features, Adobe Commerce is equipped with advanced capabilities to help businesses grow and scale their offerings.
This blog compares both these versions to help you select one. But, before we dive deep, let's be clear on one thing. The answer to the "Magento CE vs. Adobe Commerce: Which is Better for my eCommerce Business" is "it depends."
Both these versions have the potential to help run an eCommerce business seamlessly. However, there are a number of factors that you should take into consideration before you select one to get the best return on investment. Just like no one size fits all, there is no perfect version for all businesses, and you must make an informed decision depending on your business goals, preferences, and needs.
Let's now compare both of them to make the right decision.
What is the Magento Community?
Also called Magento Community Edition, it is a free version of Magento built for tech-savvy merchants and developers. Due to the amazing customization options, it provides, Magento CE has long been a preferred choice for small and medium-sized businesses who want to build a highly extensible and feature-rich eCommerce platform while not spending a large amount of money on licensing costs.
Magento's open-source version, or CE, has many enterprise clients as well — who are attracted to its lightweight and highly customizable nature. If you have expert developers by your side and the right infrastructure, you can grow and scale your business by launching fast and high-performing eCommerce websites using Magento CE.
What is Adobe Commerce?
Adobe Commerce (Adobe Commerce) is built for enterprise-level clients that need 24/7 technical support and a more diverse set of functionalities. While the Magento Community version is free, Adobe Commerce comes with a license charge of $22,000 per year for merchants generating less than $1 million per year, and this fee increases depending on the store's revenue. It is either offered as a PAAS-hosted solution or as an on-premise solution in the Commerce Cloud form. While the codebase is the same for these two options, some platform updates are automatically applied on the cloud.
Find out how our eCommerce experts can help you bring your online business to new heights.
Book a free consultation!
The Differences Between Magento Community and Adobe Commerce
The following head-to-head comparison shows how these versions of Magento are different from each other and what you need to consider before you choose one.
Attributes
Magento Community
Adobe Commerce
The Definition
A free and open-source version of Magento with basic and limited features.
The premium paid version of Magento for enterprise clients with advanced capabilities.
Website Speed
Does not include full-page caching, meaning web pages take around 5-8 seconds to load
Website pages often load in less than 2 seconds
Handling Product Catalogs
Is lacking when it comes to handling large product catalogs
It can handle any number of products seamlessly
Rollback Options
Hard to implement
Easy and quick to implement
Checkout Flow
Fast and streamlined
Faster and more streamlined
Magento Cloud
Cloud functionalities are not available
Cloud management tools make deployment, promoting, and testing comparatively rapid.
Scalability
Due to the single server, it often crashes when the load is high
It has a better code base and is specially designed for scalability
Advantages
· Free-of-cost

· Highly flexible

· Allows multi-store management

· Marketplace of extensions

· Responsive design

· Strong and stable community

· Advanced marketing tools

· Catalog management

· Customer segmentation

· Content staging

· Flawless performance

· Rewards and loyalty programs

· A PCI compliant codebase

· Magento business intelligence

· 24/7 technical support

· Top-notch security

Disadvantages
· Speed issues on small servers

· Low scalability

· No technical support

· High cost

· Complex management

When to Use?
· If you don't want to spend money on a license

· Your business operates within one country

· You don't require 24/7 technical support

· You have a team of developers to help you

· You need advanced marketing tools

· Your store targets an international audience

· You don't have budget constraints

· You need to accept payments in different forms

· You need advanced security solutions
Magento Community vs. Adobe Commerce: How to Choose Between the Two?
To find out which version suits your business needs, let's analyze Magento CE and Adobe Commerce's different aspects:
1. Performance
While a lot of people believe that the Community Edition of Magento is faster and higher-performing because of it being lightweight, that is a misconception. Some people feel that the Magento Community version is faster is because it is used by small and medium-sized businesses that generally have lesser products and SKUs.
Both versions of Magento deliver amazing performance. But, Adobe Commerce is a bit faster. The full-page caching feature of Adobe Commerce makes pages load quickly and provides a seamless shopping experience. The Adobe Commerce version also supports multiple databases flawlessly and speeds up the overall performance of the website. Thus, if you want your website pages to load as quickly as possible, consider choosing the Adobe Commerce version.
2. Scalability
Another important factor to consider when choosing between CE and Adobe Commerce is scalability. If you are sure that your future business will grow rapidly, you should use Adobe Commerce.
Adobe Commerce comes with out-of-the-box features and capabilities that are crucial for scaling the platform and handling a large user base.  Some of its features include a fast and easy checkout process, order management, B2B functionality, product recommendations, and customer loyalty tools. Also, its hardware can handle high traffic and around 250,000 orders per hour. So, if you are developing a website that is going to experience a large amount of traffic and orders per hour, consider using Adobe Commerce. It will cost you money, but it will be worth it. Whereas, Magento Community Edition is a good alternative for small businesses as it is cheaper and handles a smaller amount of traffic comparatively.
3. Security
When an organization presents a new version, it updates its security to make it more secure, and so does Adobe Commerce. The paid version has advanced security patches which make it a more secure and stable version.
On the other hand, Magento CE is "free" but at a cost. If you chose CE, you have to be extra careful when it comes to ensuring the security of your platform by using expert developers and performing continuous code reviews. With Adobe Commerce, you can sit back and relax as the Magento team will eliminate the security threats before you even notice there is an issue.
4. Customizations
Magento is known for the level of customization it provides to eCommerce businesses around the world. While in the last three points, Adobe Commerce seems to be the winner, it lacks when it comes to providing customizations to businesses.
Using Magento CE, you can entirely customize the look, feel, design, and functionality of your website depending on your business needs. There are several third-party extensions available that you can integrate with Magento CE to meet your customer's demands. Not every developer will agree to this, but Magento CE can be configured to use any number of customizations and extensions to leverage many of the features of Adobe Commerce. Thus, with the help of expert developers, you can enjoy many of the features of Adobe Commerce without spending a fortune on license costs every year.
5. Cost
The biggest difference between these two editions of Magento is the price. As mentioned above, Magento CE is free, but Adobe Commerce is a premium paid version. License charges ensure higher security for your Magento store and incorporate more built-in features, which assist with bettering marketing strategies, consequently generate more sales and revenue.
The license cost of Adobe Commerce depends on your revenue. In other words, how much you pay for Adobe Commerce relies upon how much you earn from your store. An Adobe Commerce license begins at $22,000 per year for store owners generating under $1 million in revenue. Your license fee increases depending on your revenue; the more income you generate, the more you will have to pay.
Conclusion
To conclude, Magento Community is a good start if you are new to the eCommerce world or just want to get your startup idea off the ground. If you choose Magento CE and have a team of experienced Magento developers by your side, you will spend a lot less than the license fee of Adobe Commerce for maintaining your store.
At the same time, your chosen developers must know how to configure Magento to suit your business needs and design a store that provides a good ROI. On the other hand, for websites that need to process a large number of orders every day and don't have a team of expert developers to help, Adobe Commerce is the best option as it comes with the full support of the Adobe team.

Magento Community or Adobe Commerce: Which is best for my business?
Download Blog