Magento 2 SEO Using Magento 2 Out-Of-The-Box Features & Settings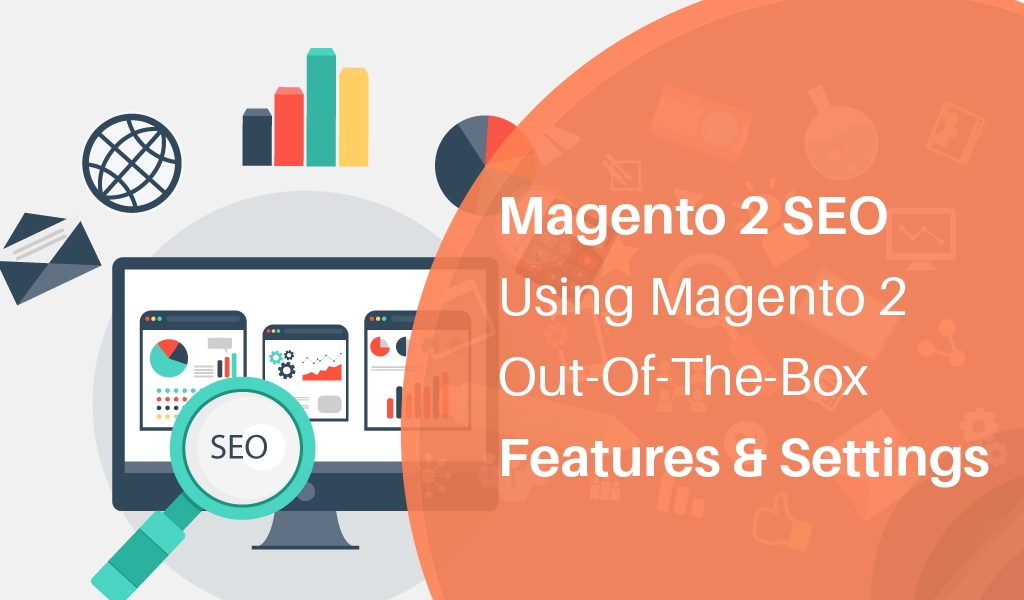 Your Magento 2 store is pretty much the final stand when it comes to a matter of battle being fought. Battle? – Yes, of course, the conversion battle! – And that's why you need to ensure that you are covering all Magento 2 SEO settings for your Magento 2 based website. Therefore, we would like to introduce you to Magento 2 SEO and highlight all Magento 2 settings that are accessible there out-of-box-the-box.
Main Magento 2 SEO Settings
Meta Tags for Products
What's the most important thing on your Magento 2 based eCommerce store? – Your Products! Your Magento store needs to rank high for your products in SERPs so that you can get good conversions for your products. Therefore, optimizing product pages for search engines is especially important for your Magento site.
However, if your store has many products, what is going to help you? Here, Magento 2 comes with out-of-box SEO feature, i.e. Product Fields Auto-Generation (located under Stores – Configuration – Catalog – Catalog – Product Fields Auto-Generation). It is a great tool that uses one template to change Meta tags for all products and save your valuable time.
However, you can also customize titles and meta descriptions through product page settings:
Product >> Basic Settings >> Search Engine Optimization
But, it is a time-consuming process as you have to edit Meta tags one by one for all products.
Magento 2 Product URLs Optimization
Magento 2.0 version also supports to make SEO-friendly products URLs by involving category paths for product URLs. You can also find this feature under:
Stores >> Configuration >> Catalog >> Search Engine Optimization
SEO-Friendly Category Page URLs
Magento 2 also features same default settings to setup the standard Meta tags: title, Meta description and Meta keywords.
All this Metadata can be set up as per each Store view and it is same in the case of category page URLs. Category page URLs can be set up from here: Stores> Configuration> General Information and you can opt for a URL for the category as per your requirements.
Meta Tag Optimization for Home Page
As we all know, Homepage plays a very significant role for any website and includes most appropriate information of a website. So, it should rank higher with the most vital keywords than all other pages of your Magento site.
Magento 2 provides the ability to customize home page information in:
Content >> Pages >> Home Page >> Page Information
You only need to customize this significant tag. It will be a wise decision to put your most important keywords in place of the page title and H1 tag.
Site Name as Prefixes & Suffixes for Title Tags
According to SEO best practices, you need to add your site name at the end or at the starting of your title tags throughout all site pages as it aids with branding. You can access this feature from here:
Stores >> Configuration >> General >> Design >> HTML Head
Image Optimization for Better Search Engine Rankings
If you devote hours crafting your Magento 2 store, don't miss out on image optimization to acquire maximum search engine benefits. Image optimizations can be the "icing on the cake" for Magento 2 site as it supports in site's speed. Magento 2 allows you to add alt attribute to optimize your product images:
Product >> Basic Settings >> Images and Videos >> Alt Text
In order to change the alt text for your logo image, you can change it from here:
Stores >> Configuration >> General >> Design >> HTML Head >> Header:
Unique & Quality Content
Unique & quality content is essential because not only does it shake your Magento 2 site's ranking, but it also affects your AdWords quality score which can further bring about less advertising costs. Moreover, another great benefit that you can grab – increased conversion rates- only because of quality content is written. As a result, your Magento 2 site will acquire a higher ranking, more & more visitors and yes, of course, higher conversion rates too. Magento 2 comes with some out-of-box tools to assist you in many of these main Magento 2 SEO aspects.
Canonical Link Meta Tag for Categories
Canonical link meta tags work against duplicate content issues. In eCommerce sites, there are lots of cases where duplicate content issues arise only because of multiple versions of single product page due to variation in product configurations. In these cases, it is essential to define the product page to get indexed by Google. That's why canonical link meta tag is required for categories.
Magento 2 allows you to enable canonical link meta tag for categories by following the path below:
Stores >> Configuration >> Catalog >> Search Engine Optimization
Magento 1.X also supports such settings, but Magento 2 also allows these canonicals to be applied to sorted as well as filtered pages. For example: the ones with product_list_order=name, product_list_mode=list, etc. As a result, there are very fewer chances of an existence of thin content on your website.

Canonical Tags for Products
It is also easy to access canonical tags for products by following the path mentioned below:
Stores -> Configuration -> Catalog -> Search Engine Optimization
This setting is also accessible under Magento 1.X. But it is difficult to customize canonical tags (for example: to make one product as a canonical version of other product) under default Magento 2 installation because there is no availability of custom field to add a particular canonical URL.
Enable/ Disable Category Path in Product URLs
While going through Store >> Configuration >> Catalog >> Search Engine Optimization, there is an option to enable or disable category paths in URLs. These category paths are beneficial for indexing or to display the logic of store navigation.
Site Indexing Settings in Magento 2
ROBOT.TXT
As you all know, Magento 2 settings also support to generate & manage instructions required by web crawlers & bots to index a website. The file that contains all such instruction is known as "robots.txt" which is accessible at the root of your Magento installation. Magento 2 allows you to edit this robot.txt file through your Magento 2 admin panel.
Stores >> Configuration >> Catalog >> Design >> Search Engine Robots:
In addition to this, you can access your robot.txt file at:
yoursite.com/robots.txt (an appropriate place for it)
The other directories that you may want to disallow include:
/catalog/product_compare/, /catalogsearch/, /wishlist/, etc.
Meta Robots
Basically, the default meta robots are set to Index, Follow to get your Magento 2 site indexed by Google. However, you are not allowed to customize it on a particular page. For an instance, suppose you generate a duplicate product in Google Analytics for some experiment purposes, you will need a method to restrict search engines to access this particular product page. You could insert such URLs to your site's robots.txt file but it seems not to work always as supposed.
Magento 2 Settings to Generate XML Sitemap
In Magento 2, you can access XML sitemap settings under:
Stores >> Configuration >> Catalog >> XML Sitemap, also shown in the image below:
There are some important changes that come under observance for Magento 2 XML settings. These changes include:
It is possible to add all the images to the sitemap automatically.
An option to submit XML sitemap URL to robot.txt file.
It is possible to set the number of pages as per file & the maximum size of the file.
HTML Sitemap settings:
Inopportunely, there is no HTML sitemap setting available with Magento 2 out-of-box features. It means you require to go for some customizations or extension to create HTML sitemap.
Surplus Magento 2 SEO Features Compared to Magento 1.X:
Suffix for Product & Category URLs:
Magento 2 comes with this new SEO feature to insert a suffix for your website's pages. It is also accessible under:
Stores >> Configuration >> Catalog >> Catalog >> Search Engine Optimization
Rich Snippet or Microdata – Another Great Innovation of Magento 2:
Microdata, or Rich Snippet is another great advancement of Magento 2. It is surely a most beneficial innovation for online merchants. It comes as a default option and gets added automatically to product pages. However, there is the availability of only product snippets in default Magento 2 configuration settings. In order to add breadcrumbs or search box markup, you need to do it on your own or you can do it with the assistance of an extension.
Integrating Google Analytics to Your Magento 2 Store
Magento 2 comes with a handy tool which is helpful in adding your Google Analytics tracking code to your store. It is accessible under:
Stores >> Configuration >> Sales >> Google API >> Google Analytics
You only require to enable Google Analytics & insert your tracking ID which is accessible under Admin >> Tracking Info in your Google Analytics Account.
Moreover, it also allows to do content experiments and you can insert that Google Analytics Experiment code into your product page by following a path mentioned below:
<head> section: Product >> Advanced Settings >> Product View Optimization:
But you still require to generate a duplicate product page & insert a noindex tag into it. Basically, there is no any change in other phases of setting up split tests of Magento.
Google Adwords Integration with Magento 2
As you all know, Google Adwords is a service which supports in placing ads in Google Search results, with all required tools & features to manage the campaigns. To implement Google Adwords for your Magento 2 based store, you need to navigate to:
Stores >> Configuration >> Sales >> Google API >> Google AdWords
And, you will access all the required settings:
As you can see in the image shared above, you can also grab other information in your Google Adwords account like conversion id, format, color, conversion label, conversion value type, conversion language choices, etc.
If these out-of-the-box features are not enough for satisfying your Magento 2 based website needs, or want any more comprehensive insights around this; or particular support for your project, get in touch with Envision Ecommerce as we have a team of experienced digital marketing experts who is ever-ready to help you with Magento 2 SEO.
Download Blog