Magento 2 Migration – A Perfect Guide for SMBs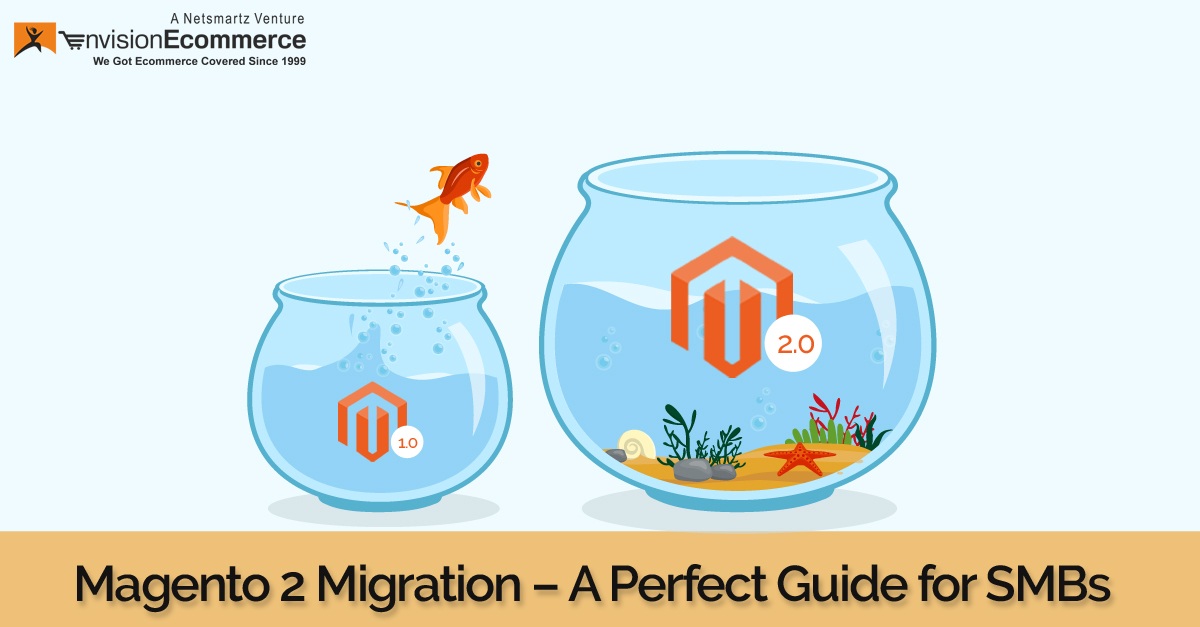 Not yet planned to migrate to Magento 2 prior to June 2020? Well, it would not result into shutting down of your store but Magento will cease its support for all Magento 1 stores out there, such as there will be no security patches, no quality fixes for Magento 1 SMBs (small to medium businesses)following the scheduled date, etc. On the whole, we can say that there will be no support or security maintenance. Thus, it would be wise to migrate to Magento 2 to ensure uninterrupted experience and a secure eCommerce store for your consumers. Here is a brief guide on how to make a smooth move to Magento 2:
The process of Magento 1 to Magento 2 migration involves three essential stages: pre-migration, migration and post-migration.
Pre-migration stage:
In this stage, a review of your site's content and data is carried out to get an estimate of how much manual labor is required, practice design specifications and mark a project outline with the most important stages and the deadline for every stage.
Migration stage:
This is where you set up a testing environment by migrating Magento 2 on a new server. Subsequently, themes, plugins, extensions, customizations, data and content are also migrated from Magento 1 to Magento 2.
Post-migration:
This stage involves the synchronization of your order history and consumer data to carry out a smooth move from Magento 1 to Magento 2.
Major Challenges SMBs May Face During Magento 2 Migration
Data Migration is Beyond Drag and Dropping
Data migration is the most essential phase in this migration process. You – or the certified Magento specialists doing this task for you – must have relevant hands-on experience and technical knowledge to respond instantly and daringly if it is a case of losing product or customer data (database assets). Furthermore, your meta titles, consumer orders, plus your blog content should be managed and migrated independently.
Moreover, you must understand that it is not a copy paste process where you can simply copy your Magento 1 data and paste it into your Magento 2. Instead, you need sufficient training to get prepare for shifting your custom data. Subsequently, a organized grouping of the custom migration scripts, data migration tool as well as manual migration, etc, is required to smoothly transfer your whole settings plus bulk data.
SEO Performance Following Magento Migration
You must understand that SEO also has a huge impact on your eCommerce business. Magento 2 is packed with various SEO enhancements covering Auto-generation and Schema.org features. Schema.org facilitates your eCommerce store to attain better search engine ranking, however, Auto-generation helps in setting templates for product meta data.
On the other hand, if you lose quality search engine traffic, it will badly affect the SERP ranking of your eCommerce store. Thus, it will require a big chunk of your hard earned money. Today, most of the merchants who are aware of how Magento 2 is beneficial for small business opt for this platform because of its strikingly advanced SEO traits. However, if you don't rightly move to Magento 2 or follow the standard protocols of this migration, you may encounter several problems, like duplicate content issues, broken URLs, lost pages, non-functioning redirects, etc.
It doesn't matter how robust marketing strategies you're following, it will be badly impacted and making it quite complicated for you to boost your Google rank again.
Chaotic Code and Weak Data Structure May Signify a Lot for Custom Development
You might encounter data structure issues during the migration process, like your standard migration tool and scripts would not run if your Magento 1 code is chaotic or improperly configured. In addition, there may be several situations where your data structure may screw up and forcing you to reinstall your Magento 1 to rightly structure your data prior to Magento 2 migration. The only method to get rid of this issue is to perform a code review.
So whether you completely recognize how Magento 2 migration works or have a quite familiarity about Magento for small business, you require a professional helping hand to efficiently move to Magento 2 for SMBs. Don't just wait and quickly migrate today and avail the benefits of this Magento 2 migration.