MageIonic – Magento Mobile App for Magento Stores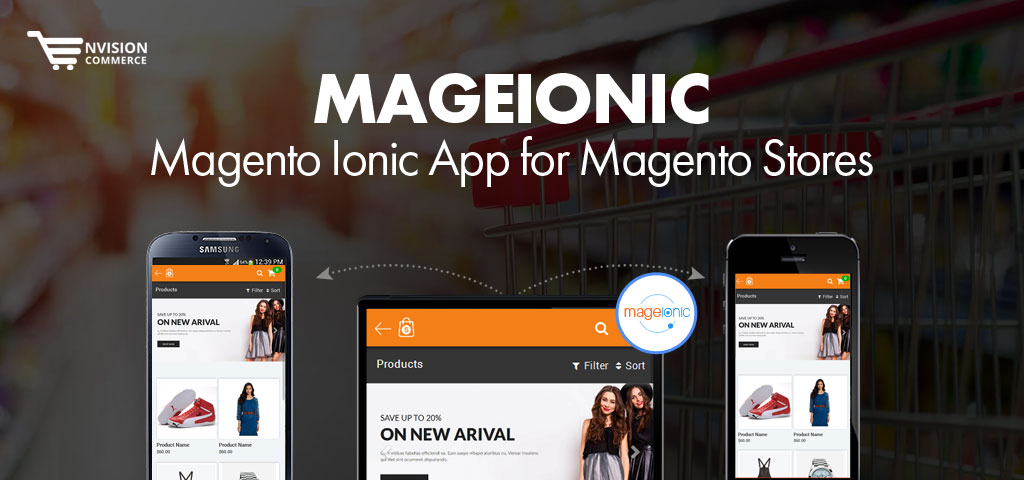 The soaring eminence of Magento continues to dominate this contemporary eCommerce landscape. It has been an empowering platform for more than 250,000 eCommerce stores across the globe. Being rich in groundbreaking features such as an extremely modular architecture, security, enormous built-in eCommerce relevant features, operational optimization and vast scale functionality, Magento seems like a game changer in the area of eCommerce.
According to a research by SimilarTech, Magento is acquiring a steady traction across the top millions of sites online today. Here is a graph that shows the fastest-growing platforms in the eCommerce space for 2016 in tune with their adoption rate.
Image credit: similartech.com
Although the Magento ground is shifting in the eCommerce industry. Magento-based online stores after riding a victory wave via websites are now shifting towards Magento mobile eCommerce. More than 60% of transactions belong to M-Commerce (via smartphones and tablets) in the U.S.  Considering globally, M-Commerce makes up 35% of retails and eCommerce transactions.
Some studies and researches suggest that 80% of users are available on their mobile devices to shop online. These mobile users are adding more fuel to the development of Magento eCommerce mobile apps. And that's icing on the cake for Magento store owners in terms of low mobile app development cost and high sales volume. Thereby, considering all these things, Envision Ecommerce is out with its first-ever Magento Ionic App: the MageIonic app which helps Magento store owners to bring their stores live on mobile.
Here is a comparative exploration topping the exclusive features offered by Envision Ecommerce's MageIonic- Magento Mobile app vs third party apps:
MageIonic is a wise and cost-effective solution for Magento store owners to bring their fully-functional stores live on mobile. It enables store owners to connect with customers on their mobiles. Thus, Magento store owners can have an opportunity to boost store sales & customer loyalty via mobilized Magento Store.
Key Features of MageIonic- Magento Mobile App:
Hybrid Mobile App
It is built using hybrid technology and gives customers an unparalleled user interactivity across all platforms & devices like Android phone, tablet or laptop.
Platform Support
MageIonic works smoothly with world's two most popular mobile platforms:
                                                                             Andriod & iOS
Push Notification
This app features a push notification feature that allows merchants to send urgent notices or alerts to their customers.
Most Secured Payment Gateways
With the facility of most secured payment gateways in this app, merchants can make the payment transaction process easier, safe and smooth for your customers.
Real Time Data Synchronization
This feature allows Magento store owners to maintain an unbroken connectivity between their stores and customers.
A Room for Customizations
Every Magento store owner has different requirements such as a set of products, design, theme color and overall store look. Thus, this app comes with a great room for customization to match the needs, conformability and app interface demanded by a merchant. Merchants can easily customize this app in tune with ever-changing needs of their customers.
In-App Social Logins
MageIonic comes with In-App social logins that enable customers to connect with an online store via social networks like Google and Facebook.
Flexible and Intuitive Backend
The best feature that MageIonic- Magento Mobile App offers is its flexible and intuitive backend that allows merchants to easily manage their entire mobilized store.
Enhanced Product Showcasing
This feature allows merchants to display products in more enhanced ways via this mobile app.
Thus, Magento store owners can shape fortunes for their Magento stores via our exclusive mobile app as their own. You can avail MageIonic – Magento Mobile App here at Envision Ecommerce store within your budget along with standard quality assurance.
Download Blog