How to Deal with Annoying Customers?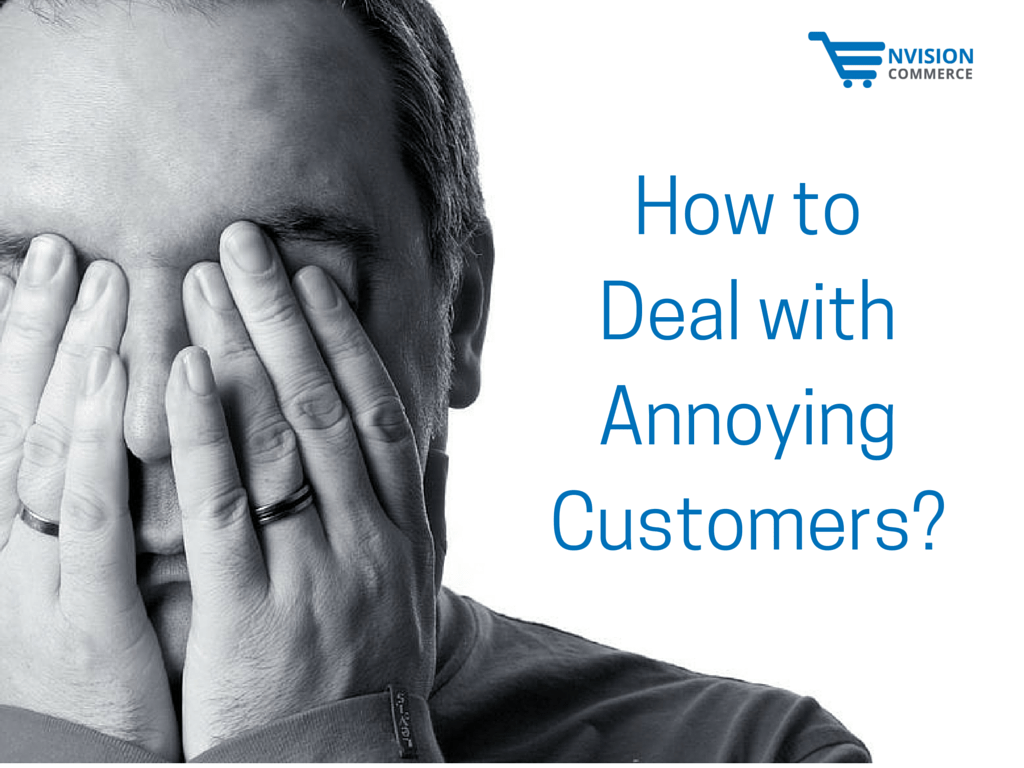 Nowadays, almost all offline stores or companies are being conducted online and it has given rise to E-commerce sites. Therefore, it is extremely important for store owners to design & develop a site mainly intended for customers as you may know – What You Put in Your Site is What You Get Out.
Almost all different websites have one similar attribute, i.e., Attract and retain visitors and for more business, they put their websites in such situations that might confuse and annoy their clients. Thus, you are advised to put some constraints on you for annoying issues and pay attentions to the followings to avoid annoying your customers.
Understand and Respect Your Customers
Your customers will only understand, respect and come back to you, if you first understand them and give them respect.
Connect with your customers on the basis of their online behaviors and behavior at your store. And also deliver real time intelligence solutions that correlate to their behaviors.
Online shoppers tend to be impatient, so ensure your website loads quickly.
Keep your website updated on a regular basis for customers' desires for an up-to-date product or services information at your site.
Simple and hassle free E-commerce websites with user friendly checkout systems.
Don't stick to one routine or create any kind of repetitiveness in your processes to show you love your customers like sending emails again and again on their email subscription at your site.
Don't distract customers with unnecessary surprises or any force to subscribe to emails as soon as they visit your website.
Grow Customer Loyalty Not Customer Base
Today, the mass marketing and media is rising rapidly over the internet and E-commerce website owners make a quest for the most desirable customer segments from other online portals or purchased lists available on other sites. Such owners vie with each other to please and attract customers. In this desire, they forget to focus on main acquisition, i.e., growing customer loyalty and pay attention towards the growth of customer base. In this quest, they contact customers by direct mail, catalogs, email reminders, etc, and forget about not to repeat such efforts. All such efforts don't only lead to annoying or confusing customers, but also a costly waste of money.
Fix a Limit between Marketing and Shopper Annoyance
Almost, every website owner wants to make customers feel special and offer them a great shopping experience, especially different from others. But, if you don't make use of the methods that leads to produce a meaningful customer intelligence, then you may just end up with more chances to bombard them with wrong or too many offers. Therefore, it is important for you to draw a line between your marketing efforts and shopper annoyance. You can put yourself on some Do Not for:
Too Much Advertising
Too Many Emails
Pop-up Windows
Flash Messages & Animations
Hidden Content, etc.
Above are some best methods and guidelines to avoid annoying, and losing your customers. However, these are not any kind of hard and fast rules. But, if you have an e-Commerce website, then you essentially need to adopt such points to get better results & to take your venture to the next level with higher business opportunities.
As part of our initiative for "Free Ecommerce Consultancy", we aim to offer such advice and good to have practices that can ensure you have good customer retention and loyal customers who give you long term business. Get in touch with Envision Ecommerce to learn how you can grow your Ecommerce Venture more.
Download Blog