How to Create an Online Grocery Store?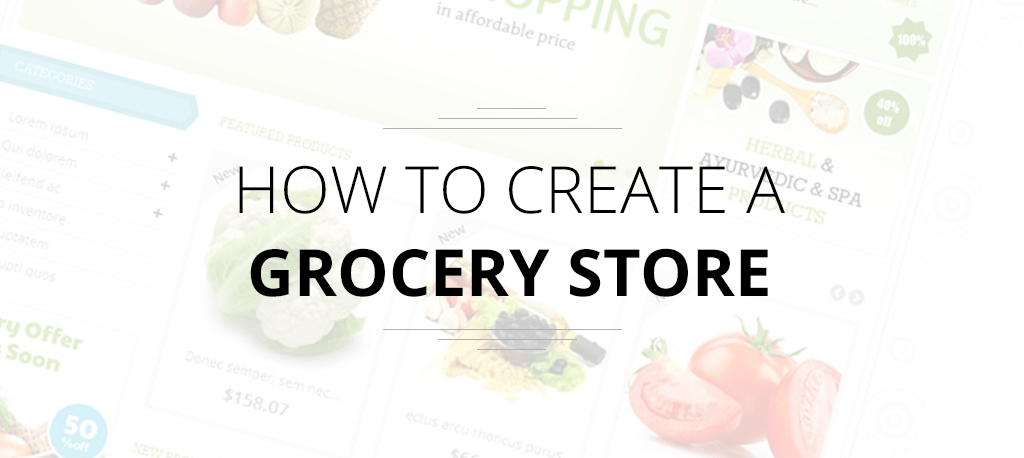 Toothpaste, soap, milk and vegetables like things may seem to be small & very less important, but these things play a crucial role in your day-to-day activities. You can live without cinema, cafe & restaurants, but there is no way you can live without your toothpaste, soap & many other groceries.
Due to the fast paced life of the city, tiresome traveling and long working hours, most people don't have enough time to buy such groceries, and prefer online grocery stores. Thus, online grocery stores are getting popular in India and Internationally due to growing online-customer base & online shopping, increasing internet connections (partly via smartphone), absolute convenience, and ease of shopping.
Globally, grocery e-stores are on the rise nearly seven times faster as compared to offline formats. On the other hand, Indian online retail space is projected to be worth over $500 billion, with 30-40% of the business expectations over the period of the next seven years. This presents a great opportunity in the eCommerce industry, especially lies with e-grocery space.
AmazonFresh, Walmart, BigBasket, AaramShop, AtMyDoorSteps, ZopNow, PepperTap, RationHut, EkStop, MyGrhak, SeaToHome, and Groffers are some of the grocery e-stores. Grocery shopping now comes as service oriented venture. If you are also thinking of creating such online grocery store, you need to create a store which makes consumer's daily routine easier, more handy, more enjoyable, and people would prefer to buy only from your store & would buy more & more.
By following simple steps, you can be assured to create your very own grocery e-store:
Make an Amazing First Impression
As we know "First impression is the last impression", so you need to create a grocery e-store which makes an amazing first impression on your consumers. However, it takes about 50 milliseconds for your visitors to decide if they like to turn into customers or not.
Why Photos of Your Groceries Matter?
The impressive photos of your groceries, help your customers to remember 80% of what they see on your site as compared to 20% of what they read.
User Friendly Site's Navigation
A stress-free & easy-to-use navigation allows visitors to easily find the grocery item they're looking for.
Have a Unique Selling Idea
Being creative & selling your grocery items with your own unique ideas like craft skills or decorations, top selling products, reminder from your grocery e-store about special offers, possible saving benefits & product suggestion on the basis of visitors' shopping history, tricky product pricing, review or rating based products to save time & money, etc.
Start Blogging
A blogging section on your Grocery website can increase the number of visitors by 50%. Always keep your customers or regular visitors informed about your new shared grocery list or added products. It will help you to grow your customer base. Hence, more sales!
Appealing About Us Page
"About us" page is a window into your grocery e-store. Thus, you should pay attention to this most important section & keep it appealing & fresh. According to some research & surveys, it has been found that 7% of visitors who come to your e-store's home page & click on your "About us page" to know more about you; those who check about us page convert 30% more than those who don't check it & spend on average 22.5% more $
Successful SEO Strategy with Omnichannel Solution
Only traditional SEO strategy is not just enough for your online grocery store, you need to develop successful SEO strategy with Omnichannel solutions. This merging of both digital & Omnichannel solution could become a significant & a valuable part of your e-store's customers' lives in terms of long-lasting & profitable relationships.
Live Chat Feature
Use live chat feature to support your potential customers to make a decision faster, and also to help them in finding right products they look for.
Improve Shopping Cart Experience:
A grocery e-store needs to serve customers with an improved shopping cart experience so that they can easily cram their shopping carts with the grocery products they would like to purchase. Also, avoid the followings that may lead your customers with abandoned shopping carts:
Not enough payment options
Slow online store
Additional shipping fees
Show Visitors Your Store is Secure & Trustworthy
Customers are very sensitive to their online data, and they check any e-store before placing an order to ensure your store is secure & trustworthy. So, you need to careful about the followings:
Choose a secure platform
Use Strong SSL authentication
Order Tracking Feature
Strong password
Run PCI tests
Social Media Power
Social media power is also necessary for any online grocery retail to gain more popularity over the web. Twitter and Facebook are a must for every grocery e-store than Pinterest & Instagram. So, set up your grocery business profiles & be as active as possible, devoid of spamming your followers or fans.
Pay Attention To Mobile Users
It has been found that 70% of mobile searches result in an action only under an hour. However, 40% of the consumers prefer a competitor site if they don't get enough & valid required response to your online grocery store. So, you need to optimize your store for different screen size devices or mobile devices for your mobile users. However, you can develop a mobile app for your online grocery store to reach successfully to all your regular customers.
Select Best eCommerce Platform
When it comes to choosing ecommerce platform for your online grocery retail, you may have too many options like Magento, WooCommerce, Shopify, BigCommerce & many others. Now, you need to decide which faster commerce platform is better for your grocery retail.
Figuring an ideal store creation is fairly tough, so the best recommendation for you to just start it now. Purchase a domain & select a best ecommerce platform & start selling your groceries. You won't make any income just by thinking about creating an online grocery store that you've always dreamed about; you have to take the very foremost step.
Get in touch with Envision Ecommerce For Best Consultation and Recommendation to ensure that you create best Grocery store that not only solves the problem of people around you but also turns out to be a fruitful business venture for you.
Image credits : http://www.fmi.org/research-resources/grocerytrends2014
Download Blog