How Engaging Push Notifications Do Help You In Increasing Conversions?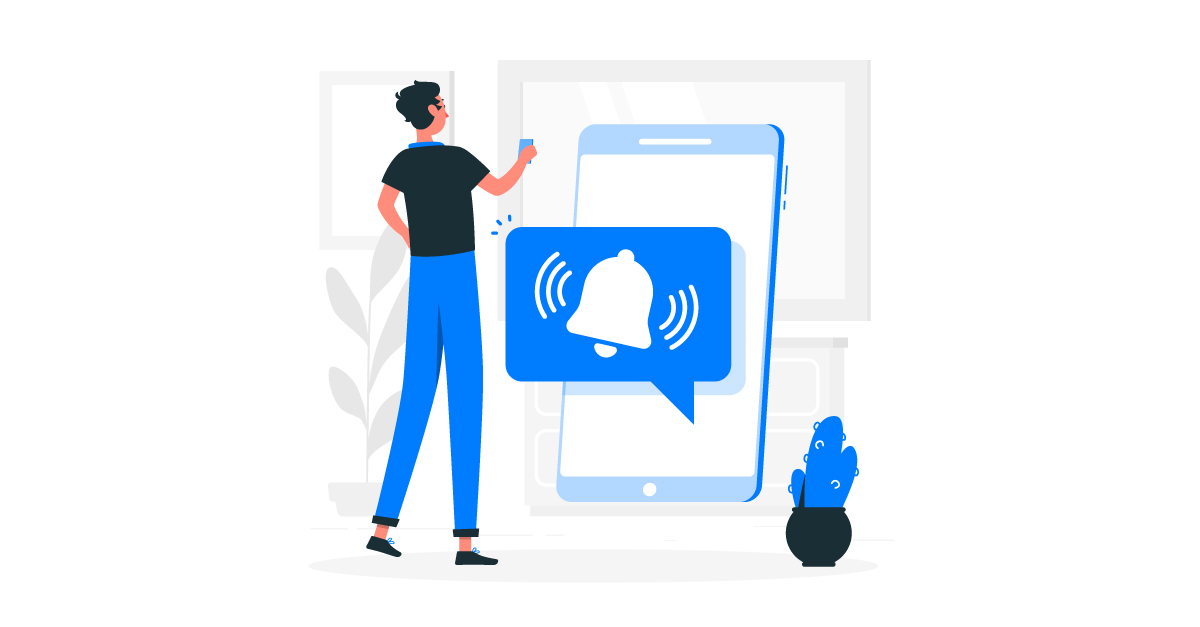 Push notifications are short, crisp, and subtle messages that businesses send their consumers to stay connected with them. If you have ever used a mobile app or game, you must already be aware of this amazing marketing tool that keeps users hooked. 
With the increase in mobile penetration and a continuous decline in email open rate, you need to find different communication channels to get your brand voice heard. 
That's where push notifications come into play. 
Push messages are an incredible way to communicate with your brand audience. According to reports, 52% of mobile users enable push notifications on their devices, and they can be used to benefit businesses in the below-mentioned ways:
Promoting services and products

Increasing customer engagement

Increasing conversions and sales

Retargeting customers who weren't able to complete the purchase

Raising brand awareness and trust by delivering valuable content
While there are many benefits of push notifications for eCommerce businesses, in this blog, we will particularly analyze how you can increase the conversion rate of your online store using push messages. So, let's get started.
How Can Push Notifications Help You Boost Conversions?
The importance of conversions is different for different businesses. For an eCommerce business, conversion means a customer finally made a purchase. Push notifications undoubtedly impact this, but only if you implement the right strategy.

Push notifications are a powerful form of eCommerce mobile marketing which is leveraged by almost all sorts of companies, including the likes of Amazon, Walmart, Etsy, and eBay – the leaders of eCommerce.
According to reports, push notifications can increase app engagement drastically. There are two main reasons for the same:
People hold their mobile phones in their hands most of the time

Push notifications make users curious to know more about the offer, deal, or any other offering
Moreover, push notifications are the best communication channel for brands. Here's why:
They are better than emails: According to a report by Xtify, the open rate for push notifications ranges from 30-60%, and the interaction rate is almost 40%. On the other hand, the open rate for email is 20%, while CTR is just 5.4%.
That means push notifications are two times better than emails.
Push messages lead to more sales: Half of the customers that opt for getting push notifications are already interested in your services. They sign up to get offers, deals, or other updates. According to Localystics, of all the people who open push messages, 15% convert from broadcast messages while 54% convert from segmented.
It means you have 300% better chances to convert your users if you analyze data, segment consumers, and personalize your push messages. Let's now check some of the best practices that can help you increase conversions using push notifications:
5 Best Practices to Increase Conversions Using e Commerce Push Notifications
What are some of the ways to get the most out of your push notification strategy? Take a look:
1. Personalization is the Key to Success
Personalization is the key to success in eCommerce. And when you create personalized push messages, your users will be able to connect with you more efficiently, leading to an action. Sending personalized notifications can increase website traffic as well as conversions.
For example, sending a similar offer to all your store consumers won't help. But, if a consumer visited your online store and added an item to the cart but didn't complete the purchase, you can retarget him with an offer like "20% OFF on the Dress in Your Cart" or "Free Delivery on Sunday Orders." Messages like this will surely hit the consumers in the right place, and they are very likely to convert after such a targeted message.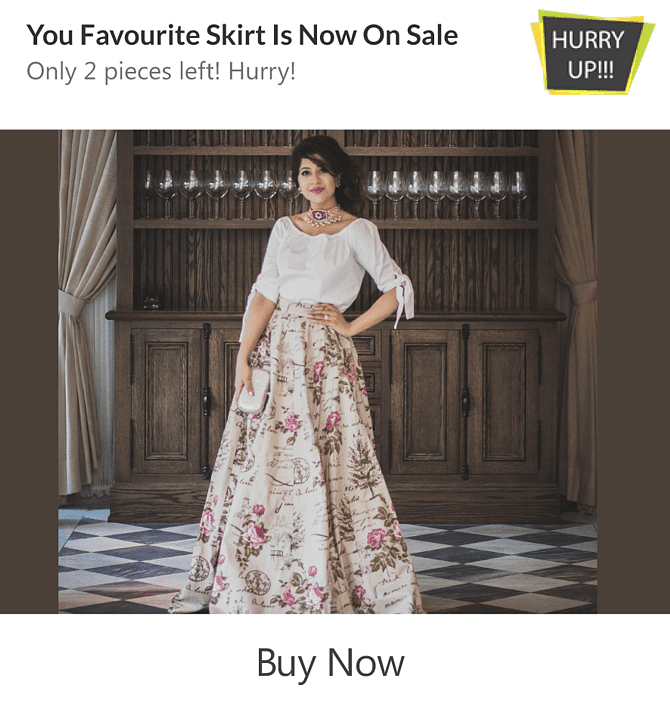 2. Keep the Content Short, Crisp, and Attractive
What value you deliver through your push notification matters a lot. Remember, you have limited space, and delivering the right message in fewer characters could be troublesome. But, your text needs to be clear, engaging, and valuable.
The words you utilize should be focused, and your overall message should result in an action. When you deliver a message that hits consumers hard, creates a FOMO, or makes them believe that they are at an advantage, conversions are likely to increase. So, take your time creating such a text or hire the best Copywriters available. 
Also Read: A Comprehensive Guide to Push Notifications, Types, Strategies, & Metrics
3. Deliver Value Via Push Notification
What do your customers get when interacting with your push notification? Is it an offer, discount, or sale? A funny random joke to laugh at? Anything it is, make certain that it's clear and provide users access to something that outsiders will not get. 
Remember, your push notification doesn't need to be pitchy every time. You can also try to be helpful and still increase conversions. Here is a perfect example:

Messages like these will help you increase customer engagement and lead to more sales.
4. Customer Segmentation Can Make the Task Easier and More Beneficial
Not all customers are the same, right? Thus, you can not imagine sending one push notification to all your consumer base and expect conversions. To get desired results, you need to comprehend consumer behavior; otherwise, it will be a disaster. 
Try to know your users before you implement a push marketing campaign. You can use analytics to segment consumers based on their likes, dislikes, behavior, spending habits, and other parameters. It is an intelligent way to take personalization one step ahead on your eCommerce platform.
For example, if some consumers have added items to the cart but aren't purchasing, put them in one segment. Another segment could be people who frequently download your guides, videos, or other files. Customer segmentation helps to send relevant notifications, and that can result in a significant boost in conversions.
5. A/B Testing
You would never want your push campaign to fail. And, something that is working for your competitors or others in the industry may not work for you. That's why A/B testing is necessary.
It lets you comprehend what does and doesn't work for your target audience. Having tested insights about your audience, you can make changes to your push campaigns to improve them as required for increasing conversions.
Wrapping Up
Push notifications are extremely essential for driving customer engagement, conversions and sales. By planning and implementing well-designed push campaigns, you will begin to see some outstanding outcomes, particularly with your conversion rates.
To know more about how you can design push campaigns that lead to conversions and drive more sales, get in touch with breakneck eCommerce Marketing Experts at Envision eCommerce.