Headless Magento 2 Development: How Can it Help Your Business Grow?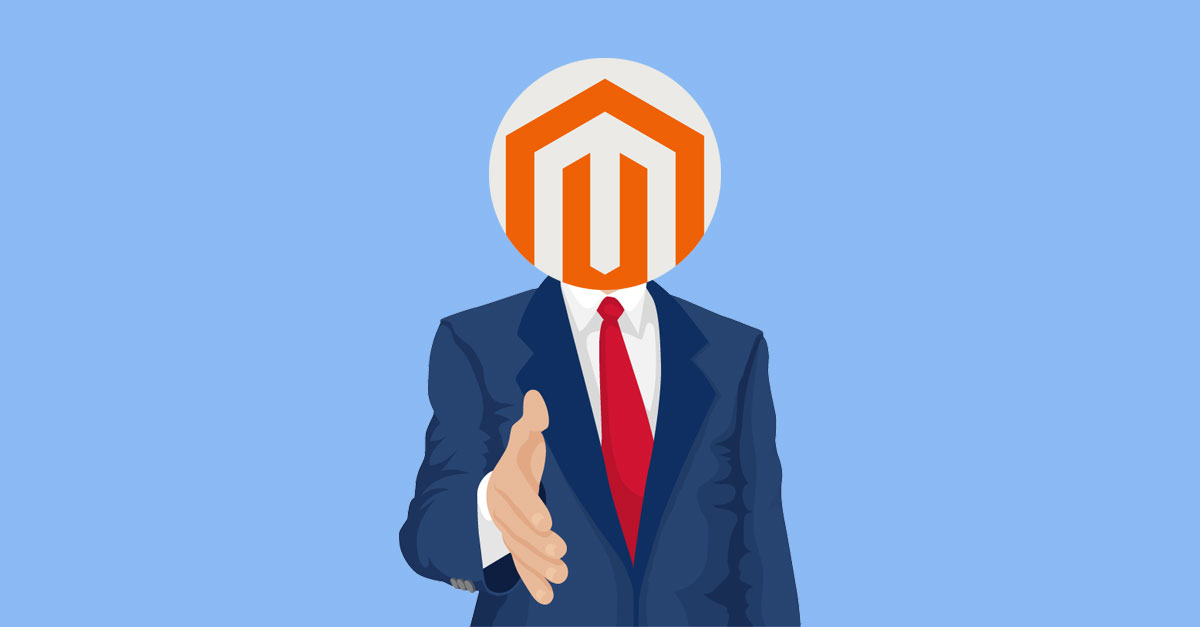 Headless commerce has now become a buzzword in the eCommerce industry. However, it is much more than that. Modern businesses are using it as a weapon to fulfill the increasing demands of consumers and are generating profits in abundance.
However, on the other hand, some don't even know such technology exists. No doubt, it is an emerging technology that requires specialized knowledge, but it can change the fate of your business.
And when you combine it with a powerful eCommerce development platform like Magento, wonders can happen. So, if you are not yet aware of how it can help your business grow, this article is for you.
This blog will talk about Magento Headless Commerce, its benefits, and how you can use this technology to the fullest. So, let's get started. 
What is Headless Magento 2 Architecture?
Magento is a well-known eCommerce development platform, but it is based on monolithic architecture. It means the backend and the frontend are combined with each other. 
The headless model uses the Magento backend as a CMS (Content Management System), and the frontend is decoupled from it for higher customizability. To understand in detail how this system works, let's put some spotlight on the difference between monolithic and headless architecture: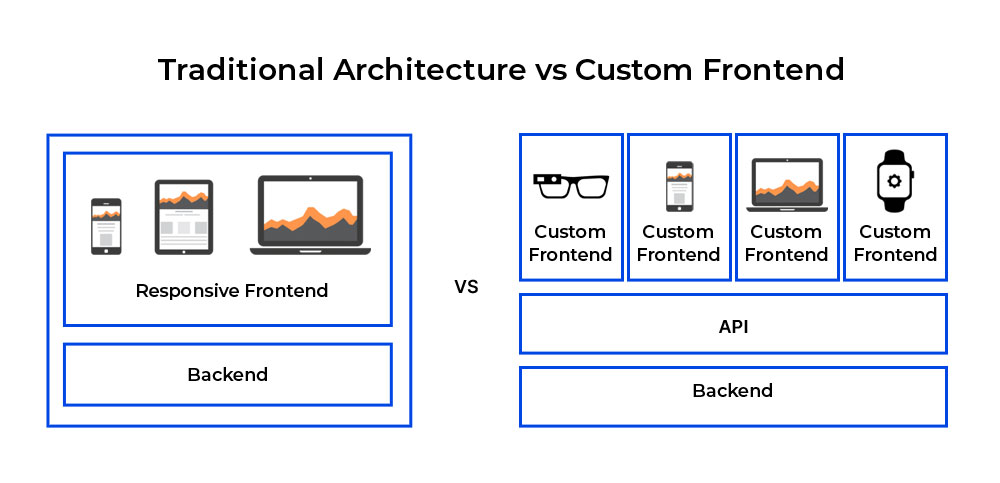 In the traditional model, everything works rigidly, and one change can affect the entire system. Frontends are responsive, but this means there is only one frontend design for a particular backend. And this design is created to be displayed on various screens.
On the other hand, while using the headless approach, the system is decoupled and connected with APIs (which act as a bridge). You can connect one backend with several frontends and vice versa.
What are the Benefits of a Magento 2 Headless Platform?
Magento and headless commerce architecture are a match made in heaven. Magento is open-source and highly flexible, and all its other features make it a suitable platform for adopting headless. Let's figure out the benefits of using a headless approach with Magento:
1. Great Flexibility and Freedom
We all know that a traditional Magento system will depend on predefined themes. But, for headless frontends, you can develop unique UI and UX depending on your business needs and customer preferences using any programming language or framework. 
No doubt the process will take some time, but it will be worth it. You developers will be able to modify anything on the frontend without disturbing the backend and any theme restrictions. 
You can also use a page builder tool for headless frontends, making modifying your frontend as easy as a walk in the park. 
2. The Speed of Your Online Store Increases
Because of splitting the backend and frontend in a headless architecture, the role of the backend is reduced to providing data via API requests. That means we do not have to wait for the backend to produce the HTML and send it to the user as this process happens on the backend.
In addition, we receive only the dynamic data with each request we make. The files, header, footer, and media that stay the same on every page are not rendered. As a result, page speed increases dramatically, and retailers enjoy higher conversion rates.
Also, because of the decoupled architecture, you can use any speed-enhancing extension to improve your store's performance – without any restrictions.
3. Amazing Omnichannel Experience
With the headless commerce approach, you can expand to more channels in a unified way. Magento can be your headless CMS that can help in content unification.
Using the traditional approach, you must utilize several admin dashboards to upload content to different channels, for example, mobile apps, browser sites, and other devices. However, using the headless approach, all screens would be connected to Magento CMS, and uploading of content can be done very quickly.
In addition, using headless technology, you can build different frontends for desktop, mobile, and other screens, leading to optimized experiences for all devices and better conversions. 
4. Personalization at the Next Level
A headless website built using Magento, with amazing frontend flexibility and content unification, has the power to take personalization to the next level.
It will let developers build new stores and features for different target markets, and marketing teams will also be able to create content faster. Also, integrating technologies like Artificial Intelligence and Machine Learning would become seamless, and you can collect insightful data hassle-free to improve your operations further.
Due to this reason, many international brands are embracing the headless approach to expand their operations to different countries.
How to Get Started with Magento 2 Headless Development?
Along with all the above-mentioned benefits, Magento also provides some additional benefits when it comes to embracing the headless approach:
Along with the standard website, Magento also offers a headless PWA. The technology was released in 2016, but it quickly gained traction due to the many benefits that it provides. 
It has a native-app-like look and feel and provides users with the best customer experience. Brands can use its appealing interface to interact effectively with customers, leading to increased conversions. So, if you are planning to go headless with Magento, consider launching a Magento 2 Headless PWA and catering to your consumers' needs profitably over mobile. 
Magento 2 Headless Themes
Brands also choose Magento while going headless because of the endless options it provides when it comes to headless themes. 
There are a plethora of themes available on Magento in the market, and it is a cost-effective option for businesses to use them. In addition, brands can select the one that best suits their branding elements like brand image, colors, style, etc. 
Wrapping Up
Numerous eCommerce brands have recognized the advantages Magento 2 headless can bring to the operations. All thanks to its exceptional design and amazing flexibility. 
Due to all the above-mentioned qualities, an ever-increasing number of brands are leveraging Magento with the headless approach to reach new heights. However, building this type of ecosystem would require a lot of tech expertise. Thus, the support of a reliable eCommerce development agency is crucial. You can contact experts at Envision eCommerce for the same!