Infographic: History of Magento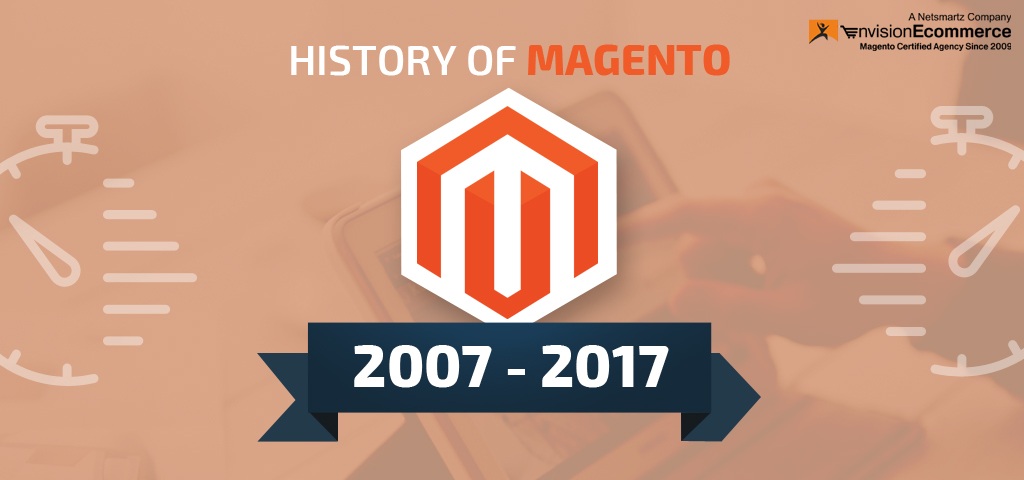 The Infographic here shows how Magento eCommerce was born, when the different versions appeared, and its path until today with the most recent upgrades and developments. It was on August 31, 2007 when Magento was born as the brainchild of its two fathers, Roy Rubin and Yoav Kutner. Did you know that Magento was named after the color magenta, the color of its first logo? As the domain magenta.com had already been taken, the "more masculine" Magento name was settled on.
class="aligncenter size-large wp-image-8199″ alt="Infographic: History of Magento" />
Adobe Commerce (magento commerce) version history*
2008: The first stable version of the Magento Community Edition is published. Not too much later, 1.1 comes out as well, in which the API can be found. It can handle both bundled and virtual products, and it had individual product settings. Version 1.2, in which downloadable products, layered navigation, and FTP appear, is released in the same year.
2009: CE 1.3, which introduces catalogues, is released. However, what is even bigger news is that Magento Enterprise Edition sees the light of day. It has a version number 1.6 at its launch.
2010: This is the year when the CE 1.4 and EE 1.8 versions are published, bringing important changes in customizability of appearance. They introduce widgets, the WYSIWYG editor, and other novelties.
2011: With the CE 1.6 and EE 1.11 versions now where, handling several databases simultaneously from a single Magento website interface becomes possible, allowing you to simply and comfortably manage several ecommerce stores running parallel.
2012: In the shaping of the appearance of CE 1.7 and EE 1.12, even more freedom is provided by the introduction of a mobile theme. The automatically generated coupon codes appear, just like the possibility of pricing products according to user groups. REST API is also here. The system is in line with the cookie regulation of the European Union, and CAPTCHA appears.
2013: This is the year of CE 1.8 and EE 1.13. The new versions bring more developed price calculation options, while EE also gets a new indexing.
2014: In the case of versions CE 1.9 and EE 1.14, you have the possibility of using infinite themes, responsiveness is added to the system with the obvious expansion of the mobile era, and it also includes responsive emails.
2015: The long awaited Magento 2, the newest, completely modernized version of the ecommerce platform is released. Several functions have been renewed, and the architecture of the system has changed compared to the previous versions.
Magento 2 was announced back in 2010, however, its development took much longer than planned. Originally, it was supposed to be released in 2011, but in the end, its beta version came out in July 2015. Since then, versions Magento 1.x and Magento 2 have been running alongside each other, however, only the latter system is being actively updated by the developers now.
2016: In July 2016, Magento 2.1.0 CE and EE were released.
Main features of the new Community Edition:
PayPal developments: Includes solutions facilitating the increase of conversions and saved bankcards implemented to simplify repeat purchases
Braintree hosted fields: it collects payment information securely, while the process of checkout is still under full control
Improved management interface: faster and easier searches for the Admin, plus enhanced new product, category and CMS content creation
Main features of the new Magento Enterprise Edition:
Content update: simple content creation, content preview and content timing (e.g. for products, categories, CMS content, promotion, and pricing)
Elasticsearch: a revolutionary search solution replacing Solr. It's scalable with the increase of search traffic. It flawlessly manages large size catalogues as well, and it handles 33 languages by default
PayPal developments, Braintree hosted fields, Improved management interface (see CE version)
2017: Adobe Commerce (magento commerce) Cloud enhancements – advanced Shipping, Business Intelligence, Content Management and Social Media Capabilities were developed to be available to all 260,000 merchants around the globe starting the summer of 2017.
Download Blog