A Glimpse of Meet Magento Singapore 2022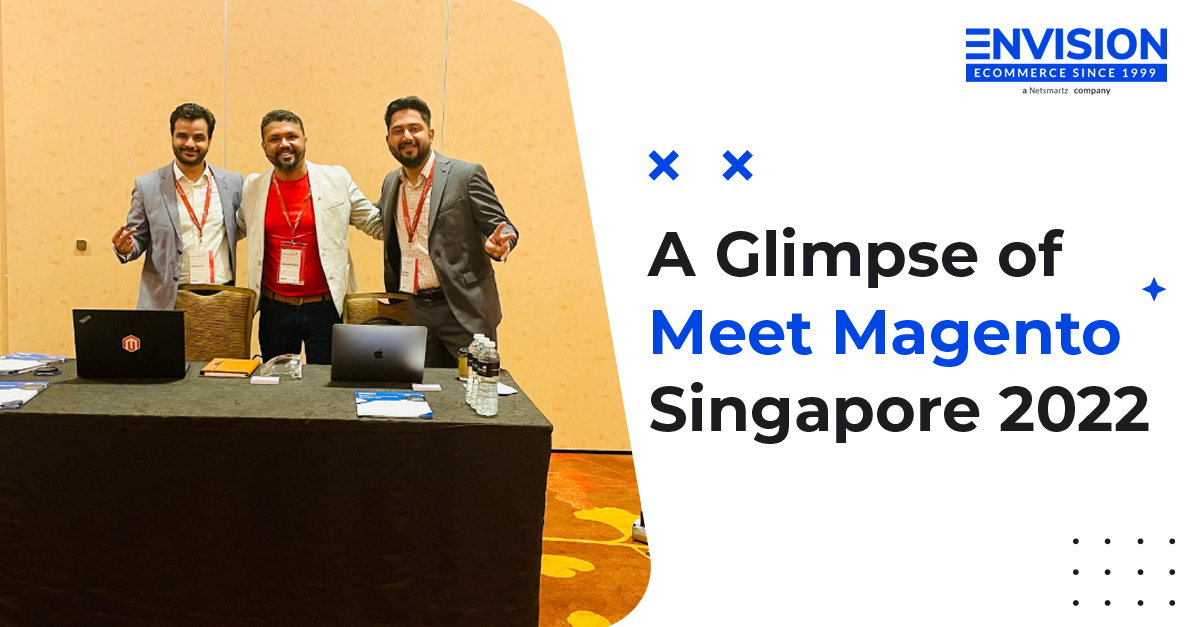 Meet Magento is one of the biggest annual eCommerce event series, which is organized in 40+ countries, including the USA, Mexico, Spain, India, UAE, etc.
The sole goal of Meet Magento events is to bring eCommerce developers, business owners, and merchants on the same page to discuss what is happening in the eCommerce world and how businesses can scale. This year, Meet Magento Singapore was organized on the 25th of August, and the entire Magento community took part in it wholeheartedly.
As a result, the event was a big hit with 750+ attendees, 25+ speakers, and 200+ community members. This blog will list several highlights of the event along with important news and updates for the Magento community. So, let's get started.
Highlights of Meet Magento Singapore 2022
Just like every year, Meet Magento Singapore 2022 saw many experienced speakers discussing their approaches to building innovative solutions on top of Magento technology. Let's find out more insights about the best presentations we saw:
1. Evolution is the Only Way to Last Longer
One of the most eye-opening sessions delivered at Meet Magento Singapore was by Vatsal Shah. He is an eCommerce expert, business coach, and consultant who has helped many eCommerce businesses grow and scale in the modern digital world.
In his session, he pointed out many reasons why evolution is crucial for online businesses. He talked about changing consumer preferences, increasing demands, and competition after the pandemic, along with explaining how this caused a big change in the way businesses work online. He also listed the importance of technologies like headless commerce, BOPIS, AI, and AR/VR that businesses can use to keep up with the demand.
To learn about Headless Commerce and its Implementation, check out this eBook by experts at Envision eCommerce.
2. Cyber Security & Protection Strategies with Adobe Commerce
Another great session, full of great insights, was on how Adobe Commerce can help businesses improve security and customer data protection using amazing built-in tools and best practices.
It was delivered by Kalarav Vasavada, delivery manager at Brainvire Infotech. He is a certified scrum master and expert business practitioner with more than 14 years of experience working in the eCommerce industry. In his session, he discussed the importance of penetration testing, encryption, commerce applications, and payment gateway integrations in Adobe Commerce.
3. Take Magento to the Performance Max
Presented by David Deppner, CEO at Psyberware, this was another session that ignited a fire in merchants to achieve wonders by improving their store performance. In the session, David listed many ways retailers can leverage to take full advantage of Magento's robustness, flexibility, and scalability.
With 25+ years of experience marketing online businesses, David specializes in eCommerce advertising for Magento merchants.
Some of the other incredible and insightful sessions were delivered on:
Digital Experience with Adobe Universe by Bharat Mungarh & Lalit Nama
Support, or not to Support – that's the question by Ray Bogman
Adobe Commerce Modular Composable Architecture by Vikrant Shukla
Envision eCommerce at Meet Magento Singapore 2022
Being a proud Adobe Silver Partner, it was our responsibility to contribute to the event and add value to the people attending it. Thus, Kamlesh Sharma, AVP at Envision eCommerce, and Raj Dhiman, Technical Project Manager at Envision eCommerce, represented our team in Meet Magento Singapore 2022. We were also one of the silver sponsors of the event.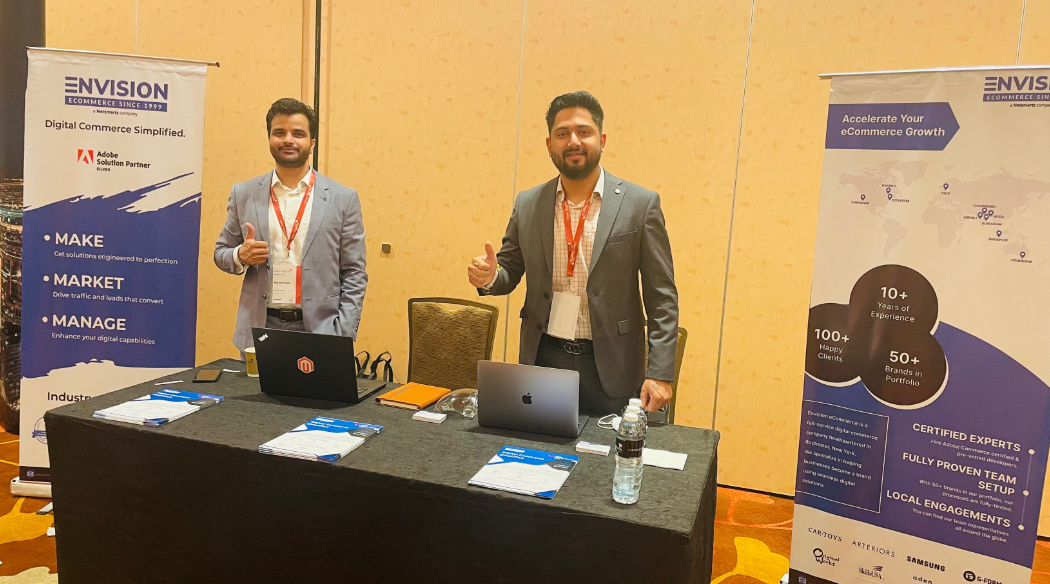 Our team was present at Booth Number 7, where we got a chance to catch up with many experts in the Magento and eCommerce industry including Justin Link (Senior Commerce Specialist at Adobe), Cheliyan Pancras (Director of Commercial Partnerships at Adyen), Vikrant Shukla (Cloud Solution Architect at Adobe), Matthew McClelland (Head of Growth at Dotdigital), James Lee (Product Manager at Cloudways), and many other great personalities.
Our representatives also got a chance to interact with eCommerce giants in Singapore and merchants who are still struggling to get a hold of the market. What an interesting conversation it was! The entire day was a complete blast, and we can't wait to attend another Meet Magento event in New York next month!
Closing Thoughts
Meet Magento Singapore 2022 was a big hit with expert speakers, great insights, and excellent discussions. It was full of learnings for everyone associated with the Magento and eCommerce community. If you would like our team to resolve any of your queries regarding building and scaling an eCommerce business, feel free to contact us. All you need to do is fill out a simple form.
Our Magento Development Experts & eCommerce Strategist would be glad to connect with you!