Envision's Journey to Magento Live India 2017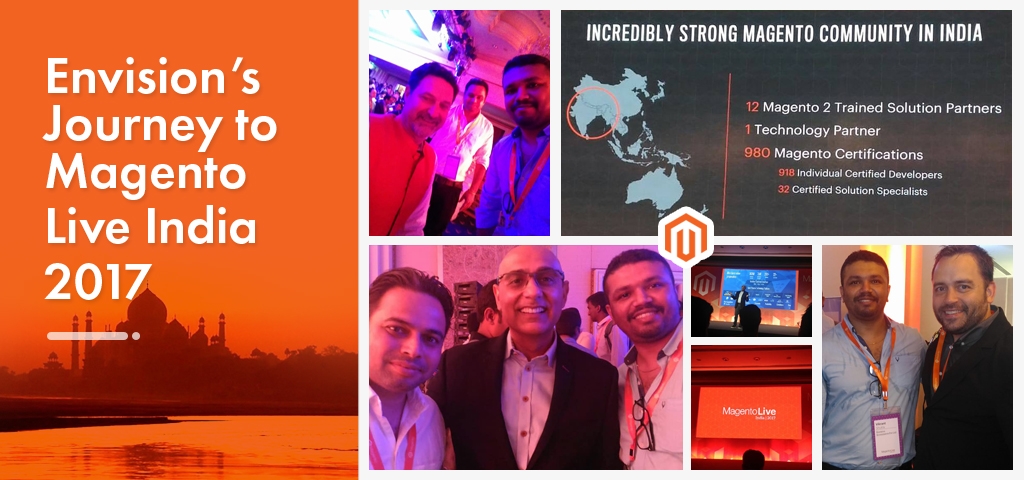 The legendary Magento Live India 2017 has just come to an end in Bengaluru. Attending such great event was a very energizing and inspiring experience for us. It's an exclusive learning experience that we feel is essential for the growth of our Magento team. Our Magento Certified Solution Specialist & developer returned home with incredible experience, innovative ideas, and inspirations.
The energy invested by Magento and its community was highly appreciable and we feel very proud to be a part of it. Besides, it was an amazing experience to meet with well-known executives, such as Mark Lavelle, CEO of Adobe Commerce (magento commerce); Ben Marks, Magento's chief Evangelist and Anupam Pahuja, MD of Paypal at Bangalore.  On the whole, there was a lot to learn and be excited about!
Let's have a look at some unforgettable moments that capture our Magento Live India 2017's journey:
As a core eCommerce development company, we're continuously serving eCommerce industry with innovative eCommerce solutions backed by most prevalent eCommerce platforms like Magento1, Magento2, Shopify, BigCommerce, WooCommerce, etc. In addition to this, we are also stepping towards MCommerce (Merging Magento & Ionic) and IoT. We consider Magento as our core eCommerce platform as it is the best eCommerce platform for every type of online business. The following statistics speak themselves for Magento's popularity:
• According to 2017 data recently shared by Builtwith (https://trends.builtwith.com/shop), it has been found that Magento is the undeniable king with a ballpark figure of 28% of its usage via websites across the web and it powers 16% of the best 1-million sites.
• When it comes to Magento's global usage, it dominates the market with its biggest customer base in North America.
• As per Magento's site (https://magento.com/advantage), there are over 250,000 merchants worldwide that prefer Magento as their eCommerce platform for their online stores.
• According to statistics by builtwith.com, the total number of websites that use Magento has increased by over 48,000 between one year span from March 2016 to February 2017.
• According to BestPlugins.com, the total number of Magento downloads has seen a tremendous growth since its inception in the year of 2008
That's why the main purpose of attending this event is to be able to discover the accelerating momentum of Magento around the globe plus Magento tendencies of tomorrow regarding eCommerce.
We would like to thanks Magento for what you're doing for the world of eCommerce. Also, we would like to work with Magento to organize a meet in Chandigarh – until then, stay tuned!
Download Blog