Envision Ecommerce, Top B2B Companies on Clutch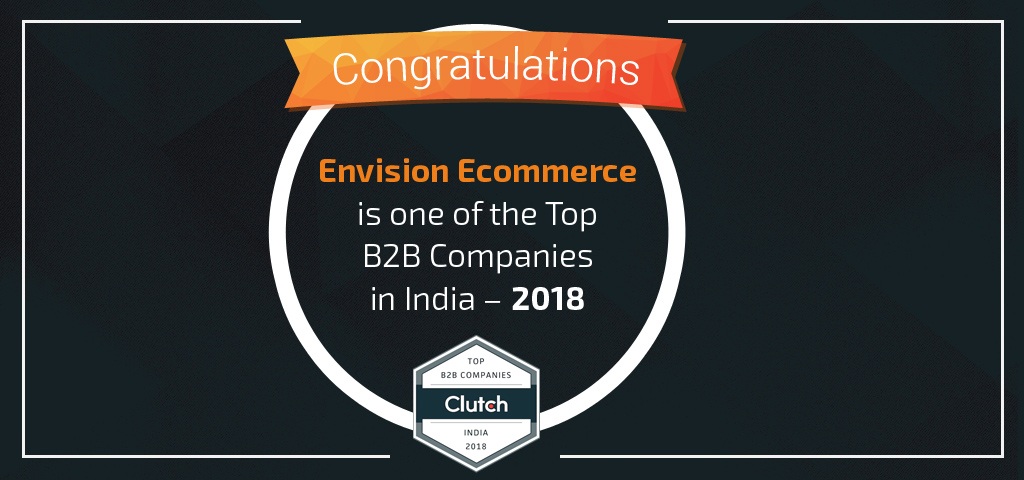 In a time where ecommerce has seen only increasingly rapid acceleration, Envision Ecommerce knows exactly what clients and their companies need to succeed in the online landscape. Through our honed Magento e-commerce development skills and marketing experience, the team at Envision is an ideal partner for clients looking to ramp up their digital presence.
The company Envision Ecommerce, founded by Vikrant Shukla in 2015, has been serving clients from all across the globe with Magento-based products and services. Earlier this year, the company merged its operations under Netsmartz, one of India's leading IT solutions provider.
Congratulating on this remarkable feat, Manipal Dhariwal, Chairman and CEO of Netsmartz, said, – "We stand at the forefront of a tremendous market opportunity. As we are at the dawn of the next Magento Revolution. Combining the full range of Netsmartz services, we are now expanding ecommerce solutions and its capabilities, offering an ever-broadening comprehensive portfolio to our customers."
We are excited to announce that others are taking notice of our work, and B2B research firm Clutch has named us as one of the top e-commerce developers in India. Clutch's sister website, the Manifest, has also published their new research highlighting Envision Ecommerce as one of the Top 25 Magento Development Companies in 2018.
The Manifest and Clutch, both business insight firms from Washington, D.C., evaluate thousands of companies based on their market presence, previous experience, and client feedback. Getting nominated as a leading company among their research strengthens our general reputability as a technology partner.
We'd like to acknowledge our clients for their reviews of us on our Clutch profile. Our team thrives on helping our clients and their businesses further build and maintain their e-commerce capabilities, so hearing directly from some of our previous customers about the impact that our products and team members have had definitely serves as a great source of pride for us.
"After several rounds of intense scrutiny and questioning to ensure their suitability, Envision Ecommerce managed to consistently exceed our expectations and fit our needs perfectly."
 "Envision came and saved me," summarized a second client. "I'd been reluctant to work with an Indian company because the output quality is usually not very good, but with Envision, it was different: they have a Westernized approach, Magento professionals, and a good communication system in place.."
Thank you to The Manifest, Clutch, and our clients for their support and recognition of Envision Ecommerce as a premier presence within the e-commerce development industry. We take great pride and satisfaction in knowing that we have served our clients, their businesses, and the greater community as well. Apart from this, Envision Ecommerce achieved another feat of being a top Magento Company on DesignRush. We welcome you to reach out to us if you are interested in hearing more about our projects or experience, and we look forward to new collaborations soon!
Download Blog