Envision Ecommerce Recognized Among Top 20 Most Promising Ecommerce Consultants 2017 by Silicon India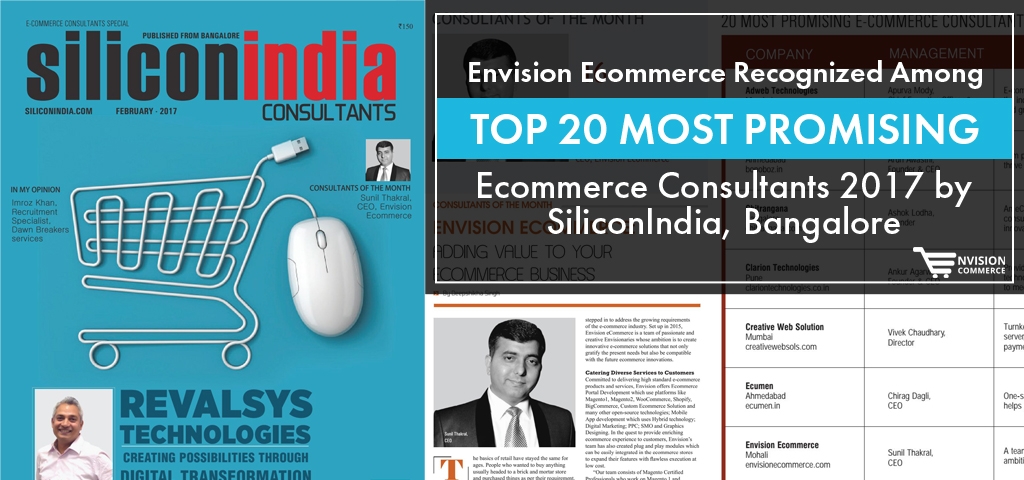 Envision Ecommerce is proud to announce its selection amongst Silicon India's top 20 most promising Ecommerce constant companies list for offering optimal & innovative eCommerce products and services. The February edition of Silicon India centered on "Ecommerce Consultants Special" showcases this list, which is selected by a panel of experts and members of the Silicon India's editorial board to identify road-rollers amongst the eCommerce consultants.
We've achieved this position based on an evaluation of Envision Ecommerce's expertise in Ecommerce consultancy, Ecommerce product development and services. Our team of creative "Envisionaries", our innovative products and cutting-edge services are responsible for making our mark in this budding ecommerce segment, thus making us stand among the top-notch ecommerce players of the realm.
Main Highlights of Envision Ecommerce Covered in Silicon India
Catering Diverse Services to Customers
It includes our eCommerce portal development services using platforms like Magento 1, Magento 2, WooCommerce, Shopify, BigCommerce and other Custom Ecommerce Solutions; Hybrid technology based app development; Digital Marketing; SMO; graphic designing, Nodejs, Angularjs and Laravel based solutions.
Our Team of Creative 'Envisionaries'
Silicon India also covered about our creative team of 'Envisionaries' consisting of Magento certified professionals (who is working on Magento 1, Magento 2 extensions development, Magento Enterprise App development and Magento Mobile Solutions), Hybrid app development team (using both Ionic 1 & Ionic 2), Certified Digital Marketers and experienced graphic designers.
Our In-House Google Analytics and Adwords Certified Professionals
In this publication, our CEO 'Mr. Sunil Thakral' also highlighted about our In-house Google Analytics and Adwords Certified professionals.
Catering to Diverse Industries
They also covered the diverse range of industries we've catered so far, including Healthcare, Online Learning, Ecommerce, Media (News) and MCommerce.
MageIonic & ParkSafe Mobile Apps
MageIonic (our first-ever Magento Ionic App) & ParkSafe (our latest innovation for parking hassles) are also introduced in Silicon India. MageIonic is an exclusive hybrid app, especially designed to mobilize Magento stores.  ParkSafe mobile app is our latest innovation to help vehicle owners to easily get out of congested parking space.
Note: Our innovative hybrid mobile apps make us the best team in our town for hybrid ionic app development. That's why we have introduced our new independent division, i.e. Envisionionic.
Envision's Path Ahead and Much More
Our selection wouldn't have been possible without our two main persons: "Mr. Sunil Thakral" – CEO of Envision Ecommerce and "Mr. Vikrant Shukla" – Chief Mentor of Envision Ecommerce. They envisioned Envision Ecommerce, believed in Envisionaries and groomed every Envisionary to have such an eventful journey. And what about the way ahead? Well, we can't predict the future, but we believe we'll do awesome by producing more innovative ecommerce solutions.
Click Here to Download Your Copy 
Download Blog