Envision Ecommerce is now an OffIcial Google Adwords Certified Company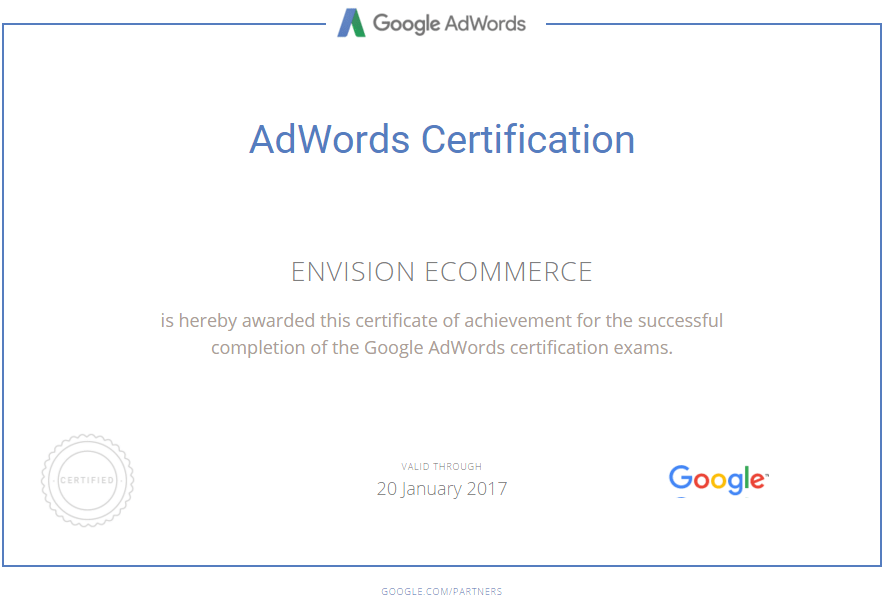 Today, we are proud to announce that Envision Ecommerce is now an official Google AdWords Certified company. Our digital marketing team has worked hard to meet a number of the required qualifications to earn this distinction. These requirements cover AdWords exams & certification, achieving scores more than the average Google Partner & many other best practices required to become a trusted Adwords partner with Google.
The certification identifies our digital marketing expertise in creating & managing AdWords, Google's online advertising & PPC system, and endorses our work quality that we offer to our customers. It also strengthens our position as a leader in having all required skills & paid search marketing services to meet with today's dynamic market demands.
After achieving such certification, our digital marketing certified professionals now take tremendous pleasure to continue on the cutting edge of marketing technology to serve our customers, and also being among the best SEO & digital marketing team's accessible.
If you require a certified digital marketing expert to look after your online business & its marketing, Envision Ecommerce is in a great position to assist your business. We would like to help you by letting know how a Google AdWords campaign could be beneficial for your business, and also putting together a complimentary report that shows the traffic amount on the basis of different stages of ad spend.
Download Blog