Emerging Technologies that Bridge Commerce and eCommerce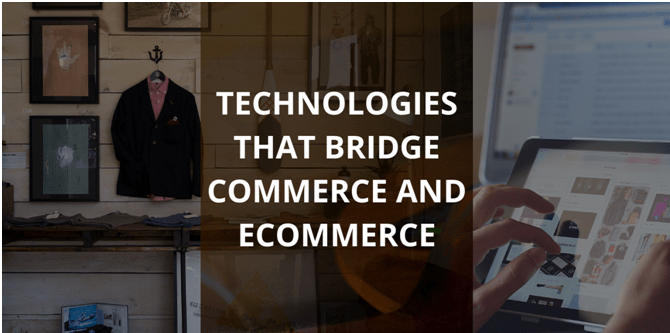 In today's world of the Internet of Things and prevalence of new technological advancements, it's pretty hard to imagine that there's still place for brick-and-mortar commerce. But, as a matter of fact, offline stores are immensely important in a modern shopping chain. There are a number of reasons for that: some people like to actually touch the product, before buying. Some online retailers use the stores as fulfillment centers. Others simply enjoy the process of looking through the racks and discovering the product that they'd like to buy, etc.
In this kind of environment, where businesses try to build a working omnichannel solution, it's important to be able to find the right technologies to support the strategy. That's where the following technologies come in. They bridge the real world and the world of eCommerce.
Beacons
Beacon technology is a relatively new concept for shopping, but it's extremely effective at engaging people who prefer to shop offline. It was first introduced 3 years ago by Apple and created quite a buzz in the world of commerce. Since then, it has been gaining traction with more and more retailers worldwide. This technology takes advantage of the most abundant digital product, user's mobile device, in order to engage them. In order for it to work 2 things need to happen: the user has to optin for beacon notifications from the specific vendor/retailer; the physical shop has to have the beacon device installed. The device tracks the users around the shop and sends them relevant notifications, prompted by certain actions. For example, a customer leaving the store might get a sudden notification with a personalized discount just for them. It'slikeexit-intenttechnology, onlyinreallife.
It allows businesses to convert more people offline, using online technologies and eCommerce marketing tactics. According to a research by Business Insider, beacon-triggered sales might increase by 10 times in 2016 and reach a staggering $45 billion, in US alone. There's a dollar in it for you, IF you use the beacon technology in your offline stores.
Urb It
It's a pretty innovative service that allows you to get same-day delivery from your local stores – just pick what you want and choose where you want the product to be delivered. Imagine to have a butler, whose only job is do the actual shopping for you. What are the advantages of this kind of service? You can have your goods delivered in an hour. You can buy products that are not available online or it's important to buy them now, as the store is running out of stock. The service is extremely mobile friendly, as you shop through their app and get notifications about the state of your order or delivery on the spot.
It's currently only available in 3 European cities, but it looks like a promising experience. It's interesting to see where this business is going next, as it's pretty hard to compete with Amazon's same day delivery and other online stores that take pride in timely deliveries.
Virtual Reality
Virtual reality is probably one of the most anticipated technologies of the decade. With products like Oculus Rift and HTC Vive – VR is finally entering the mass market. As devices will become more affordable, sophisticated and easy to use, we'll see more eCommerce business utilizing VR to build sales. VR potential for commerce is limitless. The best thing about this technology is that it can work for any industry:
A virtual furniture store that can scan your room and project furniture into the spots that you want to place it
Virtual tours around locations that you want to visit during your next trip abroad
Virtual storefronts with racks of clothing that you want to try on with virtual mirrors that will allow you to see how the particular piece of clothing will fit you
And the list is endless. Of course, the technology has to overcome certain problems like processing ability and the price. But with the current advancements in the field – it should take us less than 10 years to do that.
Author
Alex Plotnikov – CMO at MageCloud.net, an innovative Magento solution that allows you to build Magento stores in a matter of minutes. Just pick a theme, connect your hosting and you're good to go. Add extensions in a matter of clicks and manage your stores from a single dashboard. Alex is passionate about eCommerce products and marketing.
Download Blog