Doorstep Market Developed by Envision eCommerce, Finalist in Adobe Experience Maker Awards 2021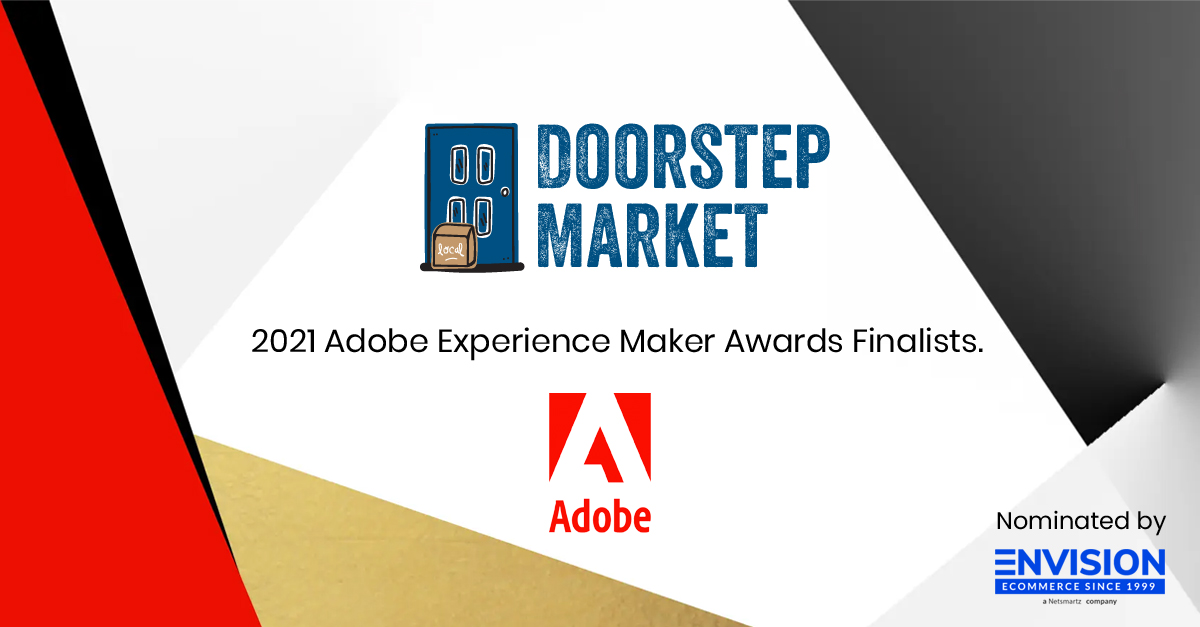 "Doorstep Market" a B2C marketplace developed by Envision eCommerce, a  Netsmartz Company , has been nominated in the 2021 Adobe Experience Maker Awards in the Maverick category. Businesses that leverage their knowledge and expertise in Adobe advertising, marketing, or commerce solutions to create beautiful user experiences and provide substantial business impact for their firm are recognized with this award.
In today's digital world, groundbreaking UX is vital to eCommerce success. Envision eCommerce designed Doorstep Market's eCommerce platform with the same mindset: to curate the best of small businesses across the United States and connect them with customers in their local regions.
The website is already home to more than 500 local businesses, presenting 2700 goods for over 200K monthly visitors, just six months after its launch. We could not be more pleased that the brand's early achievements enabled it to secure a spot on the list of finalists in the Maverick category (audience choice) 2021.
Learn How We Helped Doorstep Win Adobe Experience Maker Award
Doorstep Market: An Example of Success amid a Pandemic
Launched amid a pandemic, Doorstep is a perfect example of how market disruption is possible in tough times. When the COVID-19 pandemic hit, supply chains were disrupted all over the world and consumers turned to online vendors to fulfill their needs, leaving small and local businesses to compete with industry giants.
This unfair competition gave birth to Doorstep Market, which now helps over 500 local businesses manage their operations smoothly, in a matter of six months.
How Envision eCommerce Helped Doorstep Market?
For the development of its Magento-based B2C marketplace, the founder team at Doorstep Market chose Envision eCommerce, a Netsmartz company, as their official development partner. Though the development phase is nearly complete, we continue to support our clients in making their journey a resounding success and have nominated Doorstep Market for this prestigious award.
The initial goal was to create a unique platform that pushes digital boundaries by providing a highly interactive user experience with the right mix of technology, creativity, and content. The brand needed multi-vendor marketplace capabilities and multi-website support for its curated regional market approach.
Furthermore, the brands founder team placed a premium on flexibility and timeliness. They wanted to get their platform up and running as soon as possible to start helping small and local businesses across the United States in resuming their sales. Considering the gravity of the situation, the Envision eCommerce team designed a full-fledged marketplace in less than three months and helped Doorstep Market's team with a smooth launch.
It's an honor to partner with the incredible Doorstep Market team and be a part of their mission to help local businesses in the face of the pandemic. We congratulate the entire team at Doorstep Market for making it this far, and we hope that the brand receives all the awards and recognition it deserves.
Download Blog