B2B vs B2C eCommerce Marketing: 5 Key Differences You Need to Know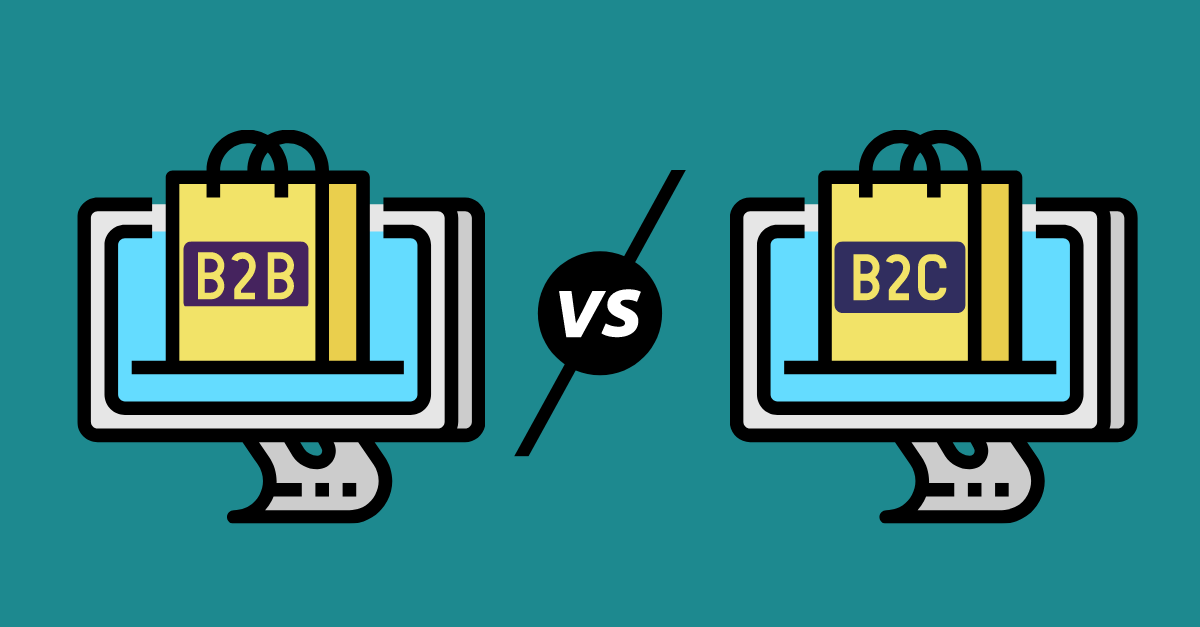 If you ask a random person about eCommerce, it is highly likely for them to consider sales and virtual business as a universal market since every organization present in the market is looking forward to selling products and services online.
Though the perception is natural, the operational differences and marketing goals for B2C and B2B eCommerce are actually very different
Understanding B2C & B2B
B2C is Business to Customer while B2B refers to Business to Business. However, the former is a more familiar type of concept that involves targeting consumers for direct sales. Whereas, B2B involves transactions between two companies. This can be better understood as a relation between a wholesaler and a retailer who is engaged in B2B eCommerce.
In order to develop a better understanding of the two, we must go through the key differences involved with both B2B and B2C that are necessary to understand to create a unique online buying experience for varying personas.
Let's begin!
Buyer Experience
B2B buyers are usually industry experts who need some services or products to complete a job or meet specific needs of an organizational process. Here the purchases made are not random decisions but are part of the planned schedule that are synced with departmental requirements.
On the other hand, B2C stores are different as the purchases are made to meet any emotional needs. Therefore, the business owners selling the product online often aim to create a desire or motivation that can compel customers to make purchases. Moreover, B2C eCommerce needs better-performing websites with the best navigation options to lead an easy checkout process.
Besides, B2B customers have a purchase methodology that involves various logic and facts to find the best product as it is more of a need-based purchase that can affect business. Moreover, it does not need anything to do with site experience but still providing relevant product information and easy search options are always a plus for B2B.
Decision-Making
B2B orders are team decisions since the purchased product or service is meant to serve a process. Also, the approval process for creating a sale request usually involves a group of people and therefore, B2B Commerce marketing teams should try providing all the relevant detail and necessary material to the buyers for encouraging sales. Moreover, B2B also has a typical process that involves management accounts for buyers to keep a check on products.
When it comes to B2C, there is no approval process involved as you are dealing directly with the customer. B2C sales are a faster process as it only needs your customer to just choose COD options or quick apple pay move to make the sale. Nevertheless, B2C sales still involve more persuasion tactics and discount offers to trigger urgency in a customer for making a purchase.
Buyer Lifecycle
When it comes to the buyer lifecycle for B2B, usually the buyers like to stick with a firm for a long time since the only thing that matters to B2B buyers is how well their needs could be fulfilled by a B2B eCommerce store. The possible reasons for the switch could be the introduction of new technology or an undercut made by the counterparts. Also, the customer acquisition time for B2B is also longer but it often ends up bringing high revenue as the average order cost goes above $400 making B2B sellers and buyers look for lifetime collaborations.
Though the business lifecycle of B2B is longer, B2C eCommerce also involves repeat orders but the only thing consumers seek is quick logins and immediate placement of the orders. Also, B2C does not involve many bulk orders but having a permanent customer base is always good for sales and may need constant B2C eCommerce marketing practices.
Marketing Agenda
B2B always focuses on tangible needs that a product can solve making it necessary to aim for feature-based B2B eCommerce Marketing practices. Also, B2B buyers usually make a purchase required to meet their bottom line, and thus B2B marketers align more towards a knowledge-based sales environment. Some of the common features that B2B sellers target include what will be the ROI? How it can save money? And how a product can be a great financial investment?
On the other hand, B2C eCommerce Marketing needs to aim at emotional targeting sharing the benefits of the product to the users. Since the target audience can be anybody from an informed software engineer to a construction worker, the sales message needs to be clear and easy to understand. Also, this would need you to focus on the life of the customer after making the purchase so that the feeling involved could be targeted through product benefits.
Price Discrepancies
B2B markets always have hidden prices until a user requests a quote. Based on the product requirements and terms of agreements, these prices could also vary.
In contrast, B2C eCommerce always has an open price tag while discounts and offers are created based on customers' past history and loyalty to the brand. However, B2C does not involve any built-in negotiations making the B2C more simplified than B2B.
With B2C eCommerce the prices are always spelled out, what you see is what you get. Now, you may offer customer discounts for loyal customers or coupons when you're running sitewide specials. But there isn't any built-in negotiation for the price of the products you're selling.
Conclusion
All in all, eCommerce owners need to provide customers with an easy-to-navigate storefront experience online. From finding products to supporting customers with their purchase-related queries, it needs extreme marketing material for both B2B and B2C eCommerce Marketing.
But at the same time, it is crucial that fundamental differences between B2B and B2C marketing should be understood to create a quality buying experience. Therefore, it is essential that you must approach an expert B2B and B2C eCommerce marketing service provider to help you drive conversions delivering essential business success and revenue.
For more information on B2B and B2C eCommerce marketing, feel free to reach our experts.
Download Blog