B2B vs B2C eCommerce Differences: 6 Tips on How to Sell to Your Real Customer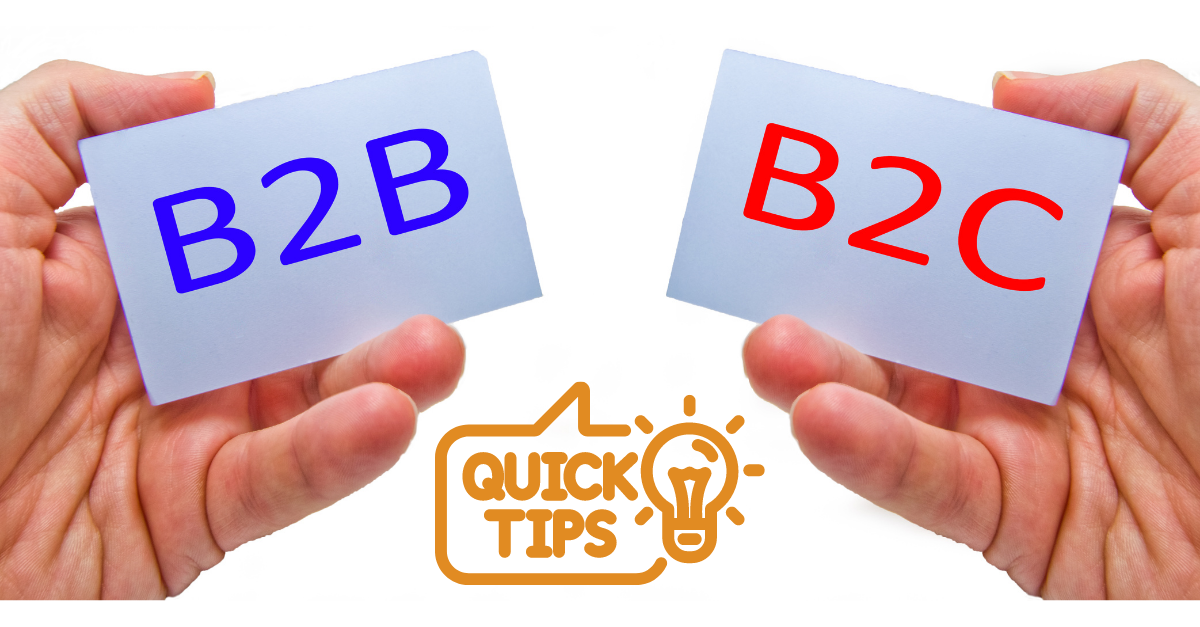 When it comes to B2B and B2C eCommerce, the most common mistake that marketers tend to make is targeting a similar audience for both. Though it is not a strategic action and every person that is associated with B2B can be a B2C customer, while not every B2C customer is likely to be associated with B2B.
Either you have B2B Magento Store development on your mind, or you are aiming your sales goals for B2C eCommerce website development, it is necessary that you identify your real customers. Since every customer has its own unique motivation and expectations, identifying differences between B2B vs B2C is essential.
One thing which is common between B2B and B2C customers is the emotional appeal associated with a product that works as a connection between seller and buyer. However, B2B customers are more pragmatic and research-oriented with their purchases as targeting B2B customers needs sellers to provide in-depth information of the business and service.
This is why it is important for both types of sellers to understand the 6 key differences that can be used as tips to target the right set of customers for both B2B and B2C.
Buying Impulse vs Rationality
With B2C, the purchase cycle is usually very short while driving customers back to a similar product or service needs expensive marketing tactics. Also, B2C customers are more reactive and often look for incentives when making purchases. However, B2B on the other hand involves customers that have complex purchase operations and thus prefer to stick with a single B2B supplier for the entire life until there are changes in requirements or price differences.
Single vs Multiple Decision-Makers
Unlike B2C customers, B2B clients have multiple stakeholders involved to make the purchase decision. These can be a researcher, budget approver, point of contact, and end-users. And therefore, it becomes the responsibility of the seller to provide all the business information to the client to help them with their workflow and decision making. In the case of B2C, things are not that complex as B2C customers usually make their decision based on their liking and the offer they get. Effective marketing tactics could compel B2C users to make a purchase even when they don't need a product.
Short-Term vs Long-Term Relationships
Another major difference between B2B and B2C customers is the expected duration of the relationship. In the case of B2B, customers prefer to make long-term and sustainable relationships with the service provider while B2C customers have more spontaneous moves.
Fixed vs Personalized Prices
B2C consumers make purchases at a price that is similar for all buyers. However, in the case of B2B eCommerce, making sales needs service providers provide customized prices for every customer depending on their bulk needs, location, contracts, or relationship history.
Since B2B customer expects client-specific discounts, providing offer related details to the clients is the first thing a B2B user expects with your store. At times, B2B consumers could also ask for separate portals within your eCommerce store to have product-specific or price-specific data.
Direct vs Post-Delivery Payments
In B2C, most of the time, the payment mode is the standard type of purchase that is made through cash or cards. On the other hand, B2B buyers make a purchase on a line of credit where continuous purchases are made by the customer and all the bills are paid at the end of a month. Therefore, B2B eCommerce store owners need to be more particular about their accounting system and tracking process to avoid any kind of loss of information.
Quick vs On-Time Deliveries
B2C consumers only seek a pleasing customer experience, especially with the deliveries. However, B2B consumers prefer to stick with a delivery schedule that does not overwhelm or stop their ongoing operations. This is why B2B consumers often look for reliable service providers who can ensure timely deliveries to prevent damage to production, supply chain, and reputation. And therefore, B2B sellers often make heavy investments to streamline their eCommerce store with an ERP system that can overcome any inconsistencies.
Conclusion
All in all, B2B and B2C are two different worlds that have differences based on complexity, personalization, and scope. Also, B2B customers can never be considered as retail buyers and need eCommerce store owners to understand the varying needs and behavior of the customers to ensure effective sales figures.
Whether you are looking for B2B Magento Store Development or need help improving the overall experience of your virtual business with B2C eCommerce Website Development, all you need is a reliable development partner to help you target your real customers the right way.
For more information, feel free to contact our experts today!
Download Blog