Adobe Commerce (Magento) Marketing: Improve Your eCommerce Marketing Game in 2022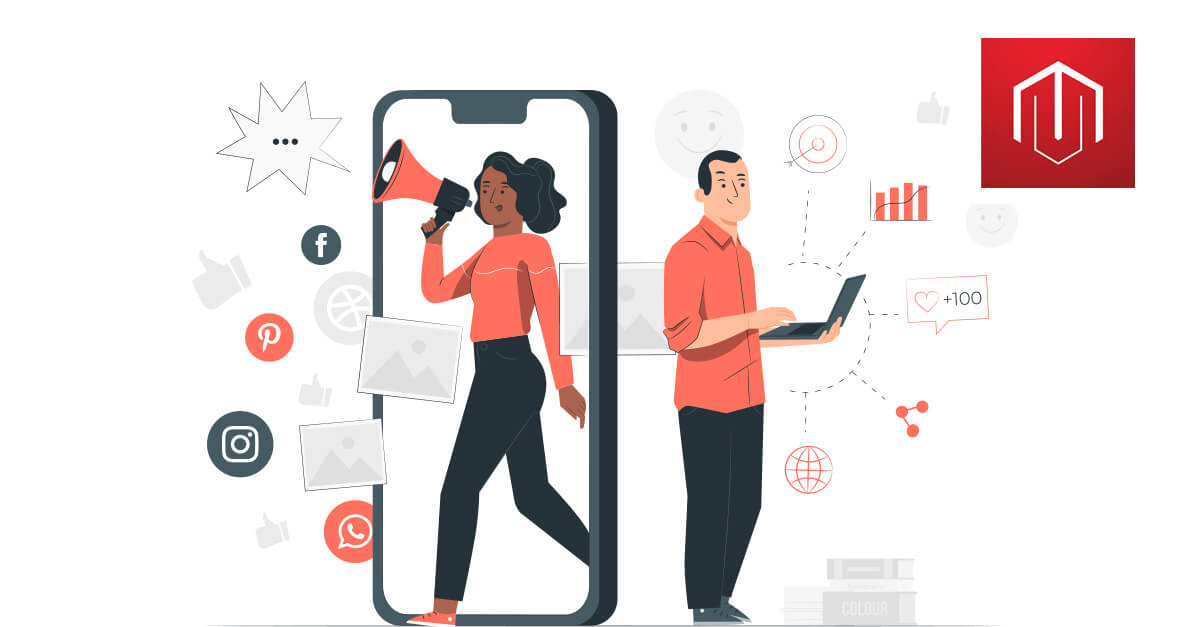 Creating a perfect marketing strategy is not easy. Especially when you are an online retailer, it often gets difficult to find the right roadmap for conversions.
Even if you follow proven practices that have worked for other businesses, it is not necessary that they might work for you too. However, if the base of your eCommerce store is Adobe Commerce, you already have a competitive edge in the market.
From scheduling marketing activity to driving campaigns that can help improve customer interactions, enhance brand loyalty, and analyze the performance metrics, Adobe Commerce (Magento Commerce) provides you everything you need to scale your business.
Some of the key marketing features that make Magento Marketing essential for your sales and revenue targets are as follows:
Content Scheduling
Magento brings you tools that can help test and publish any product updates, along with categories and promos, eliminating any guesswork from the marketing schedule.
Customer Loyalty
Adobe Commerce (Magento Commerce) allows its users to improve the customer lifetime value by working on loyalty goals. This includes reward programs, reorder reminders, and recommendations to create a personalized user experience.
Email Campaigns
Magento email marketing features are designed to generate traffic and sales. Its unique capabilities such as cart abandonment reminders, incentives, and personalization of content make it a perfect email marketing tool.
Analytics
Magento brings you inbuilt analytics tools that allow you to keep track of your actions through measurable results. With support features like Google Tag Manager, it can help you drive your goals related to remarketing, conversion tracking, and more while keeping you updated with what works and what doesn't.
Now let us quickly dig into the reasons that make Adobe Commerce (Magento Commerce) Marketing an imperative to achieve your online business goals:
Fresh, Tailored Content
The first thing that helps you convert random web users to customers is content, or more specifically personalized content. Adobe Commerce (Magento Commerce) brings you Page Builder which is a suite of content creation tools that can help build content that defines customer journey. It allows users to create, edit, and publish content using drag and drop layouts, content templates, video backgrounds, and more.
Personalized Recommendations
Improving your sales is not just about personalized content but also making personalized recommendations to the users. Since product recommendations account for around 31 percent of eCommerce site revenues, Adobe commerce (Magento Commerce) allows you to work on automated recommendations through its advanced machine learning features that are meant to stimulate engagements.
Sale Across Diverse Channels
Adobe Commerce (Magento Commerce) provides you the advantage of omnichannel marketing which means you can easily go for cross-channel marketing for better brand exposure and sales opportunities. Also, it gives you the advantage to earn loyal clients by offering them reward points for sharing your content on social media. Since working on such tasks manually can be labor-intensive, using marketing features available with Commerce Marketing Automation tools is always an added advantage.
Create Custom Sites
Driving business growth is a constant process. This entails expanding your product catalog on your eCommerce store. However, creating a targeted experience for users requires customization efforts such as adding local language, cultural cues, and other user-oriented content.
Magento allows you to manage multiple websites at the same time enabling you to promote different brands for different customer segments and locations. It brings you everything you need to simplify administration and meet your scalability goals for targeted success.
The Crux
All in all, Adobe Commerce (Magento Commerce) helps you create a concierge-like experience for your users. It delivers everything that is needed to create a pleasant user experience while keeping a check on your marketing objectives through refined email marketing and sales drive.
For more information on how you can strengthen your Adobe Commerce marketing strategy, feel free to reach out to our experts today!

Download Blog