All You Need to Know About MACH and its Benefits for eCommerce
"Change is Paramount and Agility is the Key to Success"
This is a lesson that the pandemic taught us and the rest of the world by pushing businesses to the forefront of technology. Before 2020, companies were considering Digital Transformation a process that they would adapt to in around a decade.
But, nobody imagined that the pace of innovation would be so fast and consumers' buying preferences would change overnight. According to a report by McKinsey, businesses experienced the digital transformation of 10 years in just three months during the first quarter of 2020 due to the lockdown in various countries around the globe.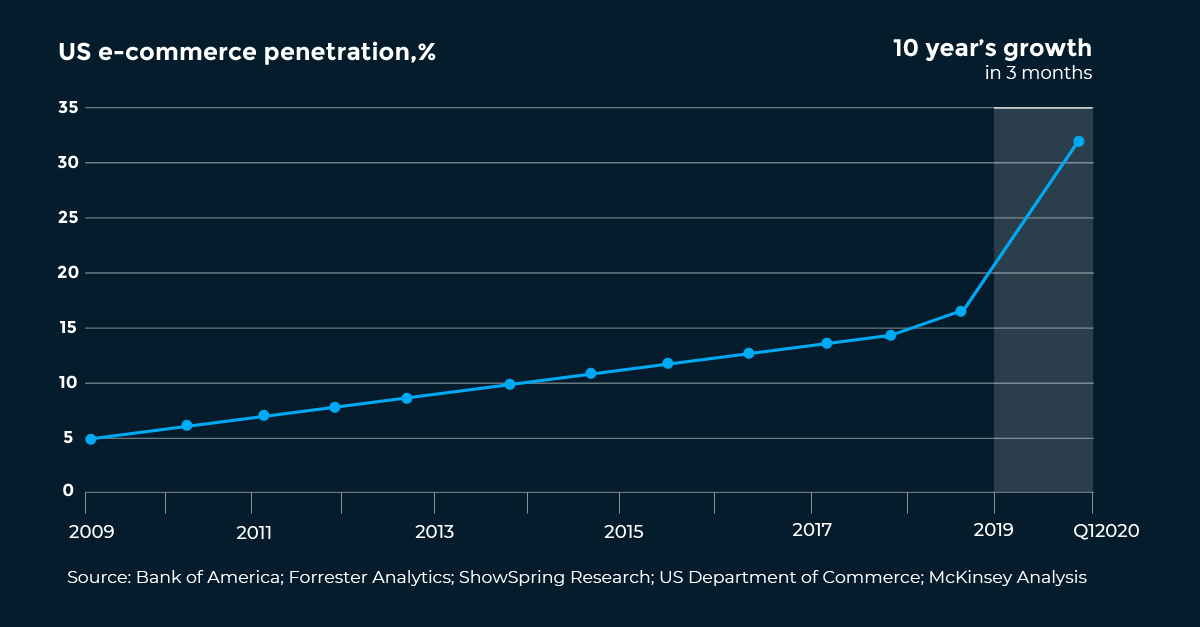 Due to stores closing, consumers shifted to online channels fast, and businesses that did not evolve were shut in just a few days due to no cash flow and revenue. However, the ones that evolved and adapted to market dynamics are now making maximum profits.
But, for how long will they continue to do so?
The boom in eCommerce is increasing year after year and using monolithic traditional architectures, even businesses that embraced digital channels will soon experience the inability to serve customers in the best possible way and grow revenues.
So, now the questions that arise are:
How can businesses meet the growing demands of consumers who are new to online channels and expect an offline-store-like experience?
What technologies do businesses need to fully ensure that they are ready for the upcoming boom in eCommerce?
What type of technology infrastructure is required to stay competitive in the online market?
One of the effective solutions to all these insecurities is MACH architecture. By adopting MACH, businesses can be more proactive and flexible in their digital approaches as compared to what they were using monolithic architecture.
That means it is a way for businesses to ensure maximum flexibility, agility, and unlimited scalability to cater to the needs of their consumers moving online fast. In this blog, we will discuss the MACH architecture to state how it can help eCommerce businesses to stay lean, sell more, and be the best. So, let's get started.
What is MACH Architecture?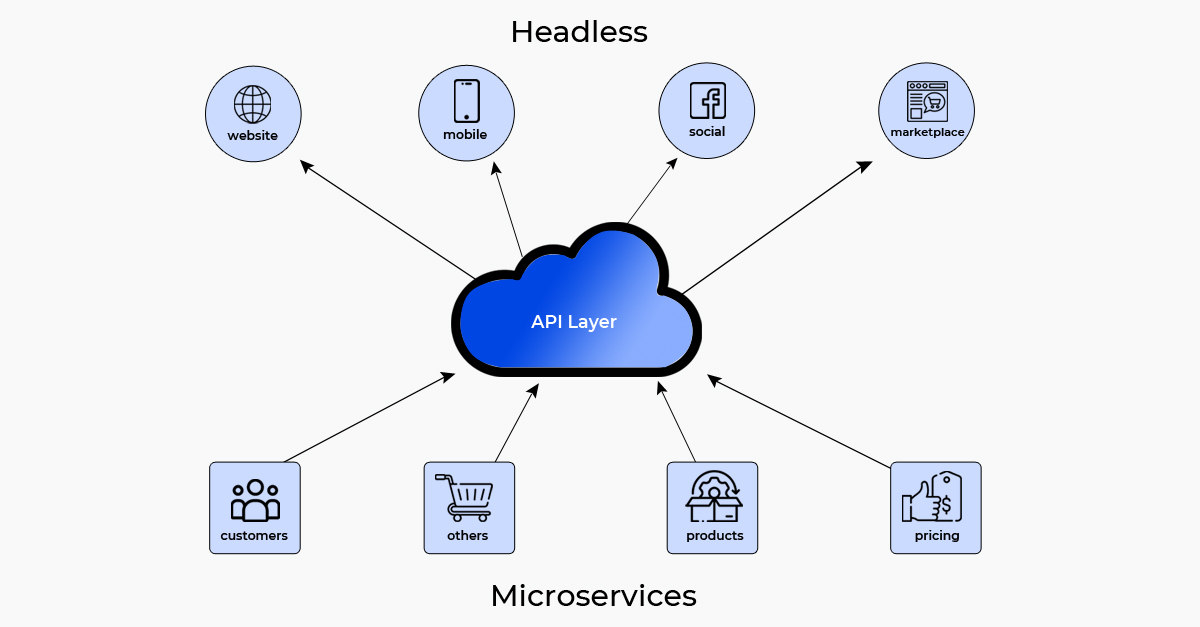 MACH architecture is suitable for businesses that need more control over their business process to fulfill the needs of their customers and grow sales. In simple words, it is defined as a combination of microservice-based, API-first, cloud-native, and headless technologies that provide eCommerce businesses a modular environment to respond to changing markets immediately and with fewer risks.
In MACH architecture, every component of an application is highly scalable, pluggable, and can be regularly updated without disrupting the other components of an application. However, all different pieces work together to deliver an excellent customer experience and give businesses design freedom like never before.
What is MACH Alliance?
The MACH Alliance is a non-profit group of several technology organizations that advocate the benefits of MACH architecture and help businesses navigate the modern technology landscape.
All the companies in MACH Alliance believe that the MACH approach is the best possible way to solve eCommerce challenges that modern enterprise-level businesses face while catering to the specific needs of their consumers.
5 Benefits of MACH for eCommerce Businesses
Along with facilitating selling products online, eCommerce solutions also need to integrate with other technologies like ERP and CRMs, manage large volumes of orders, and allow people to shop in different currencies.
Therefore, MACH architecture focuses on using a best-of-breed approach to create tech stacks. Unlike monolithic architecture, it follows a modular approach that lets these connected devices work independently. Here is how the MACH approach can help modern eCommerce businesses:
Improved Customer Experience
For small as well as large-sized eCommerce businesses, delivering an excellent customer experience is crucial. With 55% of customers saying that they are willing to pay more in return for a great customer experience, it is surely a key differentiator for brands.
Using MACH architecture, businesses can deliver customized experiences and extend them across several touchpoints to serve better. With the freedom to choose any DXP platform, language, and architecture, eCommerce businesses can craft highly personalized customer experiences as per the journey of their customers and buying patterns.
Shorter Time-to-Market
As mentioned above, agility is the key to business success in the fast-growing eCommerce market and MACH architecture provides just that. Using MACH architecture, businesses can build, launch, and make changes to the MVPs (minimum viable products) faster without investing a fortune in every product they build or test. It gives businesses the power to test ideas before investing a huge amount of money in large-scale implementation, saving money and other resources for everyone.
Minimized Risks
While using a monolithic architecture, a number of eCommerce businesses face vendor lock-in problems that not just lower the performance but also increase business risks. By opting for MACH, businesses can minimize the risk of choosing the wrong vendors and improve business continuity by setting up global back-ups and different sites for main services.
Using MACH, if you find any of your services faulty or experiencing a breach, all you need to do is cut the API cord to minimize its impact. That's the benefit of using replaceable and pluggable services.
Flexibility
MACH architecture lets businesses connect and deliver services on any front end they choose with the help of APIs. This means it provides brands the flexibility to incorporate any shopping channels that are in trend seamlessly and continue growing sales for better business results.
No Replatforming
Technology in eCommerce is evolving fast and you never know when the tools you are using become outdated and incapable of serving your business needs. MACH solutions, because of their modular architecture, provide brands with a way to replace outdated tools and adopt the emerging ones fast.
Thus, switching to MACH will be the last replatforming you will need to scale your business. Once you adopt it, you will have the freedom to add and replace solutions continuously without disrupting your business processes and investing a fortune.
Wrapping Up
The future of eCommerce is bright but organizations need to embrace big changes in order to stay competitive. MACH architecture is the need of agile eCommerce businesses that want to remain ahead of competitors by delivering a great customer experience. If you are not yet ready to embrace changes and evolve fast, you may lag behind your competitors in the near future.
Looking for help? Connect with experts at Envision eCommerce today!



Download Blog