5 Omnichannel Marketing Strategies For Ecommerce Brands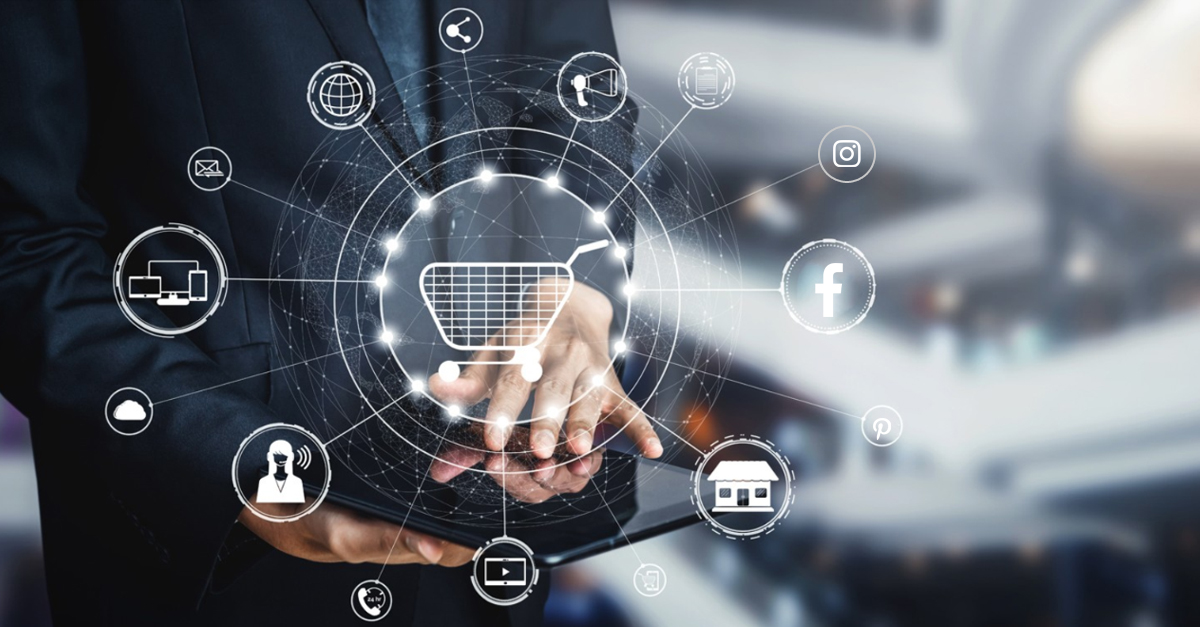 Omnichannel marketing is not just a buzzword in the eCommerce industry. It really helps you increase your brand awareness, turn your business visitors into a sale and optimize brand loyalty.
Omnichannel marketing is about maintaining a presence across various offline and online channels to provide a unified experience to your consumers. It helps you comprehend the benefits and importance of each channel so that you can leverage it to serve customers and grow your business.
According to Statistics, customers who are exposed to three or more three marketing channels are 250% more likely to make a purchase from the brand. In addition, omnichannel marketing strategies can increase your customer engagement rate to 18.96% compared to just 5.4% on a single channel.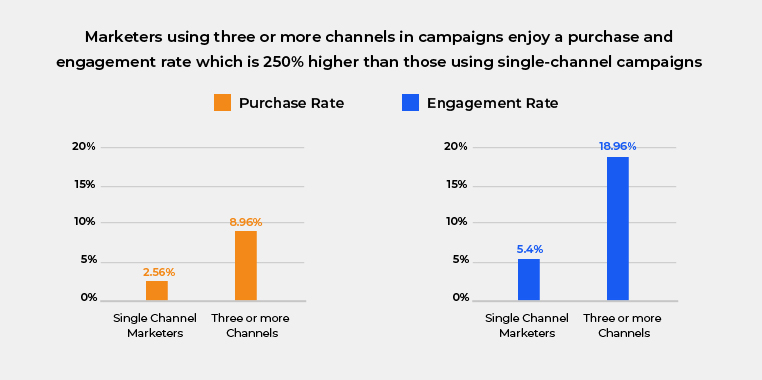 So, now what do these numbers suggest? It is simple. You should surely get started altering your marketing campaigns for omnichannel right away. This article will look at how you can do this and what challenges you might face during the journey. So, let's get started.
What Is Omnichannel Marketing?
Omnichannel marketing refers to the sales approach that offers customers an integrated and streamlined shopping experience across channels. Whether the customer uses a mobile or desktop to buy from an e-commerce store, they can always have a seamless experience.
Omnichannel marketing is defined as a sales approach that provides a streamlined and integrated experience to users across different channels. It doesn't matter if your customer uses a mobile or computer to purchase an item; they will always get a seamless experience if you invest in omnichannel marketing. 
Here is a graphical representation of what omnichannel looks like: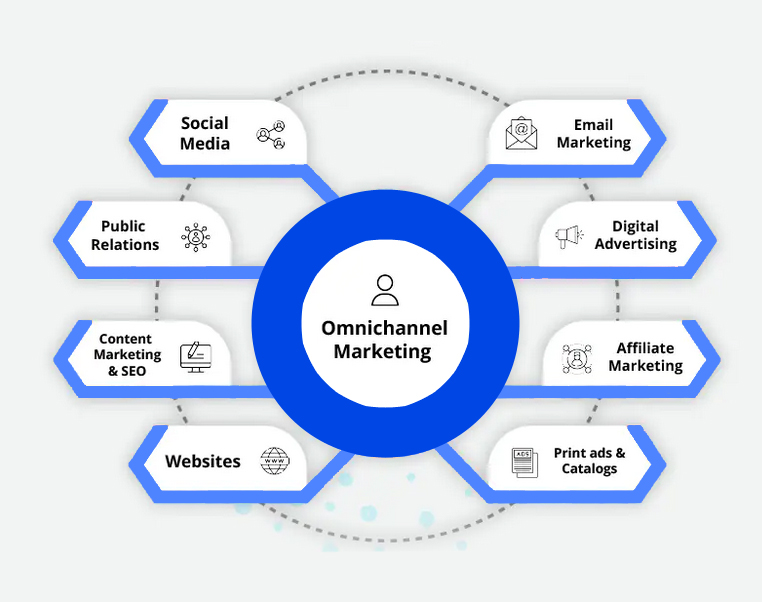 As per the diagram shown above, investing in omnichannel marketing is all about providing customers a seamless experience and letting them buy or interact with your brand in any way possible, for example, through social media, website, mobile app, email, or physical store. 
Let's now look at five effective omnichannel eCommerce marketing strategies that you can leverage to improve your order value, customer engagement rate, and overall CX. If you are looking for reliable eCommerce Marketing Services, get in touch with experts!
5 Omnichannel Marketing Strategies to Boost Business in 2022
Omnichannel marketing is about being present for your customers everywhere, and you can do this using the below-mentioned best practices:
1. Provide a Mobile-Friendly Customer Experience
The popularity of mobile devices is increasing every day. At present, you will hardly find a human being who doesn't utilize a hand-held device in his daily life. As a result, mobile commerce sales in the US crossed $47.8 Billion, and this number is expected to increase even more in the coming years. 
Thus, it is clear that without having a mobile presence, you can not imagine your eCommerce business's survival. By optimizing your mobile experience, you can provide a more flawless experience to your customer. It doesn't matter if they access your website from mobile or tablet.
To check the mobile-friendliness of your store's web pages, you can check out this amazing mobile-friendly test tool by Google. If your report comes out to be fine, you are good to go.

Otherwise, you will have to improve your mobile presence to provide an omnichannel experience to your customers. If you want to do all this cost-effectively, consider investing in PWA Development. This approach will provide you with all the benefits of having a mobile app while not investing a fortune in mobile app development.
2. Create Shoppable Social Media Posts
Tap your customers where they are. And, what could be better than serving them on platforms like Instagram? Several eCommerce businesses are utilizing shoppable social media posts to cater to their customers where they spend most of their time.
Recently, Instagram has launched a feature to make it more shoppable by integrating it into Facebook shop ads.
That means retailers can now advertise on Instagram with a "Shop Now" button. This method lets customers complete the purchase without even leaving the app, and they can do everything from product discovery to payment within the app.
That's a new way for brands to leverage Instagram and provide an omnichannel experience to streamline customer purchase journeys. Some eCommerce platforms also let retailers integrate shoppable social media posts on their platforms. 
This way, customers can add items they see on Instagram or Facebook to their shopping carts and complete purchases. Here is an example of a shoppable post on Instagram: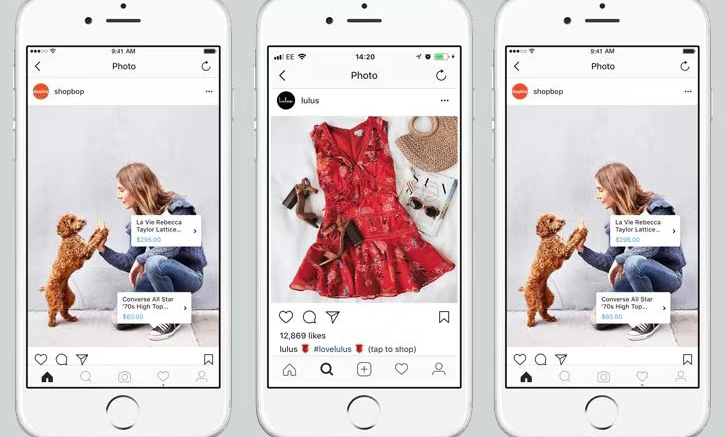 3. Utilize Retargeting Campaigns – On Social Media or Emails
While acquiring new leads is essential to growing an eCommerce business, investing in converting leads that are already yours will surely give your eCommerce business a significant boost. By using effective lead nurturing methods, you can send customized content to your leads at different steps in the purchase journey, even if they have not requested anything.
These campaigns can help you know more about your customer's behavior and preferences. Depending on the data you collect, you can either decide to run retargeting ads on Google, social media or send retargeting emails to recover carts and increase conversions. 
Here is how social media retargeting works: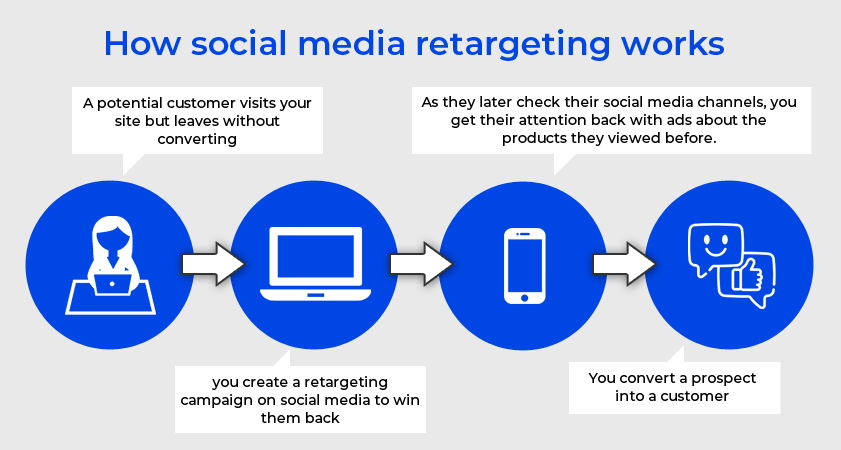 4. Invest in Personalization
Customers engage with your business through many channels. For example, they might come across an ad on social media and search for the same product on your website. 
Or, maybe they then buy it on mobile. You can track your customers' behavior and create a fingerprint for each one of your customers. Then, you can invest in providing a personalized experience to your customers when they engage with your brand the next time. 
Since now you have an idea about their likes or dislikes, you can easily capitalize on their interests and cross-sell your products to increase your average order value. That's called personalization, and it has more benefits than one in eCommerce.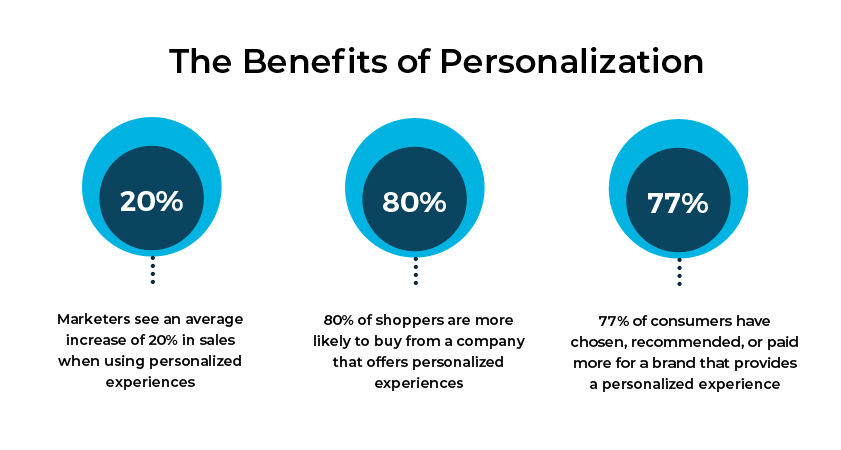 5. Use Marketing Automation
Creating and managing an omnichannel marketing strategy manually is not possible. That's where eCommerce marketing automation comes into play. 
Marketing automation tools help you amplify your campaigns and provide a customized experience to your customers. You can use email management software to organize your email list and campaigns. For example, if someone subscribes to your content, you can build sequences that nurture your relationship with your subscribers and turn them into customers eventually.
Wrapping Up
The journeys of customers are not at all linear these days. They prefer using multiple channels and want to find more information about brands before purchasing. Thus, if you are yet to implement an omnichannel marketing strategy, you are leaving a lot on the table. If you want to leverage this tactic to grow your brand fast, get in touch with eCommerce marketing experts at Envision eCommerce and enjoy top-notch eCommerce marketing services.