Magento Store Management: 5 Issues That Can Lead to Business Loss & How to Fix Them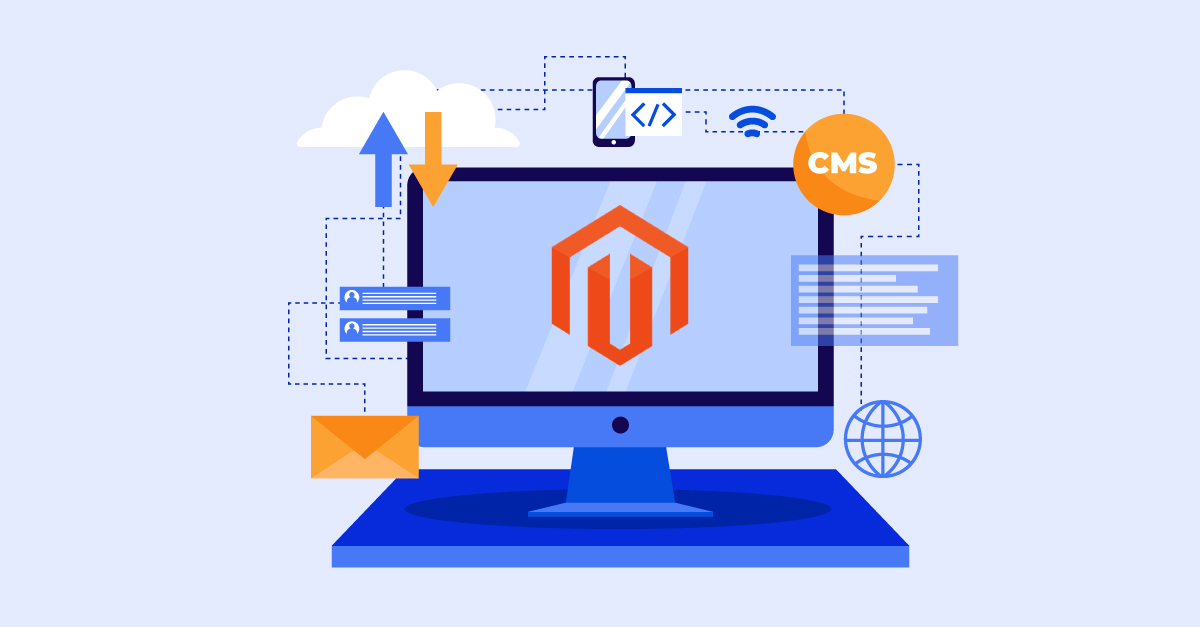 You never want to face Magento problems if your online store is powered by this amazing but complex eCommerce development platform. But, you can not avoid reality.
Being a highly flexible and feature-rich platform, Magento is a little complex to manage, even for experienced developers. Proper Magento infrastructure management is tedious, challenging, and requires top-notch expertise.
But, you can manage everything seamlessly if you have the right processes. Many big brands like Landrover, Liverpool, Ford, and others use Magento due to its many benefits, but they all run into problems as well.
Some are quite tedious to handle, and others just require enabling or disabling a function. Let's figure out everything about Magento's problems and try to find a solution.
5 Magento Store Management Issues and their Solutions
1. Slow Website Speed
The speed of your online store impacts conversions and, thus, sales. Consumers often spend more money and time on websites that load fast and provide an amazing customer experience. However, one of the most common issues of Magento stores is slow speed.
Retailers around the world juggle with improving their store speed and performance so that they can minimize business loss and maximize profits. But, maintaining an optimal speed of the Magento store is something for which you need expert intervention.
Here are four ways that expert Magento developers use to improve store speed:
Optimize Javascript and CSS: Optimizing the JavaScript and CSS files for fast-loading web pages is crucial. Expert Magento developers can help you reduce the number of JS and CSS files by merging them into a single file, resulting in less load on the server and high speed. But, if you do not have the expertise to do it yourself, consider Hiring Reliable Magento Support Services for the task.
Upgrade to the latest Magento version: This is probably the most effective way to improve your Magento store speed. Whenever a new Magento update is released, it helps retailers fix bugs and improve performance. So, ensure you Hire a Magento Store Management Team to help install these updates as soon as they get released.
Enable varnish cache: By doing this, your network bandwidth consumption will be reduced, and the website response time will increase. As a result, you will see a considerable improvement in your Magento website loading speed.
There are more ways to improve the speed of your Magento website; for example, you can change your hosting plan or provider, invest in Magento code review, and hire a Magento Store Management Team for performance enhancement.

2. Magento Security
Although Magento is a very popular eCommerce development platform that powers over 250k websites, it has its share of security risks. Magneto powers many big brands' business websites and is also an open-source platform.
Thus, Magento websites are the top-most target of hackers.

According to a report by TechRadar, more than 87% of Magento stores are at a higher risk of security attacks. Now, managing the aspect of security should be the top-most priority of every Magento store owner. Here is how you can do it:
Ensure the server environment is secure: Magento relies on several technologies like MySQL, PHP, and others. A vulnerability in any of its connected applications can ruin your server environment. But, you can manage the situation well by using a web app firewall, unique and strong passwords, and secure file system permissions.
Apply security patches on time: Magento team keeps releasing security patches from time to time to help you ensure the proper security of your online store. You need to install these patches regularly to save your Magento store from attack.
Enforce Two-Factor Authentication (2FA): Adobe introduced 2FA in Magento 2.4 and above. As an online business owner, you must implement 2FA in your practice to save your store from any suspicious activity.
3. Hosting
Magento is not a self-hosted platform; it allows you the flexibility to choose your own hosting plan and providers. While it is a good thing, most Magento stores cannot utilize this flexibility to the fullest due to poor management.
Many Magento stores do not have the required hosting setup to manage the memory and RAM used during high traffic times. In order to tackle this critical problem, businesses must select their web hosting very carefully. Here are some tips for the same:
Use a CDN: A content delivery network will help you get to the screens of your users fast, no matter which corner of the world.
Auto-scaling: Choose a hosting plan that lets you auto-scale when you experience traffic spikes. Your hosting provider should automatically increase server resources when traffic is high and decrease when it is low.
Hire managed Magento hosting services: If you do not have a support team in-house, it will become extremely critical for you to manage the technicalities of the Magento backend. Thus, we recommend that you Hire Managed Magento Hosting Services so that your store remains up and running 24/7.
4. Search Functionality in Magento
The goal of any online store is to make finding and purchasing easy for consumers. While Magento provides a standard built-in search functionality, it would be wrong to claim it is perfect.
Therefore, you need to upgrade the native search in Magento in order to provide a better search experience to your users. You can do that in two ways: 
Use third-party search platforms: If your Magento store is loaded with thousands of products and Magento search is not able to provide accurate results, you can consider using a third-party solution like Doofinder, Solr, or ElasticSearch for better performance.
Do in-depth research: Invest your time analyzing data and find out attributes to match with consumer behavior. Using these insights, you can improve your website's search functionality.
Upgrade to live search: Powered by Adobe Sensei, live search delivers fast, intuitive, and super relevant search results as users type the keyword. But, it is available for Adobe Commerce users only.
5. Magento's Expenses
One of the biggest problems with Magento is cost. It is an expensive eCommerce development platform as compared to other platforms like BigCommerce or Shopify.
Even though it is open-source, you will need to spend on Magento Development if you want your storefront to look unique and feature-rich. With Adobe Commerce and Adobe Commerce Cloud, the expenses increase further. And on top of it, there are integration and maintenance expenses.
So, what to do?
The solution to this problem lies in spending wisely. You need to carefully select the features you need and integrations your business processes require to entice your customers. If you have Magento development experts by your side who can help you save costs, Magento can prove to be a win-win platform for your online business.
Wrapping Up
Magento is a flexible, SEO-friendly, feature-rich, and scalable platform. But, retailers need to use and manage it carefully in order to leverage what it offers to the fullest. If you are looking for help to minimize the issues associated with Magento and utilize what it offers the best, Hire Magento Support Services by Envision eCommerce.