2016 Shipping trends that Ecommerce Businesses Should Never Miss!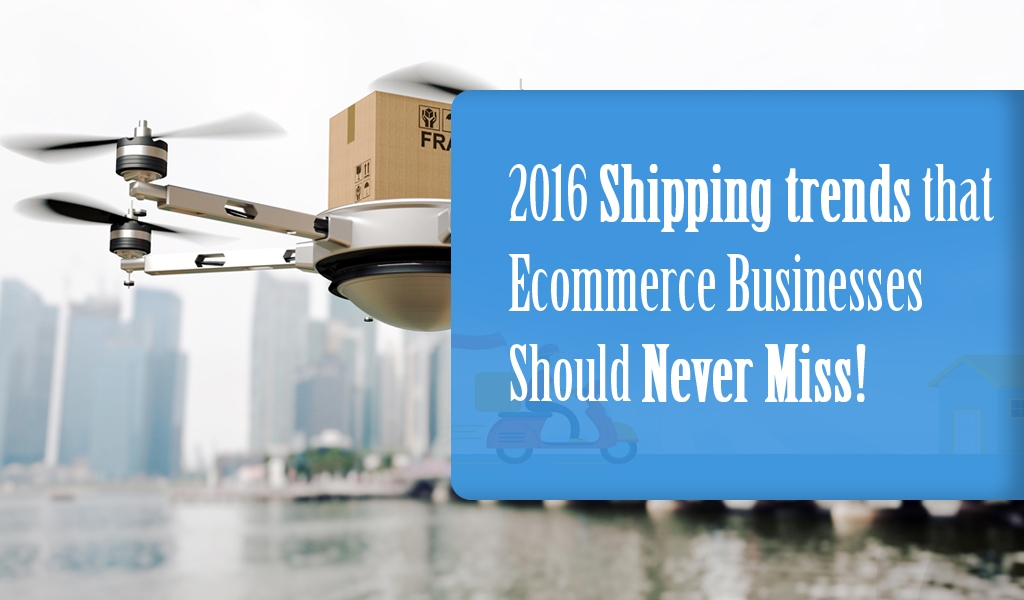 When it comes to customer satisfaction or customer experience, shipping is one of the most important first and final frontier. We understand that every e-commerce business has different challenges and tactics to create the most effective and efficient shipping strategy possible. But adopting some latest and demandable shipping trends can get orders to your buyers quicker. If you are adhesive on your old shipping routine, it might end you up with a cost that you don't even think.
Just stay ahead of the curve and keep a close eye on the shipping trends in 2016. Below we have compiled a few shipping trends for e-commerce businesses, that you can't afford to skip!
Demand for Free Shipping
As per the survey by Deloitte, the top most priority for shoppers is free shipping. When shopping online, nine out of ten online buyers prioritize free shipping rather than fast shipping. If you are running a small e-commerce business and you don't have much budget to let your shoppers have free shippings than following the strategies will help you cover the business cost of free shipping;
• Increase the cost of products to cover shipping costs.
• The complete price of shipping has paid by the business.
• Slightly increase the product prices to cover some shipping amount so that both pay a portion.
• Offer free shipping when a shopper hits the least order value.
However, these strategies can help your e-business in increasing an average order size and profits to offset shipping costs.
Exact Time Slot for Delivery
The major concern of most consumers are getting a specified time slot for delivery and their biggest peeves are receiving postage slips (which carried "sorry we missed you") on their front door, or even worse knowing that the package stolen off their doorstep.
76% of shoppers want to get the deliver packages at a specific time and 37% are willing to pay a premium for it, according to the research of Temando. Though the good news is, many tracking agencies have improved their services and assisting the recipients to know the estimated delivery date and their package is on which route so that they roughly know when their package arrives and can plan a day accordingly.
So we suggest e-commerce business owners should consider providing local shoppers on-demand delivery services like Deliv or UberRUSH to control over delivery times. These kind of services will help shoppers to have the exact time of a specific day they would like to receive their order.
If you find difficulties in shipping small products out-of-town shoppers, then take help from the United States Postal Service. USPS offers a Hold for Pickup option which allows the recipients to pick up the package at a mentioned post office location. In fact, USPS also provides Package Intercept, which allows shoppers to reroute their domestic packets if they are going on a business trip or family trip.
Shipping Options at Checkout
Normally, buyers get a few shipping options during checkout, such as standard, expedited and overnight. When it comes to how and when shoppers have their order arrive, they look for flexibility.
Accenture researched shows that 66% of shoppers have picked up a retailer who has numerous delivery options.
Now retailers should consider other various delivery options like same-day shipping, local pickup, carrier-specific and more to avoid shopping cart abandonment and upset clients. Generally, the most reasonable option for lightweight or small packages is USPS while FedEx and UPS are best for larger products. So provide all options and let your buyers select a specified carrier – UPS, FedEx or USPS – to create a satisfied, repeat customer to your store.
Keep Business Data at Your Fingertips
There's no doubt that the data of businesses have been around for a long period of time. Most people sitting in cabinets as an untapped resource. So it's time to thank new technologies, because of these shipping facilities, small or all e-commerce businesses can now leverage their data to serve their consumers even better than they expect.
However, business owners can easily and automatically check the info like mobile device usage, parcels' time in transit, pricing histories, shipping destinations, website traffic, etc. with the right tools to take wise business decisions. Moreover, these technologies will help businesses in reducing the overall costs and boosting practices.
Now think of it and start with little to speed up your fulfilment and keep your potential buyers happier rather than waiting.
Hope you find this post useful! Thank you 🙂
Download Blog