7 Surprising Reasons your Ecommerce Website Isn't Making Any Sales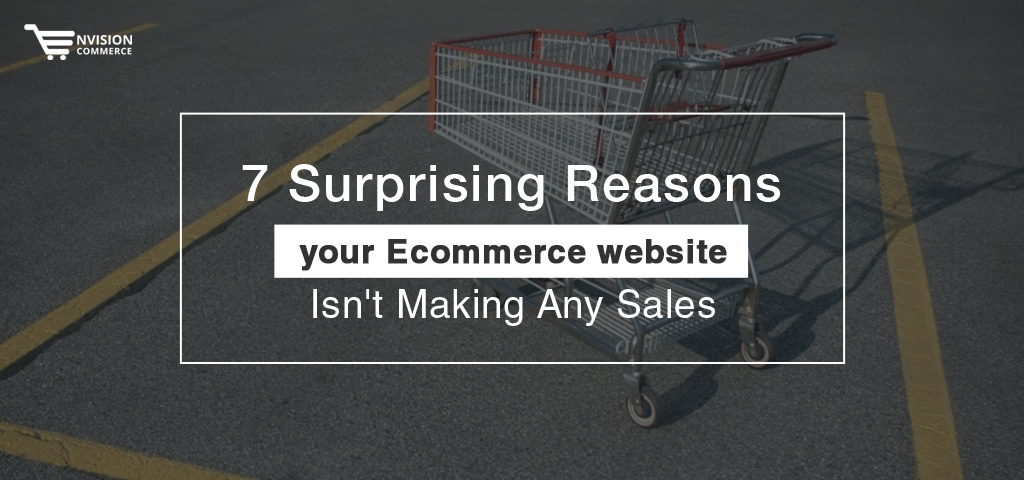 Websites are a fantastic way of making money. But unfortunately, most of the e-commerce stores are not good at building revenue due to some surprising reasons that you couldn't even imagine. Each business owner has poured his/her heart and soul into setting up the successful e-commerce store, worked hard on the design elements, offered various coupon codes and much more.
Despite all these efforts, some of the online stores are not able to make ROI that business owners anticipate it to be. Here in this post, we have covered 7 reasons that could be a root cause of your revenue problems.
1. Bad Website Navigation
According to a recent survey by SmartInsights, nearly 80% of online buyers browse the websites by using their smartphones. So, if your website has cluttered design, small buttons, or small product images, navigation can be a surprisingly difficult. So always try to make use of properly sized buttons and images on your web store because it will help your potential customers to hit the target button or link on a shrunken mobile screen easily. Just Make your mobile design responsive.
2. Customer Engagement Problems
Most of the store owners less involved their business into industry related discussions which make it unsuccessful. So always try to engage your past and current followers and buyers on social media by using effective content marketing techniques to keep your brand front and center as well as turn heads of prospective customers. Content Marketing and Customer Engagement is most important aspect for a successful ROI driven Ecommerce Store.
3. Targeting the Wrong Audience
Some businesses are spending ample of time and money into ads or content marketing which in turn yields no sales. The most probable reason for this is that you might be targeting wrong audience. As a store owner, you need to do a proper market research, find the correct audience and ensure that you are targeting the right audience.
4. Hidden Shipping Rates
Research study shows that most of the shoppers abandoned online carts due to hidden shipping costs. So always provide your customers with a shipping calculator and correct shipping cost on the website so that they know about the actual cost of their purchasing product before until he/she reaches at the very end step of the checkout process.
5. Multi-Step Checkout Process
Many online shoppers avoid shopping from those online sites who has a long, complex, or multi-step checkout process. Eliminate the sourness by creating a very short or a one-step checkout page for a pleasant online shopping experience.
6. Inaccessible or Missing Contact Detail
Contact details may seem a very small thing, but not properly visible or missing it on your e-commerce store is a huge red flag for your viewers. So always place your location information and phone number at the top of your website so that people can access them easily. If you're not displaying it, you will have a hard time building trust with your audience. Along with this, you need to have security seal on your website. SSL is another most important aspect that needs to be enabled on your online store.
7. Poor Promoting Practices
It goes without saying that no website will generate any revenue or sale, without targeted traffic. It is essential for business owners to create an inbound marketing strategy which uses social, content marketing and even paid marketing, for building and managing the referral programs and sales too.
These are some basic information that are small but very important items. Do you have difficulty with increasing your website's sales? If so, did you find any of the problems mentioned above on your site? Or was it something else? Feel free to contact Envision Ecommerce to assist you in increasing your store ROI.
Download Blog