2016 Year Round Up of Envisionaries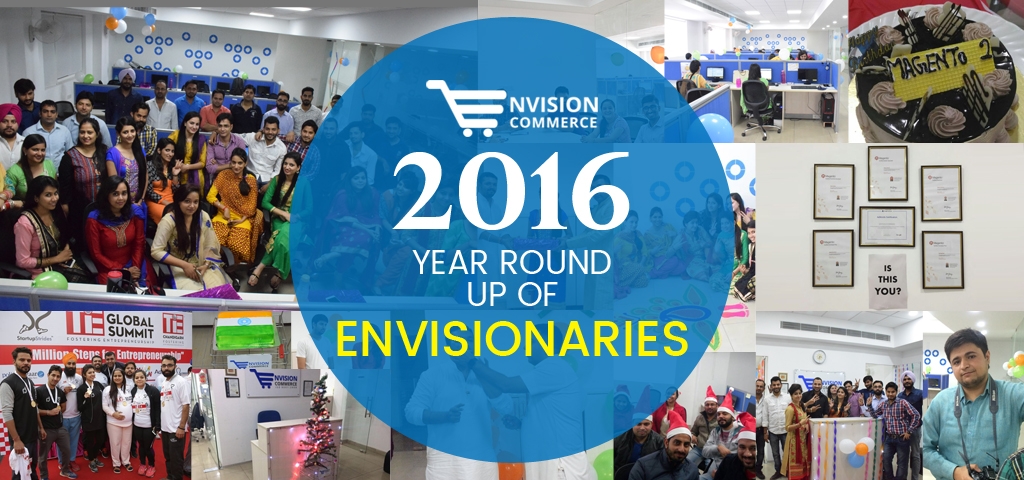 2015 was a crawling & 2016 was a full walking year for us! And, now in 2017, we envision us as a runner in this eCommerce World!
After passing through this journey of 2 established years, Envision Ecommerce would like to showcase you everything from new products & services launch, core eCommerce portal development and team expansion to moving office.
However, in the lead up to the New Year 2017 it is a good opportunity to reflect on the previous years' journey and give you a deep insight into what Envision Ecommerce is planning for 2017 and beyond.
More Powerful Management
In 2016, Mr. Sunil Thakral joined Envision Ecommerce as a new CEO. With an overall experience of over 15+ years, he is the first generation seasoned entrepreneur with his core expertise into business strategy, finance and start-up consultancy. Under the supervision of this successful entrepreneur, a new wave of entrepreneurial spirit is unfolding Envision Ecommerce each day more powerfully.
Moving Office
Relocating office is one of the most daunting tasks due to the hassle of settling down everything in a new office regarding finance, design, refurbishment, staff, layout, etc. But, we're happy to say that we made this experience as smooth as possible for our employees and clients and now we're in a new home, which is bigger, better & has advanced IT infrastructure for superior Enterprise Application development and deployment. In short, now we're in a new home, which is the best fit for our purpose, with superior transport links and plenty of room to grow.
Our new office
This move is a clear indication that Envision Ecommerce is one of the fastest growing Ecommerce Consultancy in Chandigarh-Mohali region. Another big achievement is that now we have a global presence with our sales offices in Canada and France to meet worldwide needs.
Revamping Website / Online Presence
Envision Ecommerce has been established for over 2 years, and in that time we've updated our website three times. To remarkably stay vigilant for our online presence, we're constantly face-lifting our website and updating our online look, products and services to deliver outstanding customer service.
In this year 2017, we will be launching our website's new look, which will have a highly-focused online presence gearing towards to suit our audience's tendencies. We envision sustained and continuous growth for our eCommerce products and services including our Magento 2 extensions, Mobile eCommerce Solutions, Custom Enterprise Solutions and much more. We hope the new look will support our vision for smooth service offering.
Launch of New Product & Services
Launching our own Indian ecommerce portal in Diet and Nutrition sector, RobustDiet.com, was a true highlight for all of us at Envision Ecommerce. It allowed us to have ineffable experience in all aspects of Ecommerce, from procurement to technology, marketing, inventory, shipping, payment and deliveries.
It was wonderful to cater some major verticals like Health, Baby Products, Online Art Selling, Apps for Gyms and Educational Institutions. We're also very pleased with the progress we've made in Mobile eCommerce area over the past years, with our new mobile apps like MageIonic, Ionic Gym app, Institute app, QuickNews App, RobustDiet app, BabyOodles App and much more.
Our innovative Magento 1, Magento 2 extensions (also live on Magento Marketplace), WooCommerce plugins and Web themes are continuing to be developed and as part of our Ecommerce Consultancy service, we have been helping our clients in growing and making profits from Ecommerce. Plus, we're constantly growing as one of the best Ecommerce Consultancy in our region.
Corporate Social Responsibility
When it comes to our Corporate Social Responsibility, we pride ourselves on our charity and donation contributions and, though it can never be enough, so we're continually supporting Bal Niketan orphanage in Chandigarh/Panchkula with our "Smile Sharing Initiatives" on each Diwali. Generally, we aim to bring some smile on the face of underprivileged Orphans with our contribution in terms of cash and kind.
Festival Celebrations and Events
As a family, we hold some special events and celebrations at every festival. Some of these are New Year's Eve party, Lohri celebration, Republic Day celebration, 15 August celebration, Diwali celebration, a Christmas party, Envision's foundation day festivity, employees' birthday celebrations, the memorable farewell parties for employees leaving the office and much more.
Best & Fastest Growing Team in Our Region
Envision started its journey in April 2015 with a team of only 5 people and has welcomed several new experienced staff to our growing team.
In just under 2 years of our inception in the eCommerce area, we've been able to scale up to a team of 50+ professionals, including 5 Magento Certified Professionals, in-house Google Analytics & Adwords Certified Professionals, developers proficient in Nodejs, Angularjs & Laravel, Graphic Designers and others. Apart from that, we have the best Ecommerce team in our region.
In this year, we will continue with our on-going recruitment program that suits the needs of our eCommerce business and as mentioned, hope our whimsical new office and facilities will support us in attracting the best candidates for the required roles.
Thank You's
We would like to thank all those team members who have been with us since our start. Yes, we're very thankful for all of you for your continued support, great efforts and services.
Projects, Clients & Corporate Partners
We have served many clients that have approached us to work on their wide-ranging projects and we would like to thank them for showing trust on us, continuing to support and appoint us for their complex eCommerce projects. Their name list is long and they know who they are but just to indicate a few project names, including beArty, BabyOodles, Biotic Healthcare, Graduate America, Merconnect, TravelShades, Oliso and many others.
We continue to be involved in some type of corporate partnerships, and as of now, we have become partners with Magecloud, Veeqo, Amasty, Cart2Cart and Shopify.
2017 and the Road Ahead
Well, for this year 2017 and beyond, we are pre-planned to magnify our Mobile App Division with more brainy and challenge-accepting youth. Along with a new look website, we also envision to expand our reach to some more global destinations like Australia & New Zealand in order to cater more international clients. Despite our 2 established & successful years, all we can say that there is no time for Envision Ecommerce to rest on its laurels. We will be looking to grow our team, continue to launch innovative eCommerce products, carry on to enhance the service offered, stepping towards IoT (the Internet of Things) and hopefully emerge stronger throughout the years ahead.
Download Blog