20 Practical Keys to Combat Abandoned Cart on Your Magento Store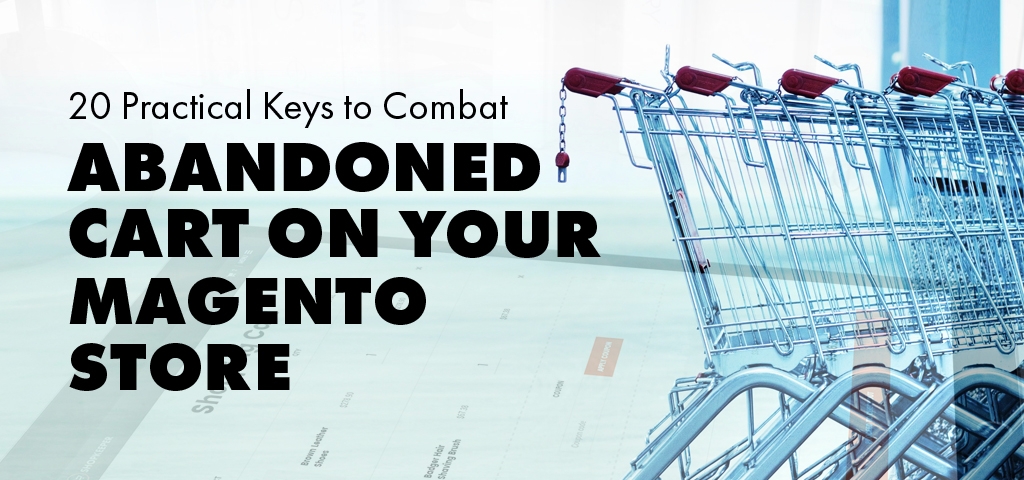 The average cart abandonment rate for online retailers is 69.23% – according to Baymard Institute's list of cart abandonment rate (source: https://baymard.com/lists/cart-abandonment-rate). It means two-thirds of the time online visitors add items to their cart only to leave the cart abandoned. That results in tons of lost sales. There's nothing worse for online retailers than it! And, it is just getting worse day by day. If not dealt accurately, it can lead to business failure.
Don't worry, you can still envision the hope with Envision Ecommerce! Fortunately, we have some practical keys to help you dwindle that abandoned cart rate on your Magento store. Let's take a look at all 20 keys.
1. Timely Get Back in Front of Visitors
Most of the customers visit your website, add products to their shopping cart and then go off somewhere else – generally the reason is having last minute doubt regarding your products or services or they want to do some comparison before shopping.
And, this is where a timely reminder shines! Yes, you need to reach out those customers by sending an email within an hour to encourage them to complete the purchase. Your customers may spend some time for comparison shopping and when they get tired & forget your Magento store, an email can be just what's required to get back in front of them to win them back.
2. Verify Order Status
Check order table in Magento and verify order status of every order whether it is pending or completed. Update your cart record according to that order status. It will help you to exactly get about your abandoned cart rate.
But, you may get fail to verify the status of certain orders, like which are placed over the phone. For such cases, you need to verify the presence of an order via same email as the customer.  If you have an order from an email, you need to stop sending them reminder emails. Otherwise, you will just make your existing customers upset by sending emails that contain irrelevant content or offers. And even worse, if you've included incentives or offers in that emails for first-time buyers to encourage them to finish the buying process. It will just make your customers worried that they didn't get such offers and incentives during their buying time.
Magento's order management system doesn't support auto-assign order status and a store owner need to take action in between order processing and completion. It is one of the most imperfect aspects of Magento. In such instances, you can use our Auto Conditional Order Status Update extension which is helpful to make your Magento store's order management simple and clear. The extension allows you to change order statuses. Thus, you can enjoy automated order status facility instead of changing status manually.
3. Check Product Availability
Keep a regular eye on your Magento store's inventory and don't send abandoned cart emails to customers who abandoned cart with out of stock products. It will just leave a bad experience on your customers and will increase your bounce rate.
4. Alert Customers for Low Stock Products
It is the most effective method to avoid afore-shared out of stock and cart abandonment situation. You can put a badge or some type of pointer on your low stock products' images. It will alert your customers to order more and quickly.
Moreover, you can use our Easy Product Label Magento 2 extension that will help you to assign custom product labels to your preferred products. These product labels will facilitate you to attract more visitors & run different promotional product campaigns (for example, you can display a low stock badge on such product labels), which will result in successful conversions.
5. Don't Include Countries in Your Magento Store that You Don't Ship To:
If you don't ship to some countries but you've added them onto you Magento store, then it is essential to exclude such countries. For instance, a customer browses your store from a different country and adds products to cart. After entering his current address and getting an error message that shipping is not available in his regions, he will just leave your store with abandoned cart. Thus, it is good for your Magento store to exclude such countries.
6. Prefer to Send Emails from an Individual Instead of a Group, Company or an Organization
Almost all people prefer to open an email coming from an individual's end instead of a group, association, company or organization. Just make sure that your email sender is a specific person on your side. Another foremost aspect is to personalize the email with receiver's first name or the product name in its subject line.
7. Keep Checkout Process Simple, Easy & Faster
A long and complex checkout process only frustrates customers and they eventually give up after filling out a lengthy registration form including billing address, credit card details, shipping address, phone number, etc. So, you need to make your checkout process easier, more simple & efficient, and less "clicks" for the first-time customers. Don't force your users for registration on just their first-time landing at your Magento store. If they are ready to make a purchase and adding products to their cart, it is the right time to proceed further and ask them for registration process.
You can use One Step Page Checkout extension on your Magento store to offer your customers an optimized and simplified one-page checkout process. It allows customers to update all check out information on a single web page instead of waiting for the next page or going back/forth. Thus, you can make checkout process easier & faster on your Magento store and inhibit shopping cart abandonment.
8. Avoid Bad Surprises during Checkout Process
Another major reason why customers leave their cart abandoned is due to bad surprises during checkout process like hidden costs or some additional costs. You may be charging these costs for shipping, handling or other add-on expenses. But your customers only know a specific price or total expected price. So, you need to be transparent and up-front with your pricing and other additional charges, and also make sure your shoppers are pre-informed and knowledgeable about their total amount before proceeding to checkout.
9. Give Discounts/Offers on Products Abandoned
To effectively get results from abandoners, we encourage you to give discounts or offers on the products abandoned by them. It will entice your shoppers to place an order as they wouldn't want to let go of such offers and discounts on their desired products.
Using our Enhanced Abandoned Cart Magento extension, you can inform your customers via sending mails regarding the special offers or discounts on the items available in their abandoned cart. So, your Magento store can lead to loyal customers, increased sales & revenue and reduced abandoners.
10. Send Related Products
Most often, customers visit products that they don't want to buy. You can track such information and use it to understand your shoppers' interest. For example, a visitor visits your online baby store, browses new born baby collection, adds some products to the cart and leave the cart abandoned. And, it is clear for you to understand your shopper's interest. Now, you can use this information to retarget such shoppers by sending different products relevant to their choice, or same product at a lower price.
11. Provide Third Party Payment Methods
Make sure your Magento store supports third party payment options like PayPal, Razor, Amazon and several others. People often don't prefer to fill a long credit card number or other in-depth information. Some shoppers use credits cards that are not MasterCard or Visa-based. Therefore, if your Magento store doesn't support multiple payment methods, it will leave your shoppers alienated, incapable to buy at your store. So to ensure that your shoppers will not abandoned their shopping cart due to the lack of payment options, it's essential you offer as many as possible at your online store.
12. Implement Easy Returns, Refunds and Cancellation Policy
Make your customers informed about your return, refund and product cancellation policy at your store. It will help your customers to understand that how easy it is for them to shop from your store. Implementing these policies will entice shoppers to make a purchase or at least try the product, as they know they can easily return or cancel it or even request for refund.
13. Continuous Technical Assistance
Customers may get frustrated due to complicated navigation, excessive security checks or payment gateway crashing problems at your store and leave cart abandoned. Thus, you need to provide a continuous technical support or 24/7 live chat facility so that they can talk to a concerned person about the issue or query.
14. Provide Coupons to New Customers
Be careful and avoid over-discounting at your Magento store. You should offer discount coupons only to your first-time shoppers. It means you can give some special coupon discounts that are deeper than what you give to your existing shoppers.
15. Multiple Level Discount Based on Order Size
Another effective tactic to combat abandoned cart is to offer multiple level discount based on your shopper's order size.
For example, if a customer spends a total of $100 at your store, you can offer 10% off on this size of order. If someone spends over $200, you can give 20% off, and if $300 has spent, you can give a larger discount of 30% off to such orders over $300.
16. Remind Shoppers About Their Loyalty Points or Reward Points
If you have abandoners who earned some loyalty point or reward point balances at your Magento store, you need to remind them about their existing balances. It will entice them to make use of such points to grab discount and complete the purchase in contradiction of leaving cart abandoned.
17. Offer Checkout Options to Guest Customers
Forcing first-time visitors to log in or signup is also the major reason behind cart abandonment. You can offer guest checkout options for such visitors and make checkout process a lot easier for them, which is accurately what they need. As a result, you will have more sales at your online Magento store.
18. 24/7 Online Store Monitoring to Prevent Errors
Make sure you have a QA team who continuously monitors all on-going functionalities or activities at your Magento store and ensures that there's no error that can void a sale at store.
19. Implement Security Measures for Credit Card Transactions
Another effective practical key is to implement security measures at your Magento store for shoppers' credit card transactions. It will make them feel more secure while completing transactions on your online store. You also need to ensure them that their personal details will be handled with utmost security and they will not become sufferers of any phishing activity.
20. Keep Customers Away from Any Kind of Distraction
Keep your customers focused and don't distract them by displaying unnecessary flash movies, subscription boxes or banners. There is no place of such unnecessary things on your product or order pages, unless they are directly associated with the first-time purchase.
So… Have You Done All This to Combat Abandoned Cart on Your Magento Store?
If you're still fighting an ongoing battle of abandoned cart issues and want to bring your abandoners back to your Magento store, Envision Ecommerce is here to help you. We know how to effectively implement these practical keys on your Magento store. We also have some unique Magento 1 & 2 extensions that help in avoiding abandoned cart issues. Contact our certified Magento experts and Solutions Specialist today at [email protected] or you can visit: https://www.envisionecommerce.com to avail our services & extensions.
Download Blog